First bands announced to play at Convoy in the Park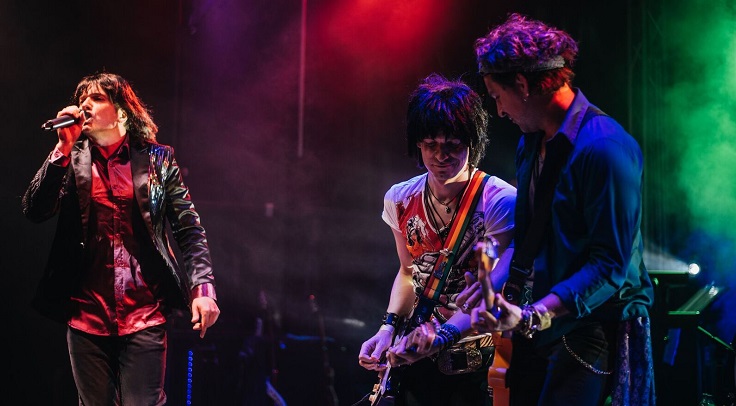 The first bands confirmed to be playing at Convoy in the Park at Donington Park on 21-22 July have been announced – a mix of crowd-pleasing covers bands and rock acts.
Among the bands playing on Saturday 21 July are Scottish rock trio The King Lot. Described as melodic with a hard rock edge, the band straddles a few rock genres.
Also appearing will be the Relentless Rockabillies, touted as one of the country's hottest, wildest, most rockin' bands! Based in Lincoln, the three piece Rockabilly band draw inspiration from many great artists including Stray Cats, Polecats, Eddie Cochran, Johnny Cash, Elvis, Johnny Burnette and Gene Vincent.
Blues Brothers tribute act The Blueprint Brothers will also be appearing. They have been performing their show for more than 14 years throughout the UK and abroad. The Blueprint Blues Brothers Tribute show consists of Paul 'Jake' James provides the strong soulful voice, some crazy dancing, attitude and banter with partner-in-crime Ant 'Elwood' Owen, who plays live harmonica, vocals and provides even more crazy dance moves!
For fans of 80s rock, That 80s Rock Show will be a must-see. The 6-piece live band will play some of the biggest 80s rock classics from bands such as Bon Jovi, Aerosmith, Def Leppard, KISS, Whitesnake and Foreigner. This is a 100% live show with lights, lasers, smoke, vintage audio and more animal print and spandex than is probably healthy, all tongue in cheek and family friendly.
Closing the stage on Saturday will be The Rolling Clones. Their show, going from the early days of rhythm and blues through to the excesses of the 70s, is a faithful interpretation of the Rolling Stones' greatest hits, delivered with a smirk and a wink, recalling the mischief making of Mr Jagger himself, while remaining true to the spirit of the originals.
On Sunday, East Midlands-based covers band Red Lane will play a mixture of rock and pop floor fillers from the past 60 years.
For fans of 1950s-style rock n roll, The B Sides will be playing hits from this era. The trio pride themselves on getting everyone up and having a great time with their authentic and energetic shows.
Also on Sunday, The Counterfeit Beatles will be playing. The Beatles tribute act have previously played the main stage at Japan's Fuji Rock Festival with Coldplay, Elvis Costello and Primal Scream, among others, to a crowd of 80,000. They also starred in a £300,000 stage production Beatlemania at the Theatre Vergina Thessaloniki in Greece.
But music is just one of the attractions at Convoy in the Park. On track there will be British truck racing plus several support series across both days.
Off-track, there will be many attractions, including more than 1000 show trucks, a full trade show, exhibition stunt driving, a fairground and many attractions for children.
For more information on Convoy in the Park, and to book tickets, go to www.convoyinthepark.com
We hope you enjoyed this article! For more news, views and reviews on all aspects of the truck driver's life subscribe today.