Hexagon Leasing coming to Convoy in the Park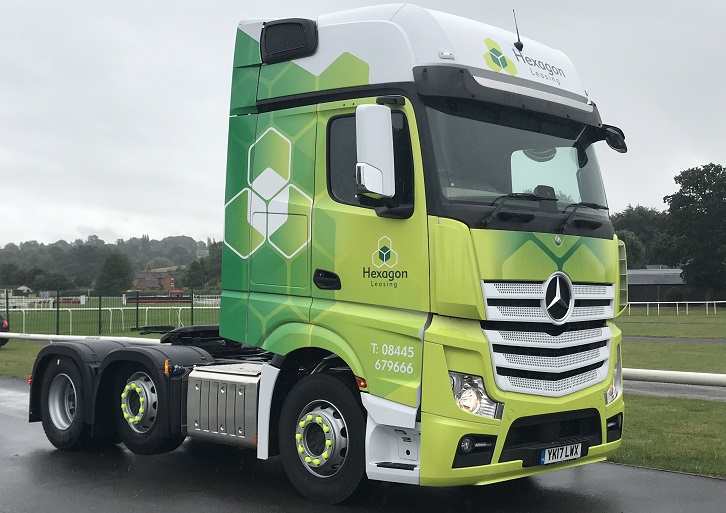 Commercial vehicle solution provider Hexagon Leasing and its sister brands HexFlex and Trux4All will be exhibiting at Convoy in the Park, the ultimate trucking festival on July 21-22 at Donington Park.
The stand will include branded Hexagon Leasing and Trux4All tractor units accompanied by two Hexagon Leasing grid girls along with information about the brands, the services they offer and special festival deals. Visitors to the stand will also have the opportunity to showcase their darts skills and win a truck cleaning kit.
Mark Fletcher, commercial director at Hexagon Leasing said: "We are really excited to be taking part in this year's Convoy in the Park.
"There will be lots going on at the stand including an invitation to any budding Phil 'The Power' Taylor darts fans to win a prize with the highest score from six darts, and we'll also be cheering on one of our drivers, Paul McCumisky, who will be truck racing during the weekend."
In the run-up to Convoy in the Park Hexagon Leasing will also be offering two free tickets to the event, so fans are urged to keep an eye on their Twitter account @Hexlease for more information.
The nationwide company, which has its headquarters in Derby, is one of the UK's leading commercial vehicle solutions providers, working across a diverse customer portfolio including logistics, general haulage, and livestock.
HexFlex offers flexible rental packages allowing customers to quickly change their fleet depending on their business requirements, or to lease vehicles on a long-term basis and benefit from low monthly payments.
Trux4All offers a range of good quality used trucks and vans to buy online at competitive prices which are sourced from Hexagon Leasing Ltd, and all come with warranties and servicing and PMI options.
Convoy in the Park is the ultimate festival celebrating trucks, drivers and life on the road. At the event, there will be a full programme of racing, including the 5th round of the British Truck Racing Championship. Off-track, there will be live music, more than 1000 show trucks, and a range of entertainment for all the family. For more information, and to book tickets, go to: www.convoyinthepark.com
We hope you enjoyed this article! For more news, views and reviews on all aspects of the truck driver's life subscribe today.