Imperial Commercials bringing crowd-pulling Dafs to Convoy in the Park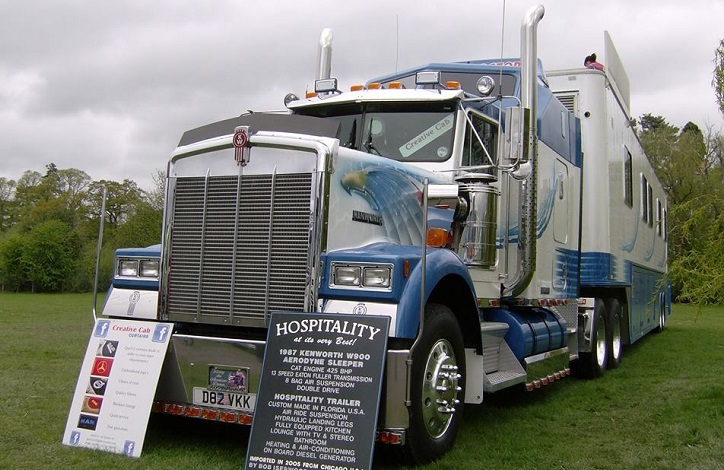 Daf dealer Imperial Commercials is to feature a show-stopping line-up of XF Super Space trucks at this year's Convoy in the Park on 21-22 July.
The display, located on the main Daf stand, will focus on the latest model-year high horsepower XFs, including two limited edition 90th anniversary editions.
The first, supplied by Stoke-on-Trent haulier D&A Rhead, will be a metallic black FTG 6×2 Super Space Cab, numbered 44.
This will be joined by a second 90th anniversary XF from ABH Mansfield. "This will be cloaked in secrecy as to what this will look like. It will be finished just ahead of the show. A real showpiece for us," said Imperial Commercials' group marketing manager for trucks Jessica Smith.
Stoke-on-Trent haulier Barry Proctor will also have a three-truck presence at the show: two airbrushed Space Monkey and Man of Steel XFs, as well as a head-turning Kenworth (pictured), which Smith describes as "a real crowd-puller".
Imperial's commercial director Alan Ellison said he is excited to see what this year at Convoy in the Park brings, following a successful debut event last year at Donington Park.
"We didn't really know what to expect last year, but actually it was a great mix of people and a good footfall. It was something different as well, which people like and had a really good feel-good factor."
"The truck racing was a strong draw for people too," added Smith.
One of Imperial's customers, Hexagon Leasing, will be taking part in the truck racing this year by leading the contenders on a warm-up lap in their brand-new XF.
Visitors heading over to the Daf stand can take part in a truck racing simulator, along with foam hand and goody bag giveaways,
The dealership will also be using the event to help raise funds for its chosen charity Hearing Dogs for the Deaf.
For more information on Convoy in the Park visit: convoyinthepark.com
We hope you enjoyed this article! For more news, views and reviews on all aspects of the truck driver's life subscribe today.