We've got ourselves another Convoy!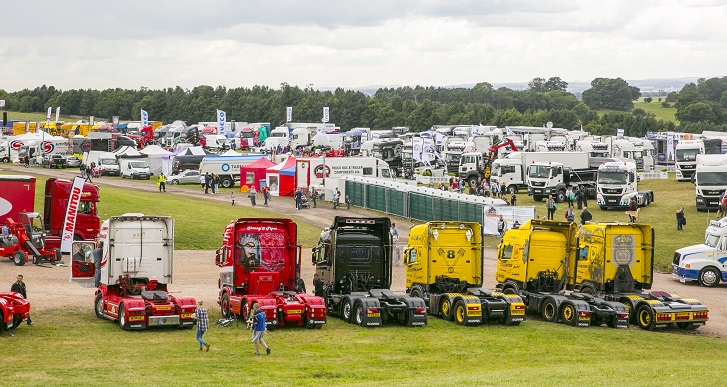 Convoy in the Park is returning to Donington Park in July and this year's extravaganza is set to be bigger and better than last year's.
The ultimate celebration of trucks and drivers is back for 2018! After a successful inaugural event in 2017, Convoy in the Park is returning to Donington Park in Leicestershire on 21-22 July with more trucks, thrills and entertainment for all the family.
Last year, thousands of truck drivers, their families and enthusiasts descended on Donington Park in late July for an event that had a real festival feel.
This year, Convoy in the Park will again combine the best elements of European-style truck shows with the excitement of top-class truck racing.
On-track action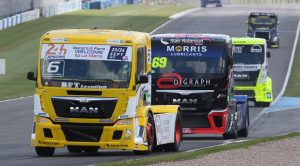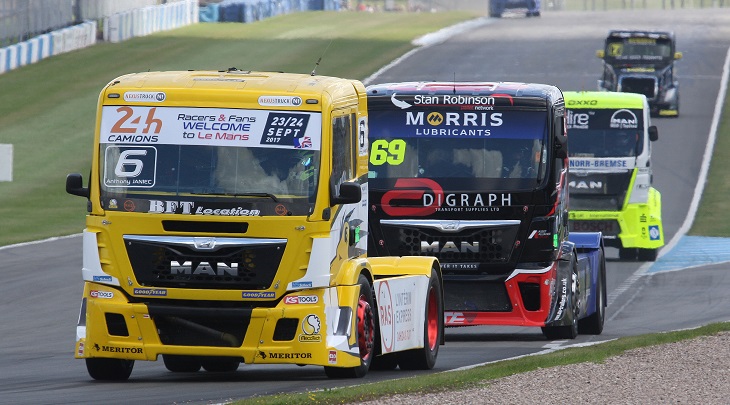 Truck racing will again form the centrepiece of the on-track action across the weekend with at least four races in each division planned.
In 2017, the racing was always close and racing at speeds of up to 100mph they make for an impressive sight as they hurtle around the track. With reverse grids in operation from the second race onwards, there will be plenty of front-runners charging through the field, leading to plenty of overtaking action.
In 2018, Ryan Smith will be looking to make it a hat-trick of Division 1 titles, but there will be plenty of other drivers determined to take his crown.
In addition, there will be a full programme of support races – from single seaters to saloons – that mean there is on-track action throughout both days.
Also, the paddock area is open to event-goers in between the races, and drivers and teams are often only to happy to stop and talk and pose for photographs.
Show trucks
Of course, there will also be a huge array of trucks of all shapes, sizes and ages on display. Last time there were more than 1000 trucks on site, and there are sure to be more this time around, from the huge American Peterbilts and Kenworths through to classics from this country, such as Foden and Scammel. We will also have some rare trucks – for instance in 2017 a modified Next Generation Scania S730 T-cab by Vlastuin from the Netherlands attracted a lot of attention.
There will also be a range of spectacular heavily customised show trucks as well as regular trucks that will be back on the road on Monday but that the drivers take pride in.
In addition there will be a trade show, where major truck manufacturers will be exhibiting their latest models. In addition, some of the biggest names in the truck customization sector will be exhibiting, so it will be the perfect opportunity to pick up something for your truck. There will also be a range of model makers and truck merchandise sellers there too.
Entertainment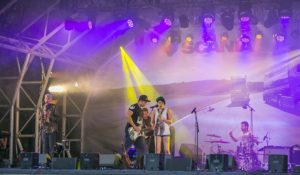 Away from the trucks and racing there will be plenty of other entertainment activities at Convoy in the Park for all ages going on into the evening once the racing has finished.
For young truckers, there will be a range of children's activities, such as fairground rides, radio-controlled racing and inflatables. There will be plenty of giveaways too from manufacturers and exhibitors, which will appeal to children – of all ages.
There will also be plenty of spectacular spectator events to get involved in. For instance, in 2017, there was a bag jump where participants jumped from various heights from a 12m container into a smoke-filled 'pit of doom', as well as the 'Bush Trucker Trial' where brave – if that's the right word – contestants had to eat all manner of bugs, insects and other things you wouldn't ordinarily want anywhere near your mouth. There will be plenty of events like this at Convoy in the Park this year too.
Live music will also feature again at Convoy in the Park on the main stage. The acts have yet to be confirmed for this year, but in 2017 there was something for all tastes, from genre-blending punk Millie Manders and her band, The Shutup, to John Lewis & his Rock N Roll Trio's blend of classic rockabilly with a modern attitude and alt-country/Americana band Mashville. Tribute acts Guns or Roses and The Johnny Cash Experience also proved popular with audiences.
Put 21-22 July in your diary and you too can join the Convoy!
For the latest updates and additions to the bill at Convoy in the Park, go to www.convoyinthepark.co.uk. You can also get the latest updates by liking the Facebook page www.facebook.com/ConvoyinthePark or following @ConvoyTruckShow on Twitter.
There will also be regular news and updates on Convoy in the Park on www.truckanddriver.co.uk and in each issue of the magazine.
Pictures: Tom Lee
We hope you enjoyed this article! For more news, views and reviews on all aspects of the truck driver's life subscribe today.