Are you up for the Scalextric Challenge at Convoy in the Park?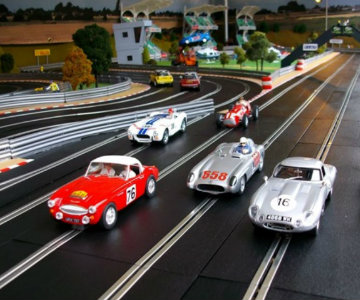 If you fancy yourself as a racing driver, but have never got to go out on track, you can now test your skills in miniature with the Scalextric Challenge at Convoy in the Park.
The aim of the challenge is simple: be the fastest driver of the day. You can choose your car and race it around the purpose-built four-lane Scalextric track.
While the basics of driving a Scalextric car are simple – mastering it is not. Too slow and you get overtaken, too fast and you'll find yourself upside-down and off the course! Only those who find the limit will be in with a chance!
Drivers can have as many races as they like to find the car that suits their style and work their way up the leader board. The fastest driver of the day will receive a prize.
Convoy in the Park is taking place on August 10-11 at Donington Park in Leicestershire. The festival, now in its third year, is the celebration of trucks, drivers and life on the road. At Convoy in the Park, there will be truck racing, more than 1,000 show trucks, live music and comedy, circus performances and much more!
For more information and to book tickets, go to: www.convoyinthepark.com
We hope you enjoyed this article! For more news, views and reviews on all aspects of the truck driver's life subscribe today.