Regular Biglorryblog readers will recall a previous blog about the new Turkish-built Ford Cargo, which was one of the surprise short-listed contenders for International Truck of the Year last year and how Ford Otosan is looking to sell the Cargo in a number of new markets around the Globe. BLB readers might also remember me promising to give you the full story as soon as it was officially launched. Well here it is! The Ford Cargo 1846T is now well-and-truly on the road and has all the features of power, comfort and durability inherent to the Ford Cargo's 'DNA'. And it's been built to meet the expectations of operators involved in both domestic and international transport too. At the heart of the new tractor is the latest 10.3 litre in-line six engine specially designed to deliver low fuel consumption and low CO2 emissions, "Indispensable factors in land transportation today" says Ford Otosan. The 10.3-litre six pot puts out 460PS and 2,100Nm torque starting at an impressively low 1,050 rpm. Ford Otosan explains: "It reaches a 45PS/litre power and 204Nm/litre torque density thanks to its optimised combustion strategy and Variable Geometry Turbocharger (VGT). It stands out with its lower engine weight due to a high torque/power density, and also offers the best-in-class engine braking power of 282kW at 2,600 rpm. The New Ford Cargo Tractor Unit offers improved engine life due to oil-cooled pistons while its engine stands out from the rest with its lower fuel consumption thanks to Euro-5 with SCR technology and its extended service intervals. An adjustable-speed engine fan provides an extra 1.5% fuel economy." Moreover, and I wonder how many BLB readers knew this,"The new Ford Cargo 1846T has call center support at 40,000 service points in 38 European countries with total of 46 countries. Thanks to Ford's roadside assistance service in Europe, the drivers will receive towing, air/bus ticket, accommodation and transportation to get their vehicle back if they have any problems."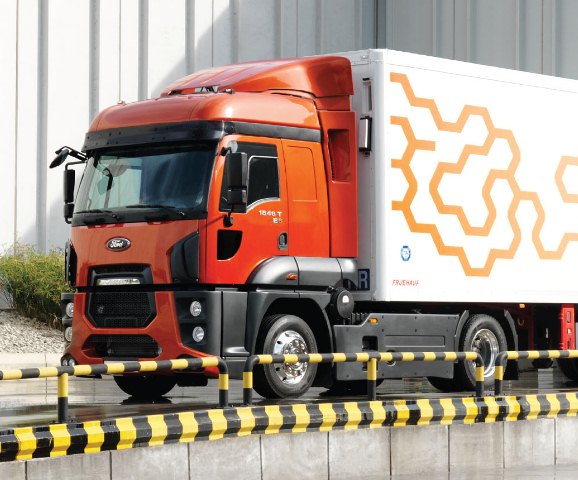 The Turkish truck maker goes on to say "In order to reduce fuel consumption, Ford Otosan engineers have developed of the New Ford Cargo Tractor Unit as a whole and have made great efforts to improve not only the engine but also various other factors, including improvements from the aerodynamics of its extra high roof cab to the friction rate of its mechanical parts . The cab air suspension enhances the comfort and the wider steps with step cover helps easy ingress & egress . With the power of its engine increased by 21%, the New Ford Cargo Tractor Unit eases the transport of the vehicle and its load while also providing improved fuel economy of up to 5% thanks to low rolling-resistance tyres and aerodynamic improvements to the body of the vehicle. Also having reduced weight, the New Ford Cargo Tractor Unit has best-of-its-class fuel economy at speeds of 60, 70 and 80 km/h."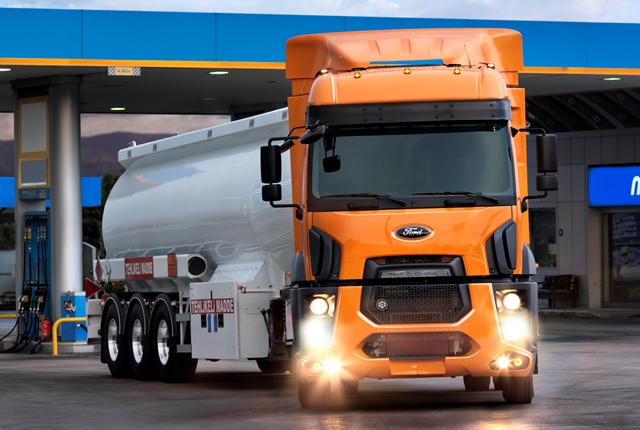 And it adds that its 'Kinetic Design' for the unique looking 1846T tractor reflects the concept of "Moving even when standing still" giving "…an impression of confidence and power at first sight. The tractor will take its place in the global markets with the same look, and will impress both its driver and onlookers with its dynamic external design and solid stance. The New Ford Cargo Tractor features easy-access storage compartments for small equipment outside the cabin which can only be opened from the inside, and also has a step cover designed for the wide steps. A sun visor is installed in the vehicle as an integral feature requiring no extra purchase by owners or drivers, while the vehicle also has a sliding roof controlled by an electrical remote controller. The modern and dynamic design carried over into the interior provides functionality and comfort to support the driver. The parking brake controller of the New Ford Cargo Tractor has been integrated into the dashboard for easy access. Driver comfort has been an important aspect during the design of the side panels, positioning the armrest at a height comfortable to the driver, incorporating practical, easy-access side pockets.The control units on the mid-console facing the driver were designed to be easily visible and accessible. Extra storage compartments have been placed on the overhead and mid-console parts of the cabin in order to assist in the daily life of the driver. The new roomy cabin, with increased ceiling height and bigger volume, with an interior height of 2,200 mm and interior width of 1,948 mm. Electrically controlled ergonomic driver's seat provides the most suitable driving position and ensures safe, comfortable, and non-tiring journeys. The control panel is installed on the side wall of the vehicle to ensure easier air conditioning in the bed compartment of the cabin, which is the home of drivers on the road. The cutting-edge dynamic instrument panel is ergonomic, clearly visible and more functional. In addition to the conventional signals and features, gear position, fuel consumption, distance to empty, AdBlue level and maintenance reminder and other information is easily visible on the stylish instrument panel with ice-blue illumination."
Meanwhile, I also learn that the New Ford Cargo Tractor Unit comes with the option of automatic transmission. Not sure which one…any reader like to hazard a guess, or perhaps they know for sure? Ford Otosan says the auto box "…will enable fuel savings thanks to its quick gearshifts, the transmission also contributes to decreased running costs with an extended service interval of 350,000 km. Braking is independent of engine speed thanks to the transmission intarder with 5 brake levels, which is integrated with the transmission and enables wear–free braking. The manual transmission version of the vehicle offers a new gear-shift mechanism, making it a class leader due to the low level of effort required to shift gears. Similarly, gear lever movement is also extremely easy and comfortable. Offering an optimized package for SCR catalyst after development of treatment and muffler systems, the exhaust system's SCR tank volume increased by 14% as the AdBlue heating was improved. Improvements were also made in the fuel capacity of the Ford Cargo, with the filter location of the 1,090 litre capacity fuel tank changed for easy serviceability.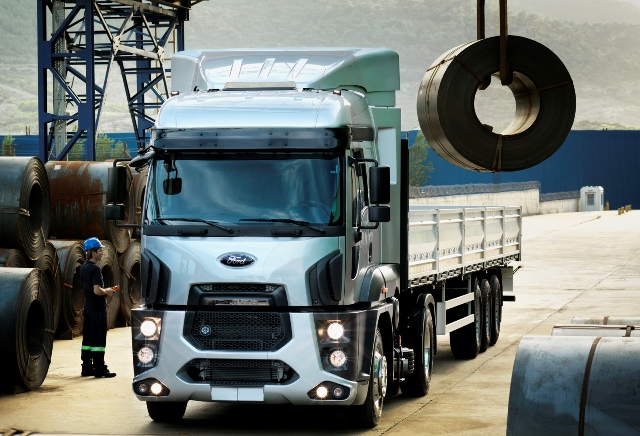 The Ford 1846T comes with a host of driving safety systems including ESP, EBD, ABS, and traction control systems. The Electronic Braking System (EBD) system, which is responsible for optimized brake force distribution, ensures equal delivery of brake pressure onto the brake calipers while also helping the clutch pedal feel to stay the same at all times. The braking system has excellent brake reaction time, and also ensures easy serviceability as well as lower service costs thanks to its modular structure. Along with ABS as standard, the New Ford Cargo Tractor Unit is fitted with disk brakes. The New Ford Cargo Tractor Unit also includes an immobilizer system against the theft. Of course the big BLB question is will we see it in the UK…my understanding is that the company is considering right-hand-rive versions but has yet to make a firm decision. However,it would certainly be nice to have a big Ford Cargo back in Blighty again!
Above all else I like the styling of the Ford Cargo 1846T, it's 'diferent' and for BLB that counts for alot especially when some many things now look so 'similar' whether they're cars, trucks or vans…it's nice to see designers and stylists go their own way.