Scania to go for world record at Convoy in the Park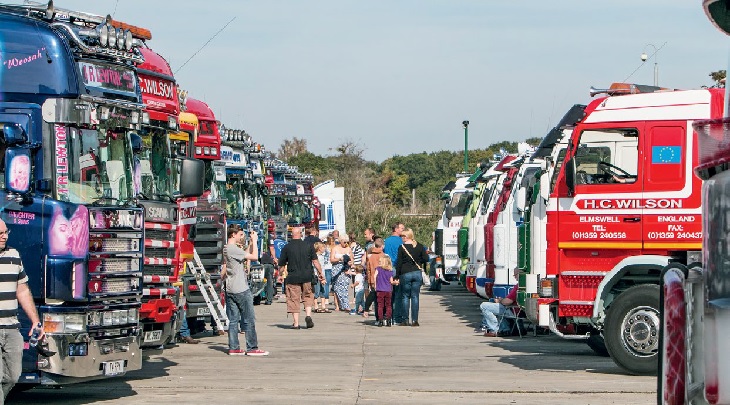 Scania GB will attempt to set a world record at Convoy in the Park on 22-23 July, and it needs drivers to get involved to achieve it.
Truck manufacturer Scania is planning to set a new record for the largest gathering of a single make of truck in one place, and has chosen the Donington Park infield during Convoy in the Park as the location. The magic number to beat is thought to be 400, and Scania is hopeful of smashing this figure.
While some Scania drivers who are bringing their trucks to Convoy in the Park might prefer to park in the general show truck area with mates and work colleagues who drive other truck marques, those choosing to head to the impressive Scania Village on arrival will be incentivised.
In addition to receiving an exclusive certificate proving that they took part in the world record attempt, every driver who parks up in Scania Village will get an exclusive Scania-branded overnight goody-bag. All participating Scania drivers will also be entered into a prize draw to win a once-in-a-lifetime trip for two to Sweden.
Jetting off to Sweden
The lucky winner, drawn at random during the Convoy in the Park weekend, will be jetting off to Sweden where they will visit Scania's home town of Södertälje. There, in addition to experiencing Scania's legendary hospitality, they will be treated to a trip around the museum and a full factory tour. This is the sort of prize money just can't buy, and will surely be every Scania enthusiast's dream trip.
And that's not all. As well as automatic entry to one of Truck Sport's 25 best in show categories, all trucks in the Scania Village will be entered into an additional 'Best Scania in the Village' award. In addition to a trophy, the winner – as chosen by T&D's team of expert judges – will appear as an Ed's Choice in the magazine later in the year, and will have their truck professionally photographed and turned into a poster, given away to all T&D readers. It's a fantastic one-off prize.
Not only will Scania Village trucks get a fantastic view of the weekend's truck racing action, they'll also be close to the Scania-sponsored stage.
Throughout the weekend several bands will be playing, including UK-based Americana group Mashville, high-octane blues-infested punkabilly group Knocksville, ultimate Guns N' Roses tribute band Guns or Roses, and a tribute to the late great 'Man in Black' Johnny Cash.
The stage will host numerous other fun activities too, including a Convoy in the Park eating competition.
As well as running Scania Village, the Swedish truck maker will be taking a double stand in the trade show area, where it will be demonstrating a full selection of its Next Generation R- and S-series trucks, winners of International Truck of the Year 2017.
Show truck ticket prices
The cost of bringing your truck to Convoy in the Park, whether it's a Scania or any other marque, is £60 (£30 for pre-1985 trucks). This includes a pair of weekend adult tickets worth £50 and entry into one of 25 show truck categories.
You can book in your truck at either www.btrc.com or by following the link from www.convoyinthepark.com
A small tent will be permitted behind your truck at Donington Park or, for larger plots, nearby off-site camping is available.
"You ever seen a duck that couldn't swim?"
In a nod to Kris Kristofferson's character in the legendary trucking movie Convoy, Scania will be commissioning 1000 exclusive Convoy in the Park rubber ducks.
You can't buy them, but you can win them at the show. To bag yourself one of these collectors' items, all you need to do is take a selfie in front of any Scania at Convoy in the Park and publish it on any social media platform (including Facebook, Twitter and Instagram) with #ConvoyinthePark.
Just show the evidence (on your phone or tablet) to staff on the Scania stand and a rubber duck is yours. It's as simple as that.
Scania will be giving away 500 on each day, and they'll be handed out on a first come, first served basis, so you might want to make this a morning job. The competition will be open to anyone, and of any age.
T&D's editor-in-chief Will Shiers went on a road trip to find the locations used in the Convoy movie – click this link to see what he found.
We hope you enjoyed this article! For more news, views and reviews on all aspects of the truck driver's life subscribe today.