This event has now passed, information on 2020 Convoy in the Park will be posted next year.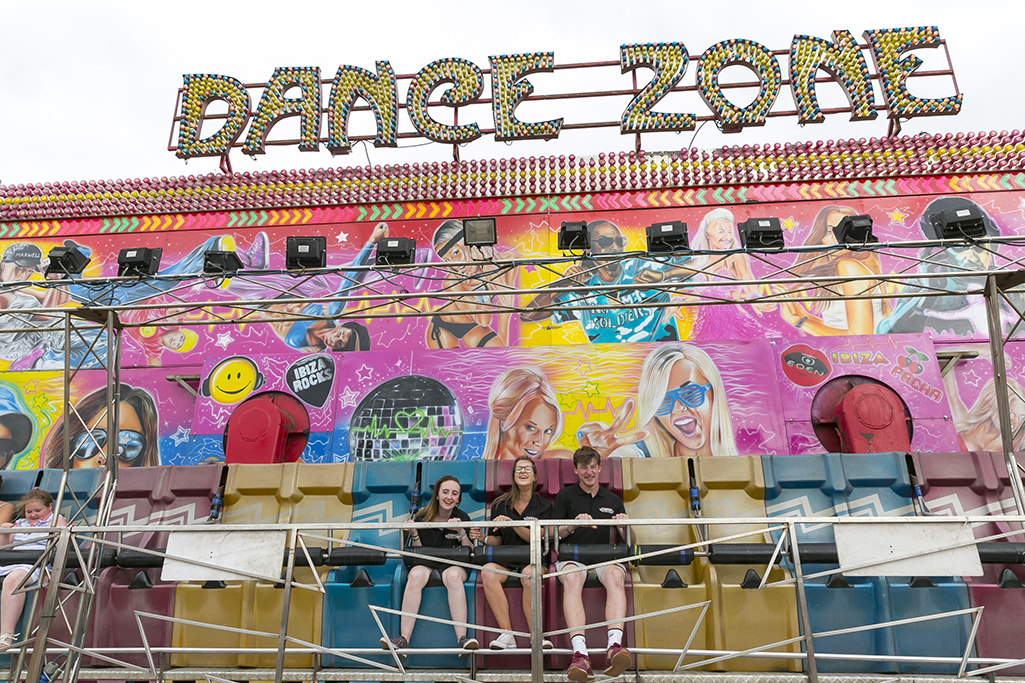 Funfair (pay per use)
Across the weekend, a fantastic funfair is in operation at Convoy in the Park. We hope you got your pulse racing on some exhilarating rides!
Mini monster trucks (pay per ride)
Children and adults get a taste of what it is like to drive a monster truck thanks to Mini Monster Truck Mania. Drivers can pilot pocket-sized replicas of well-known monster trucks including Big Pete, The Grim Reaper, Swamp Thing, Podzilla and Slingshot. It claims to be the only attraction of its kind in Europe. These petrol engine mini trucks are driven around a designated course with each driver getting about 5 minutes behind the wheel. Watch Video here.
Scalextric Racing (free)
Purpose-built Scalextric track with four-lane trackway. The aim of the challenge is simple – to be the fastest racing driver of the day. Drivers can have as many races as they like to find the car that suits their style and work their way up the leader board. The fastest driver of the day will receive a prize.
RC trucks
Multiple displays and demos of RC trucks together with indoor displays of various truck static models
Kids characters
The Blue Anchor Superstars, along with life-size characters Goldie and Flo, can be found at Convoy in the Park with their winning smiles and shining personalities. They have become a firm favourite with holiday guests visiting Blue Anchor parks across the East Coast. The Blue Anchor Superstars can be spotted in their red and yellow uniforms from afar and make sure they leave people smiling where ever they go. The team revel in spending time with people and introducing everyone to their best friends Goldie and Flo, everyone wants cuddles with the giant squishy dogs and they are more than happy to oblige. Make sure to catch up with them, have your photos taken with Goldie and Flo and get a hi-5 from the team, you never know you might even win a prize and become a Superstar for the day!
Bush craft skills
During Sunday you'll be able to get involved in our free Bushcraft activities such as fire lighting by friction, shelter building or creating bug hotels plus much more. Team members from Military Style Education will be on hand throughout Sunday to share their expert knowledge and teach you the ways of the wild!
Inflatable assault course
Huge amounts of inflatable entertainment for kids will be on offer for a small fee, including a huge 120ft assault course that is sure to keep them loads of bouncing fun! Individual charges apply.
Climbing wall
Hone those climbing skills or try climbing for the first time, with the diverse routes this is a 9m wall that can be enjoyed by all. The climbing wall will be available to use during Saturday and Sunday, weather permitting. Individual charges apply.
Inflatable side
The Caterpillar Climb and Slide is an easy 8 metre climb inside a spiral tube with windows to allow you to see your progress. Once you have scaled the climb you'll be able to enjoy your endeavours by sliding back down to earth! The Caterpillar Climb is available during Saturday and Sunday and is suitable for all ages, weather permitting. Individual charges apply.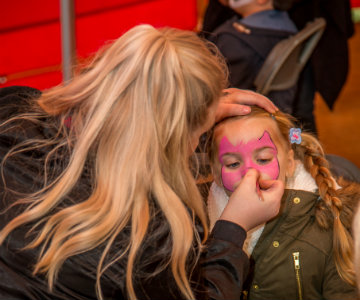 Face Painting
(pay per person)
Fantastic face painting and glitter for the kids all weekend. Children are able to have their face painted by professional face painters in whatever way they desire! Get into the festival spirit!