Truck & Driver Volvo Special 2023 – on sale now!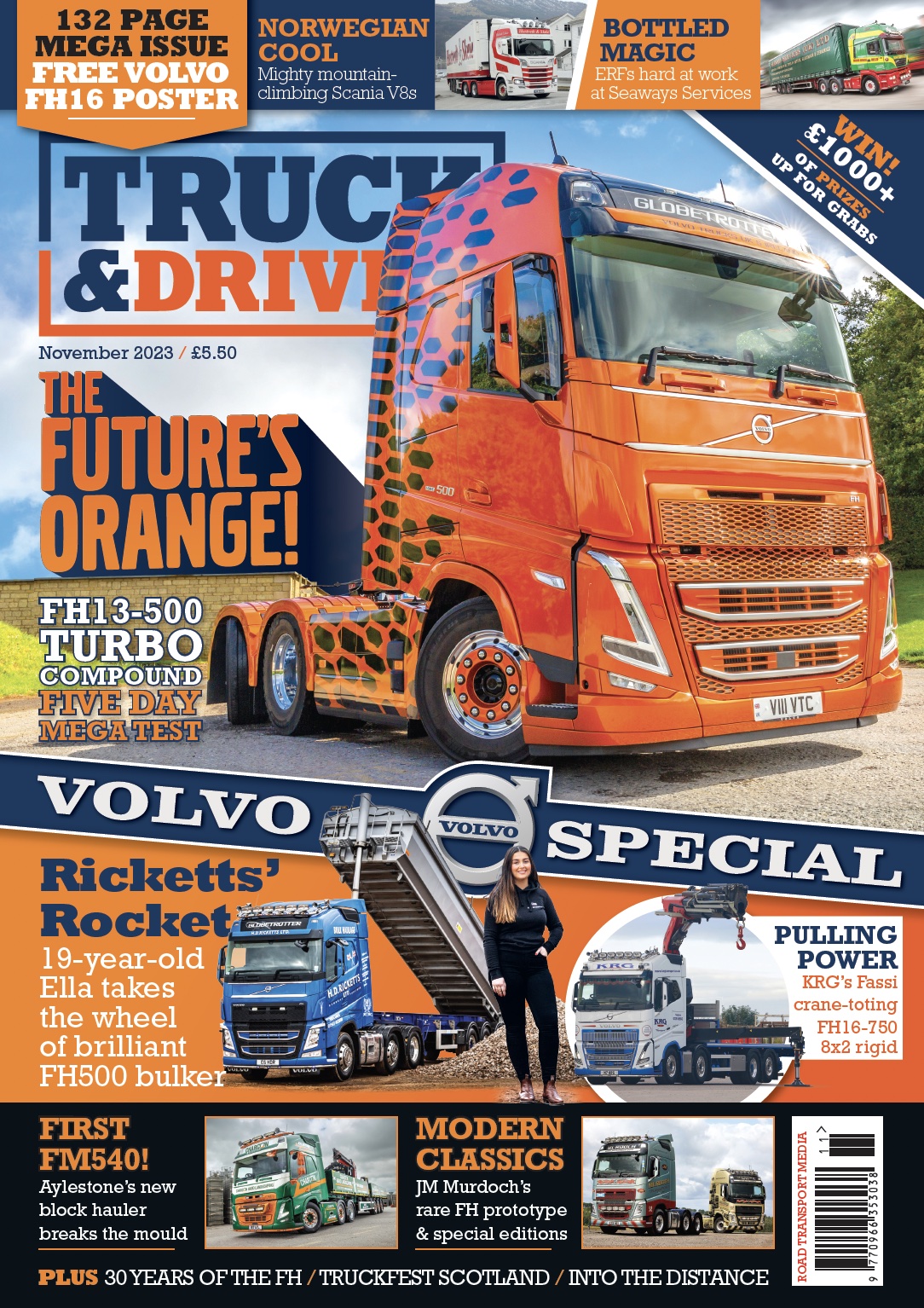 Roll up, roll up – the 132-page Truck & Driver Volvo bumper special edition is on the shelves now. Here's a taste of what you can find inside our November issue…
Kicking things off is our review of Volvo's brand-new FH13-500 Turbo Compound i-Save rear-steer tag-axle tractor unit. We worked it for a week – see what we thought inside!
Editor's Choice this month is KRG's stunning FH16-750 8×2 rigid with Fassi crane.
JM Murdoch has some ultra-rare trucks on its fleet. We pay a visit to check out its collection of FH prototypes and special editions.
19-year-old Ella Peters tells us what it's like to drive HD Rickett's superb FH500 bulker.
Aylestone is the first operator in the UK to spec an FM with 540 bhp. Find out why – and how! – they managed to get more than 500 horses inside this issue.
High-roof FHs are ten a penny, but Campbell Plant preferred the low-roof option for its new plant-hauler. We've got the full story.
Bob Beech has been driving and road-testing trucks for many years – but before he became a truck journalist, he started his career at the UK's original Volvo importers, Aisla Trucks. His unique perspective on how Volvos have changed through the years is fascinating – don't miss his story!
What would a 2023 Volvo special issue be without a celebration of 30 years of the iconic FH? Well, we've got the goods as Ian Lawson lays out 30 of his favourite FH photos from the last three decades.
And while we're celebrating, Peter Davies takes a deep dive into Volvo's legendary 16-litre engines to see how they have evolved over the years.
Irish operator Moyglare Sand & Gravel swears by its new duo of FM eight-wheel tippers. In a country where five-axle tippers are becoming more and more popular, learn why this haulier dares to think differently!
But it's not all Volvo this issue. Scania fans will want to check out Paul's trip to Norway to see Hustvedt & Skeie's fleet of mountain-trekking V8s.
We have a full report from Truckfest Scotland in which we pick through the very best trucks on show.
Jessica takes a close look at the tough – and prisine – ERFs still hard at work at Seaways Services.
Come along for an eventful long-distance adventure into Europe on an epic boat haul escapade.
We've the final part of our serialisation of ex-T&D editor George Bennett's superb new book, Into The Distance, in which he dodges vampires while on a winter run into Communist Romania.
After a short break back home, Paul heads back to Australia to pick up the cattle-hauling trail in Team T&D…
…and Niall also updates us on how his new FM is settling in on a very mixed week of work.
You'll find all this and LOADS more in the November issue of Truck & Driver, on sale now!
We hope you enjoyed this article! For more news, views and reviews on all aspects of the truck driver's life subscribe today.