Biglorryblog: A-Plant Isuzu goes up a weight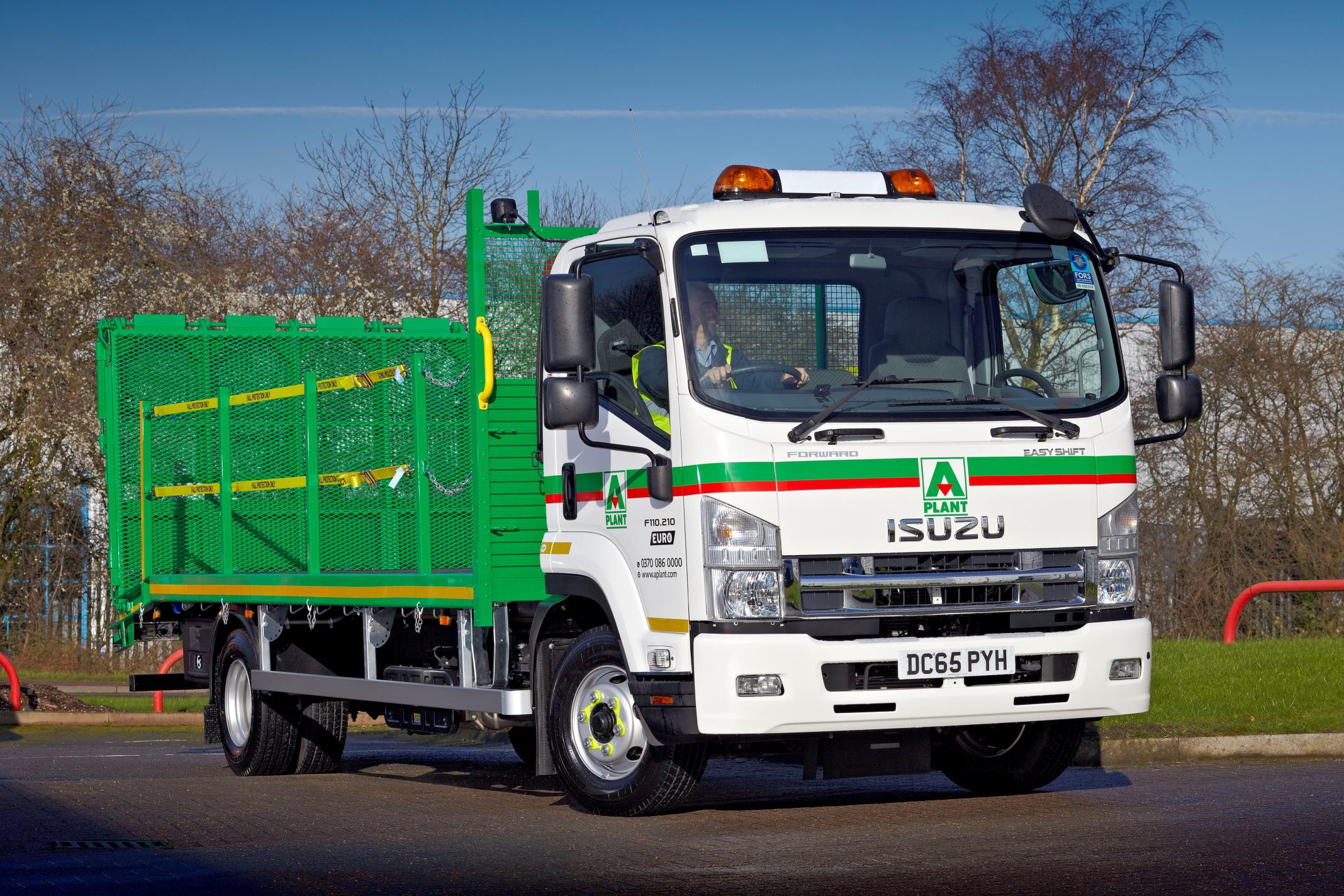 Long-standing equipment hire customer A-Plant has been specifying Isuzu trucks in its fleet since 1999, based mainly around the Isuzu 7.5 tonne chassis. However, recently the company has specified its first ever 11 tonne Isuzu rigid and this latest truck has now gone into service, operating out of A-Plant's service centre in Norwich.
The Isuzu Forward F110.210 chassis has been specified with Isuzu's Easyshift automatic transmission and the 4×2 LWB rigid has been fitted with a beavertail body. This first Isuzu 11 tonner in the A-Plant fleet will have a working life of up to 7 years, covering approximately 350,000 kms over that period.
A second Isuzu 11 tonne rigid for A-Plant, which has been ordered to an identical specification, is currently in build for delivery in October 2016 and  is scheduled to be based in Ireland at A-Plant's specialist utilities solution business, PSS Hire.
Explaining the upward shift from 7.5 tonne to 11 tonne Isuzus, Shaun Winstanley, director of transport services at A-Plant said; "In recent times, we have seen an increasing unladen weight of trucks in general, combined with much heavier plant and equipment that needs to be transported to customer's sites. This made us look at the heavier Isuzu 11 tonner that has a very acceptable low chassis height and for this operation we are confident that these new Isuzu trucks will follow in the successful footsteps of our previous Isuzu 7.5 tonners."
The initial Isuzu F110.210 rigid has been specified to FORS Silver Standard, with side scan, reversing cameras, on-board weighing equipment for the axles, as well as Chapter 8 livery and beacons. Both of the 11 tonne Isuzus have been acquired through local north west Isuzu Truck dealer Warrington Vehicle Centre.
A-Plant, part of the highly successful FTSE 100 company Ashtead Group plc, operates through a 142 strong UK Service Centre network. The company provides a vast range of plant, tools and specialised equipment for hire and employs in excess of 3,000 staff across the UK.
"For most of the 20 years that Isuzu Truck has been established here in the UK, A-Plant has been a long-term partner with us. As one of the earliest customers to invest in the Isuzu brand, A-Plant has been part of the overall Isuzu truck success story here in the UK, with both companies growing significantly during that period," said Keith Child, marketing director at Isuzu Truck (UK) Ltd.
We hope you enjoyed this article! For more news, views and reviews on all aspects of the truck driver's life subscribe today.