Biglorryblog: GBA new Actros sets stunning MPG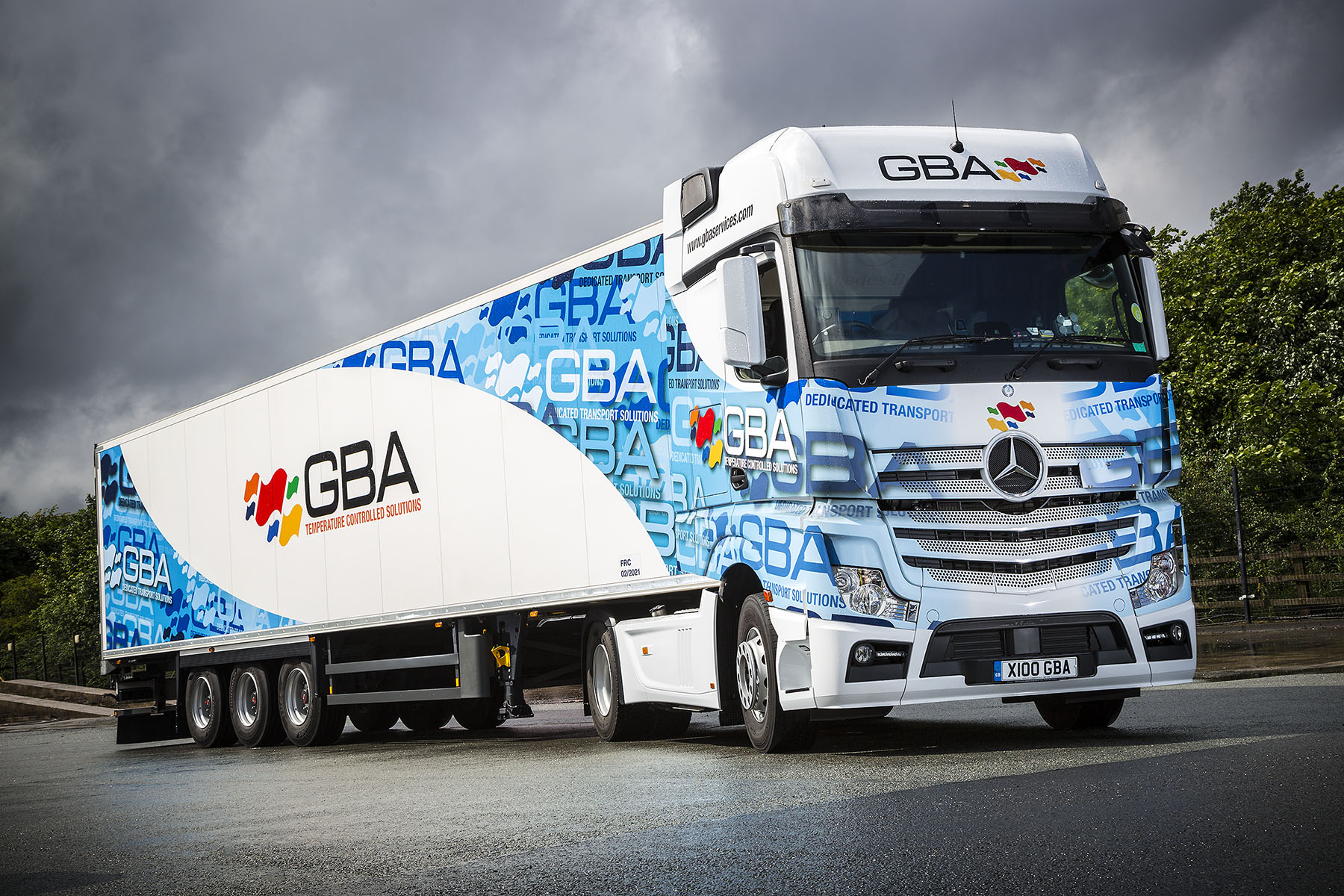 A Mercedes-Benz Actros tractor unit belonging to Preston-based GBA Services has recorded a stunning fuel consumption figure of 17.1 mpg over a 100-mile run through Austria.
The six-month-old truck was hauling a cargo of bulky but light pharmaceuticals in a 13.6-metre refrigerated trailer to a customer in Vienna, working at a gross combination weight of approximately 20 tonnes.
Plated for operation at a maximum of 40 tonnes gcw, the 4×2 Actros 1845 was supplied by Blackburn Dealer Ciceley Commercials. GBA's 350-strong fleet includes Mercedes-Benz Sprinter and Citan vans, and six Atego rigids, but the Actros is only its second tractor to wear a three-pointed star.
The unit is powered by an advanced 330 kW (449 hp) 12.8-litre, six-cylinder engine, which transmits its output to the road via a smooth and efficient, 12-speed Mercedes PowerShift 3 automated gearbox. Like all new Actros tractors, it also came fitted as standard with a Mercedes-Benz FleetBoard telematics system – it was this that recorded the remarkable mpg figure.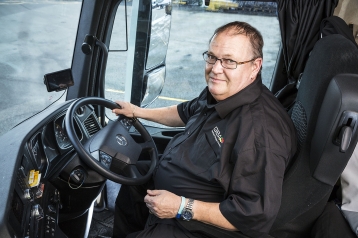 The Actros was assigned on delivery in January to experienced driver George McGlashan. Keen that the operator should get the very best from its new vehicle, Ciceley Commercials tasked its Driver-trainer Gary McMurray not only to give George an initial overview of the truck's impressive technology, but also to provide ongoing support.
"I'd never driven a Mercedes-Benz before but within a week I'd been won over," enthused George. "The truck is fantastic and Gary's input has been invaluable in helping me understand how to drive it in the most efficient way."
Gary added: "George has been driving for more than 30 years but he approached our sessions with a completely open mind. He very quickly understood what I was showing him and has continued to refine his technique, posting mpg figures which have steadily improved as the weeks have gone by. He's really embraced FleetBoard as a tool that can help to improve his driving technique too, and checks his mpg and efficiency score after every journey."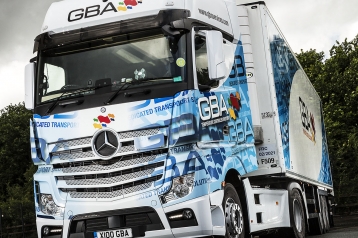 Nine weeks after the Actros entered service, Ciceley retro-fitted a Mercedes-Benz Predictive Powertrain Control (PPC) system. PPC is an innovative cruise control that employs digital 3D mapping and GPS data to scan the road ahead. Armed with this information it manages gear changes and vehicle speed, making full use of the truck's EcoRoll function to restrict diesel consumption and CO2 emissions.
The following week the truck's fuel consumption improved by a full mile per gallon. Three weeks after that, on a run to Budapest, George achieved a highly impressive 15.35 mpg, his best return to date. And by week 16, with 19,509 miles on the clock, it was averaging 12 mpg – and improving all the time.
"I managed to hit 15.56 mpg shortly afterwards," recalled George. "Then, on Saturday 18 June, I picked up a load from a customer near the German border with Austria, and set off to deliver it into Vienna. In Austria HGVs are banned from 3pm on Saturdays to 10pm on Sundays, so I had to pull in at the Rosenberg truckstop before I reached the city – that's when I took a look at my figures for the trip. I'd covered 103 miles, mostly on the motorway but with quite a few hills, at an average of 17.1 mpg.
"It was quite an eye-opener but from what I've already seen of this technically advanced truck I still think it can get better. So my new target is 18mpg!"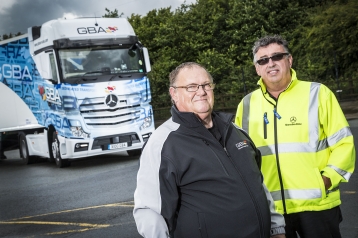 GBA Services General Manager Paul Birkbeck added: "The figure achieved by George for this journey is almost unbelievable for an artic, albeit one that was relatively lightly loaded – that's not always the case though, the truck has worked at up to 36 tonnes gcw. Naturally, therefore, we are very interested in understanding how we could replicate this across our fleet.
"Obviously the technology built into the vehicle has played a significant role. But so, too, we believe, has the driver training and support we've received, and the way George has taken on board and implemented all of the techniques he was shown, including how to make the most efficient use of the three-stage engine brake, EcoRoll, cruise control and PPC.
Mr Birkbeck concluded: "When Ciceley Commercials first presented the potential fuel savings that the Actros could offer us, I was highly sceptical. Six months down the line, though, their figures have been validated – the truck's lifetime average is now up to 12.3 mpg, which is remarkable for a vehicle that's on Continental temperature-controlled work and regularly crosses the Alps.
Get your hands on a free 3-in-1 emergency beacon by subscribing to Commercial Motor or Truck & Driver www.commercialmotor.com/freegift www.truckanddriver.co.uk/freegift
We hope you enjoyed this article! For more news, views and reviews on all aspects of the truck driver's life subscribe today.