Biglorryblog: Harris goes DAF for its 25th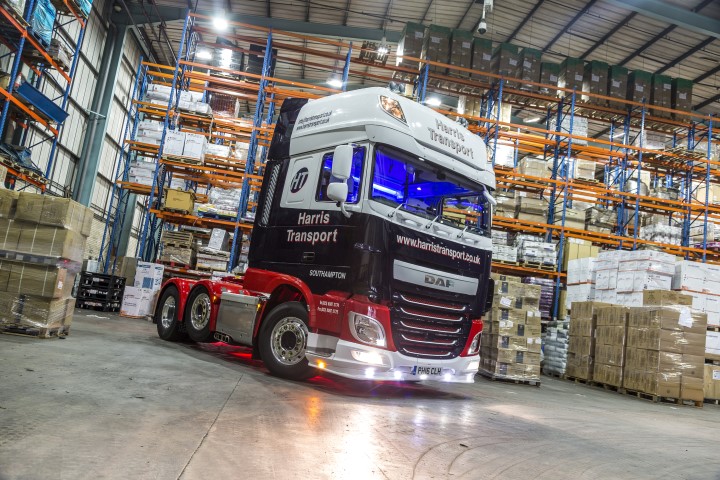 Harris Transport has celebrated its 25th anniversary with a special DAF XF 510 FTG tractor unit.
The haulage and storage business from Eastleigh in Hants, has an almost all-DAF fleet of around 40 vehicles, a mix of LFs, 18T and 26t DAF CF rigids and XF tractors, with 13 new additions including the XF 6×2 marking their 25th year in business.  Joint managing director, George Harris, said, "To mark our anniversary, we ordered this XF with our usual distinctive paint, air horns, lights and Dura-Bright wheels and just about everything DAF could add to it. We're very pleased with it, and it is turning heads at shows now, before we put it on the road."
In truth, the Harris Transport fleet all seem to carry a host of extras. The newest XFs with Super Space Cabs include such things as sat-navs, lane departure warning, cruise control, air conditioning, special seats and so on. "When we spec a cab," said George Harris, "my brother Derek, who is the other joint managing director, and I have one straight-forward rule for deciding what it will have – we simply ask ourselves if we would be happy to drive it. I started as a mechanic and Derek drove in the early days, so we consider ourselves good judges of a truck, and our drivers seem happy with that approach."
The original business, Harline Transport, was started by the boys' mother and father in 1977, but was sold to the ill-fated Renwick Freight. On the collapse of Renwick, George and his father went to the auction where Harline Transport trucks, still in livery, were being sold. His father decided to buy one and, while George was away arranging to drive it home, his father was busy buying two more. George remembers, "When I got back he just turned to me, smiled and said, 'We're back in business!'"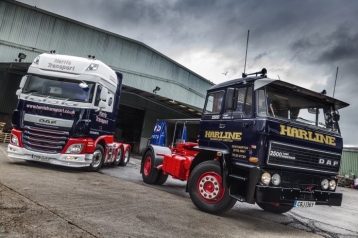 That was in June 1991, and 25 years later, the business is flourishing. The newest DAFs are a mixture of fleet additions and replacements. Says George, "Growth has been steady, which we prefer. It gives us time to plan and keep the fleet growing to cover it. Some of the new DAFs are replacements, of course, but we are definitely seeing an increase in business. We stick to DAF nowadays for a number of reasons, the key one being fuel economy. It doesn't seem to matter which truck and which driver go out of the yard, fuel results are always better on DAFs."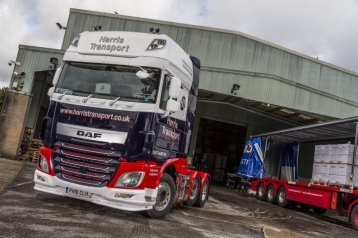 The firm handles general haulage and storage, as well as being a long-standing Palletforce member. It also has a lively container business in and out of Southampton Docks, operating not just a number of its own trucks, but running an additional dozen or more sub-contractors too.
The new DAFs have been supplied through PACCAR Financial on three-year deals with standard DAF R&M packages. Local dealer, Adams Morey in Southampton, plays an important part in the relationship. George recalls his father dealt with them in the early days of the Harline business, when the dealership was known as Morey DAF. "They are just so very helpful and professional. I remember going down there as a lad, driving a van back and forward for spares. Today, nothing is too much trouble for them it seems – they have a very big bearing on our loyalty to the DAF name."
Even when things go slightly awry, and with anything mechanical we all know they can, George Harris is happy with DAF. "DAFaid is absolutely fantastic," he says, adding, "We had a problem on the road in Essex a while ago, with an export load running up against a deadline. The DAFaid team found the part we wanted, and as luck would have the nearest one was actually with Adams Morey in Southampton. That didn't matter though, they got it straight onto a van, out to the truck, fixed it and got us on our way. That really is 'going the extra mile' in my book – I couldn't have been happier
We hope you enjoyed this article! For more news, views and reviews on all aspects of the truck driver's life subscribe today.