Biglorryblog: New heavies for Tripod Crest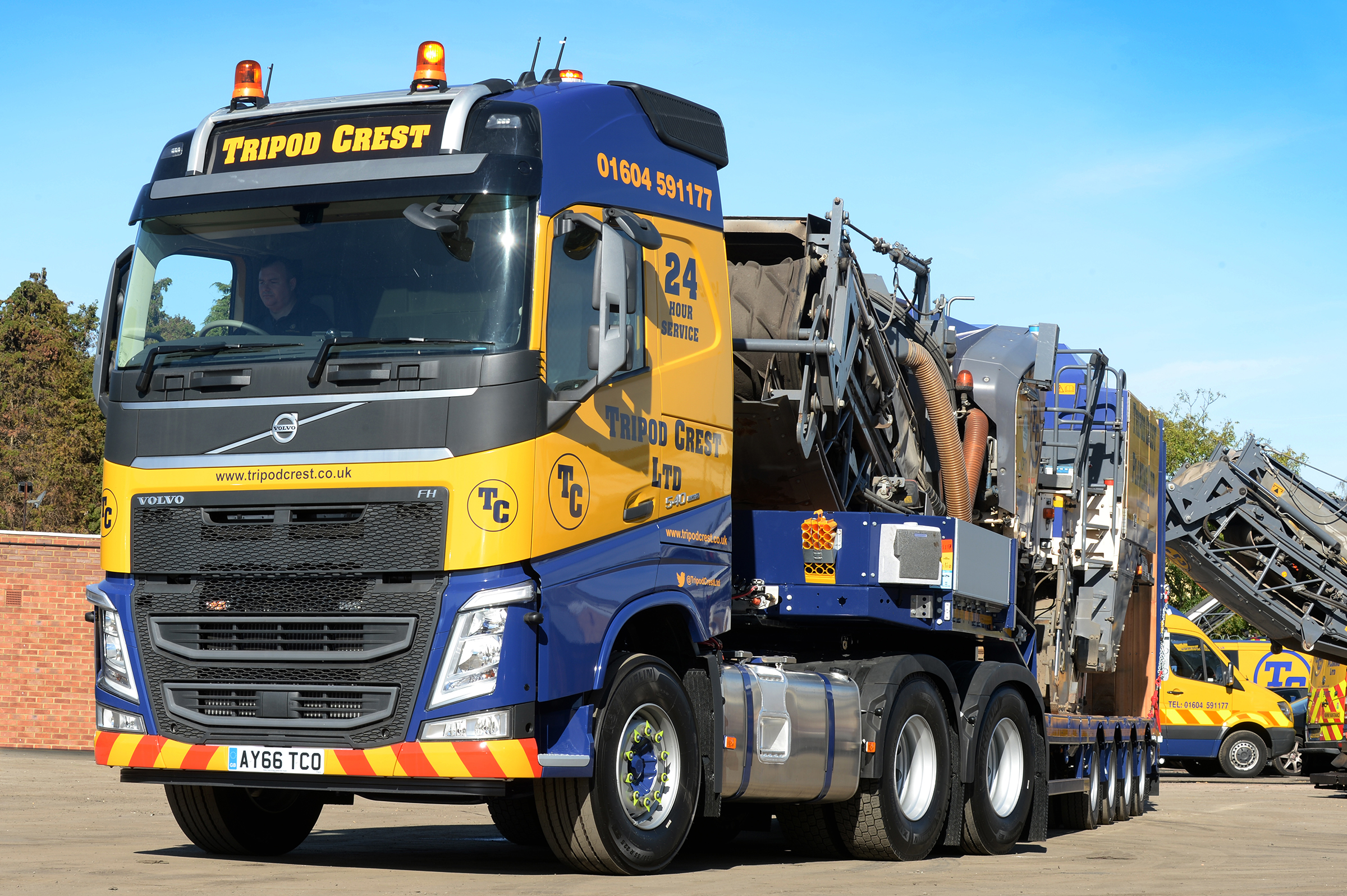 When it comes to transporting pavers, rollers and asphalt planing equipment, some weighing in excess of 38-tonnes, Tripod Crest Ltd based in Northampton has turned to Volvo Truck and Bus Centre East Anglia of Wellingborough and three new Volvo FH-540, 6×2 tag-axle tractor units.
Tripod Crest Ltd. is one of the leading names in highway maintenance and the three new Globetrotter-cabbed FH-540 tractor units join the company's fleet of 34 trucks. All are plated for STGO CAT 2 operation and all three of the 3.2 metre wheelbase tractor units are fitted with twin-tyre tag-axles.
The company's Workshop Manager Craig Baker says: "When it came to renewing the vehicles we use for the movement of our road construction machinery, we were particularly impressed with the economy, reliability and capability of the new Volvo FH tractor units."
"Because we're a round-the-clock operation and our drivers sometimes spend the whole week away, we have specified these trucks to a very high standard," says Craig. "Where the cab ordinarily features twin bunks we have specified a single bed to give even more space. We've also spec'd them up with fridges, microwaves, the high power audio system with integrated Bluetooth and USB inputs and even coffee makers because, for us, it's important we provide a driver-friendly environment."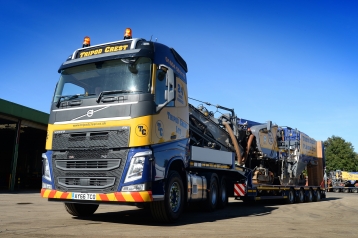 Power is provided by the 13-litre Volvo D13K engine producing 540hp and up to 2600Nm of torque delivered to the road through the 12-speed I-Shift automated transmission. Inside, the trucks feature the Drive Plus cab package, featuring leather upholstery, arm-rests and air-suspension on the driver's seat.
"Tripod Crest employs some 220 staff, 25 of which are drivers and as soon as these new trucks arrived in the yard they all wanted to get their hands on one," says Craig. "They love the I-Shift transmission and the whole driving environment."
Paired to the new Volvo tractor units are three new 4-axle Faymonville Multimax low loader trailers, which at 13.3m in length are 'millimetre perfect', reports Craig, when it comes to transportation of Tripod Crest's largest planers.
"We have worked on many high profile projects in the UK including resurfacing on the M25 and at London Heathrow airport," continues Craig. "A couple of years ago we worked on the Formula One Grand Prix circuit at Silverstone, providing specialist milling at various sections of the track. Getting our equipment on and off-site on time is absolutely critical and we're confident that the new Volvo FH tractor units will prove to be real winners in this regard.
We hope you enjoyed this article! For more news, views and reviews on all aspects of the truck driver's life subscribe today.