Biglorryblog: T&D on holidays
T&Ds editor never stops working even on his summer holidays he took time to send  this note to BLB
Like many parents, I dread the school holidays for one reason – the price of holiday cottages shoots up to double or more what is charged for renting them during term times.
However, I struck lucky recently when I got a nice little cottage in the middle of Perthshire for a week at a decent rate, so, despite having a long drive ahead of us, we packed up the car and headed north. I'll be honest, I love Scotland, and not just for the Irn Bru and Tunnocks caramel wafers… I also love Scottish trucks. Maybe it's the mass of timber trucks, with big Dafs, Volvos, MANs at al, many with tag axles…. I love 'em
For the family, there was the promise (or threat?) of long walks through beautiful countryside (which made us discover muscles we never knew we had), and so that was one reason for heading past Hadrian's Wall.
But for me, there were also those trucks to point my lens at. Well, that was the hope. In fact it turned out a little bit different. However, on one sortie up the A93 to Braemar, I was able to stop in good time to shoot a Co-op Scania P360 parked while the driver took his break. With the beautiful Cairn Gorms as the backdrop, I snapped away merrily.
I also successfully persuaded my long-suffering wife and daughter that 15 minutes parked in a layby on the A9 would be a good use of their time, while I put the camera to good use.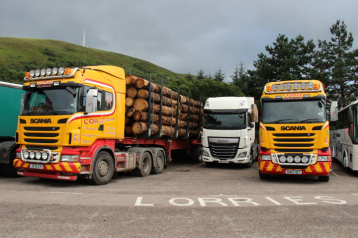 But, I have a new savour in my quest to stop randomly to photo trucks and talk to drivers about their jobs. It's Pokémon Go! Now, I have no interest whatsoever in this game, but my daughter loves it. And so she now has a suitable diversion to occupy her for those occasions I'm wandering round a truck park in Fort William shooting big V8 Scanias and the like. (As an aside, Fort William was a great place for catching Pokémons, I soon leant).
And whether you think catching imaginary weird 'animals' in virtual reality is, as a teenager would say, "soooooo saaaaaad", think again. It's just a harmless hobby that occupies a person, and, really it's no different to taking photos of trucks, except the latter does not make you walk into the middle of the M6 to do so. Well, it shouldn't.
So while I don't like Pokémon Go per se, at least it buys me time to pursue my equally baffling hobby. It also allowed me to pack the wife and daughter off Pokémon hunting in Edinburgh while I went to Truckfest. Oooh, look, lots of tag-axle tractor units. Win win!
We hope you enjoyed this article! For more news, views and reviews on all aspects of the truck driver's life subscribe today.