British Truck Racing Championship round 3 – Ringmeister Ryan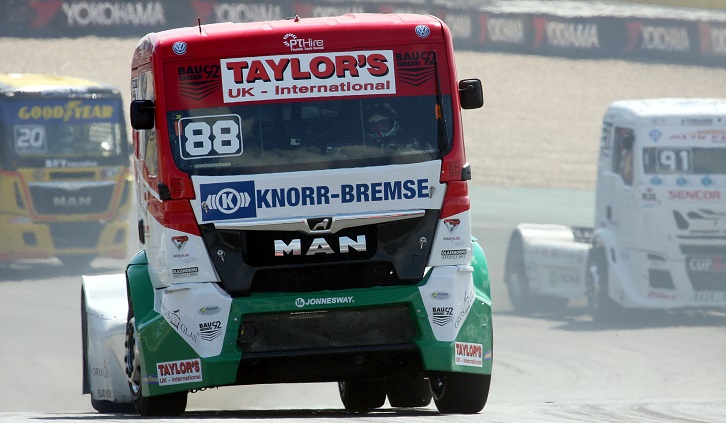 Ryan Smith collected three victories and the biggest trophy in truck racing as he stole the show at the sun-soaked 2018 ADAC Truck Grand Prix – watched by an incredible crowd of 117,500 fans at Nurburgring in Germany in early July.
After dominating qualifying, Ryan had taken wins in the Mittelrhein Cup races – which score towards the BTRA Championship – on Friday, Saturday and Sunday morning. The MAN racer had been on course to complete a clean sweep, making good progress in the opening laps of the 4th race until he tangled with the Mercedes of local hero Heinz-Werner Lenz and sustained steering damage forcing an early retirement.
But Ryan had good reason to be celebrating after the final podium presentations on Sunday evening as he collected the 'Truck Master Germany' title, which recognised his amazing overall performance during the 2018 ADAC Truck GP event. His three Mittelrhein Cup/BTRA wins plus strong performances in all four FIA European Championship races, held over the same weekend, made Ryan the undisputed star of the event.
Ryan converted his pole position into a comfortable win in the first race in Germany, with runner-up David Jenkins eventually taking the chequered flag some 11 seconds behind. Stuart Oliver (Volvo) inherited third after fast-rising newcomer Jamie Anderson picked up a 10-second 'overspeeding' penalty, dropping him to fifth.
Ryan also posted the fastest lap of the race (1m.56.959s) during a dominant performance.
"Good to get a win under my belt on Friday. At least no-one can now say I'm just a 'weekend' driver!" he joked as he jumped directly from his race-winning truck into the Oxxo MAN that he immediately took onto the track for the FIA European Championship qualifying session.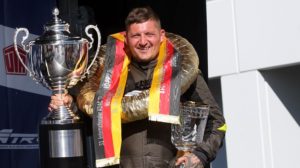 In the sweltering heat of Saturday's second Mittelrhein Cup race, Ryan kept his cool to power his way from eighth place on the starting grid through to the front in just two laps – the 'reverse grid' format that comes into play for race two held no fears for the on-form MAN racer. Once he reached the head of the field it was 'business as usual' for the double British champion. He posted the fastest race lap (1m.56.614s) and then paced himself over the remaining 11 laps to take the chequered flag 6.613 seconds ahead of Jenkins. Completing the top three to make it an all-MAN podium was Anderson – narrowly holding off Simon Reid (Iveco).
Ryan completed his hat-trick of wins in a dramatic third race on Sunday morning. Jenkins – starting from pole position – was looking secure after taking an early lead with only fellow MAN racer Luke Taylor for close company. Meanwhile Ryan had been fighting his way through heavy traffic after being relegated to row six of the starting grid following a track infringement during qualifying, but soon climbed to third and was closing down the leaders.
A crashed Dutch truck saw a Full Course Yellow (FCY) situation bringing the leading trio closer together as they all circulated at reduced pace. But the turning point came when the green flags were eventually shown and Jenkins and Taylor were caught napping – with the fully-charged Ryan passing both in one smart move on the starting straight. Then he had an easy run the chequered flag.
"At the re-start David was carefully watching his speed and clearly the engine was off-boost," explained his mechanic brother James. Clearly Taylor was equally off-guard. Ryan – more familiar with the FCY procedure thanks to his FIA European Championship outings – hit the ground running with his motor on full boost when greeted by the green flags.
As a result of the Smith/Lenz accident in Race 4 Anderson and Taylor were able to run away at the head of the field – the MAN duo battling hard all the way to the chequered flag and separated by just 0.814s after 13 fiercely contested laps. Simon Reid took the final podium spot – bringing his Iveco home in third while Oliver defended his fourth spot from repeated Jenkins attacks right the way to the finishing line.
Division 2 honours go to Garrett
Luke Garrett continued his impressive string of winning drives, taking his MAN to victory in all four outings at Nurburgring. In race one he was joined on the podium by Craig Reid – although the Iveco was subsequently excluded when found to be underweight– so Brad Smith (Daf) moved up a place.
Race 2 saw another dominant performance from Garrett – finishing ahead of Brad and Steve Powell (MAN). 'Lucky Luke' completed his hat-trick of BTRA Division 2 victories in Race 3 with another strong performance, his silver MAN machine followed home – at some 17 seconds distance – by Craig Reid and Brad Smith.
Garrett maintained his 100% Nurburgring winning record with another fine drive to claim the BTRA Division 2 honours in race 4 – and finished ninth overall, just behind top Dutch driver Cees Zandbergen (Scania). Craig Reid took 2nd while Steve Powell picked up third after fighting his way past his brother John's Daf.
Words & images: Jonathan Reeves
Next round: Thruxton on 7/8 July.
Leading points standings after round 3
Division 1
1. Ryan Smith (MAN) 190 points
2. David Jenkins (MAN) 174
3. Jamie Anderson (MAN) 158
4. Stuart Oliver (Volvo) 137
5. Simon Reid (Iveco) 137
6. Luke Taylor (MAN) 98
Division 2
1. Luke Garrett (MAN) 202
2. Brad Smith (Daf) 167
3. John Powell (Volvo) 154
4. John Bowler (Daf) 143
5. Steve Powell (MAN) 125
6. Simon Cole (Mercedes) 121
We hope you enjoyed this article! For more news, views and reviews on all aspects of the truck driver's life subscribe today.