British Truck Racing Championship round 3 – Thruxton thriller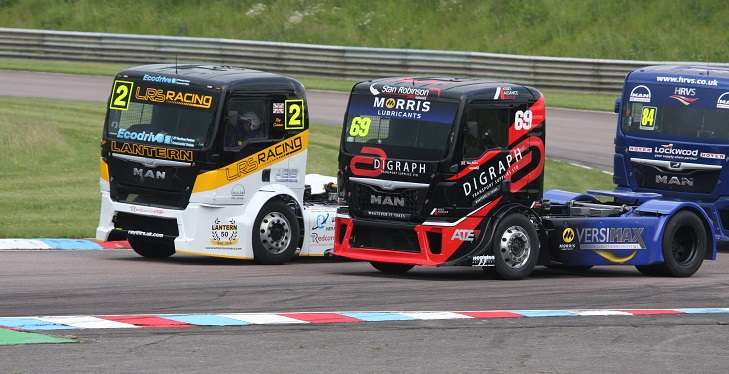 Round three of the 2017 BTRA British Truck Racing took the teams to the sweeping curves of the UK's fastest circuit, Thruxton. The Hampshire track produced some exciting racing, a variety of winners – and a few major incidents too!
The trucks lap Thruxton at an average speed of more than 80mph, so with drivers spending much of their time with the 'pedal to the metal' it was perhaps not surprising that a number of official results were amended with overspeeding penalties imposed.
Ryan Smith (MAN) set a sizzling pace to claim pole position in the Saturday sunshine but struggled with the changeable conditions that affected the races.
Light rain started to fall as the heavyweights lined up for their first outing of the weekend and it was the 'old master' Stuart Oliver (Volvo) who took the opening win of the weekend, narrowly beating the MANs of Mat Summerfield and David Jenkins.
Smith slipped back to fifth, behind Shane Brereton (MAN).
But Smith was back on form in race two – quickly storming to the front to take victory – just 0.4s ahead of Jenkins, with Oliver claiming the final podium spot.
Summerfield scored a dominant win in race three – pulling more than 13 seconds clear of the pack. Jenkins was on the charge too, coming through to another strong second with Ray Coleman hanging on for third to make it an all-MAN podium.
The final race saw Brereton completing a troubled weekend in fighting fashion with a win, holding off Summerfield to take the chequered flag by 0.78s.  Meanwhile Smith held on to his eight-point championship lead with a solid third place in the changeable conditions.
Summerfield and Jenkins were top individual scorers of the weekend – both picking up 32 points, which moves them up to second and joint third respectively in the championship.
Bint on top in Division 2
The four BTRA Division 2 races produced plenty of action – most notably with the unfortunate John Powell seeing his Ford Cargo wrecked in a massive startline shunt in race three, having previously taken a pair of fabulous third places in the earlier races.
Consistent results – three second places – saw Adam Bint (Volvo White) move to the top of the points table, one clear of Mika Makinen, who took a win on Saturday but lost a lot of points after a fuel line failed on his Sisu costing him two races on Sunday.
Simon Cole (Mercedes) lies a close third after a Sunday victory, but the happiest driver of the day was Tony Smith, who took a double win after a rapid replacement of a cracked cylinder head on his Sisu.
July will be a busy month for most of the teams, with two Championship events coming up: Nurburgring in Germany on July 1-2, followed by Donington Park on July 22-23 – which will also be the Convoy in the Park festival.
Words & image: Jonathan Reeves
We hope you enjoyed this article! For more news, views and reviews on all aspects of the truck driver's life subscribe today.
Sign up here for our free Truck & Driver Newsletter