British Truck Racing Championship Round 6 review – Advantage Smith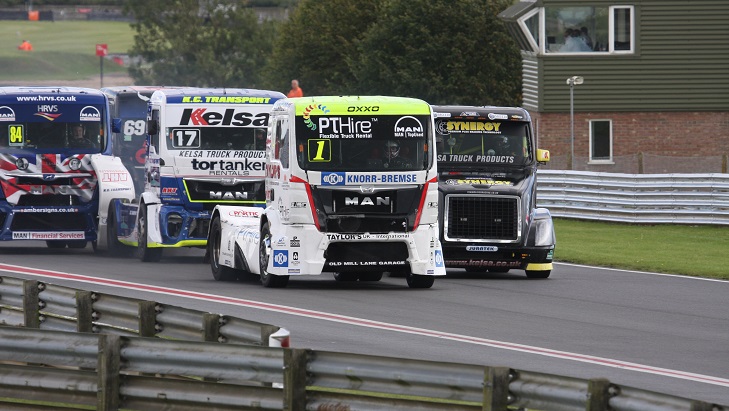 Championship leader takes three podiums at a stormy Snetterton to strengthen his position as his rivals slip up.
Ryan Smith extended his lead at the top of the BTRA British Truck Racing Championship standings to 43 points – collecting one win and two third places at the wet and disrupted Snetterton event (September 9/10).
But while Smith was piling up the points two of his main rivals just piled up! Dave Jenkins and Shane Brereton were unfortunately positioned in just the wrong place when Terry Gibbon spun his MAN early in the third Division One race on Sunday. Both ploughed into the sideways truck and sustained heavy damage – and were then prevented from taking part in the re-run later in the day.
Intermittent heavy rain made the twisty and narrow Norfolk circuit very slippery – and Saturday's Division One action nearly descended into a farce. Two re-starts after first corner incidents saw the race pushed to the end of the programme and when the event was finally run it was over a distance of just three laps!
Smith made good use of his pole position and collected the honours in that first race – with the closely matched Brereton and Jenkins next home to make it an all-MAN podium.
Race two on Sunday saw Richard Collett blast to a runaway victory – the first trip to the top step of the podium for the popular Yorkshireman in more than two years.
Simon Reid (Iveco) flew into the lead at the rolling start – but a blown engine seal saw him out after three laps – leaving Collett to take the chequered flag well clear of on-form Brereton with Smith a close third.
Stuart Oliver was right behind the MAN trio – the Volvo driver claiming his second fourth of the weekend.
Race three was aborted after the Gibbon/Jenkins/Brereton incident. When it was finally re-run later in the day Mat Summerfield took a runaway victory – 20 seconds clear of the chasing pack. Stuart Oliver did his championship hopes no harm by fiercely fending off Smith to take the runner-up spot.
With all the delays earlier in the day it was perhaps no surprise to find the final scheduled race was cancelled with the 18.30 circuit noise curfew looming!
Makinen masters the wet
The slippery conditions at Snetterton were not to everyone's liking, but for Mika Makinen it was probably just like a summer day in his native Finland!
The SISU driver made easy meat of the competition – winning three of the four Division 2 races and extending his lead at the top of the standings to 52 points.
The first outing saw pole sitter Makinen romp home some eight seconds clear of his main title rivals Simon Cole (Mercedes) and Tony Smith (Sisu).
Full credit to Luke Garrett who blasted his MAN from row 3 through to the front in two laps in race 2, overhauling early leader Andy Lovenberry (Renault). Garrett held on in very poor conditions to take a great win in front of Finn Sami Ojanen (Iveco) and John Bowler (Foden).
In the early stages of the race, 2016 champion Adam Bint was on a real charge– climbing from 11th on the grid to a stunning second in three laps. But a broken propshaft forced the Volvo White out, ending Bint's weekend.
Race 3 saw Makinen take an easy win while newcomer Paul Rivett claimed a superb second. The Clio racer proving he'd quickly adapted from a front wheel drive Renault to a 1000 horsepower rear-wheel drive six-wheeler in his debut weekend in the WDE MAN. Ojanen collected his second podium result with a fine third.
Makinen completed his hat-trick of wins in race 4, some nine seconds clear of fellow Sisu racer Tony Smith, who had to fight his way through the field. Bowler (Foden) claimed the final podium spot ahead of Brad Smith (Daf).
Most importantly, all the Division 2 drivers kept facing in the right direction nearly all the time – and they managed to run their full compliment of four races over the weekend.
Championship standings after round 6, Snetterton
Division 1
1) Ryan Smith (MAN) 200
2) Stuart Oliver (Volvo) 165
3) David Jenkins (MAN) 157
= Shane Brereton (MAN) 157
5) Mat Summerfield (MAN)152
6) Oly Janes (Freightliner) 88
Division 2
1) Mika Makinen (Sisu) 190
2) Tony Smith (Sisu) 138
3) Simon Cole (Mercedes-Benz) 130
4) Adam Bint (Volvo White) 120
5) John Bowler (Foden) 118
6) Luke Garrett (MAN) 109
Remaining rounds:
Pembrey, South Wales – October 14/15
Brands Hatch, Kent – November 4/5
Words and image: Jonathan Reeves
Picture: Ryan Smith (1) battles Stuart Oliver
We hope you enjoyed this article! For more news, views and reviews on all aspects of the truck driver's life subscribe today.