Bulgarian driver wins International Optifuel Challenge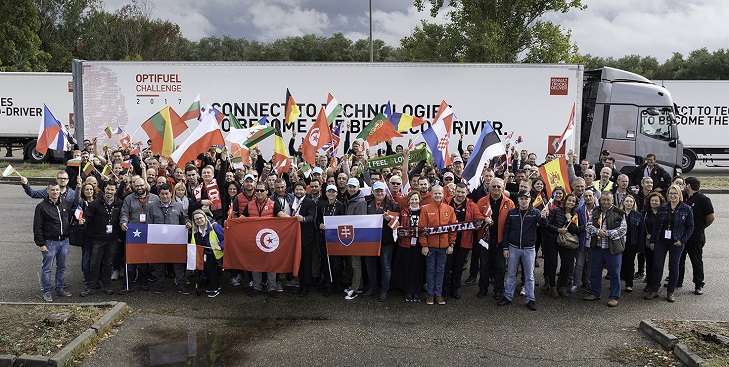 A Bulgarian driver has seen off the challenge of drivers from 28 other countries to win the Renault Trucks International Optifuel Challenge.
Plamen Ivanov, a driver and manager of the Bulgarian company Sunny Co, took the title, with Romanian Adrian Ţintea second and Jochen Becker from Luxembourg taking third place.
Britain's representative at the final, which was held in Toledo in Spain, Steve Rountree of MTS Logistics, narrowly failed to make the top 10.
The competition was split into two parts with all the finalists answering a series of theoretical questions that evaluated their eco-driving knowledge, which represented 10% of the final score. All the competitors then took to the wheel of a Renault Trucks Range T480 Optifuel truck for an open-road driving test lasting about 40 minutes. More than 2,500 drivers had entered the competition, which was in its fourth running.
Ivanov won a €6,000 (£5,550) voucher for the shop of his choice as well as a Renault Trucks Range T480 Optifuel truck to expand his 23-vehicle fleet, which is exclusively made up of Renault Trucks vehicles.
He took the competition so seriously that he practiced every weekend using the Optifuel Infomax to monitor and improve his performance. "I was able to keep my consumption low, whilst maintaining my speed and I only used the brake pedal three times over the entire route," he said.
After receiving an eco-driving training from Renault Trucks Bulgaria, Ivanov now trains his company's drivers.
Tintea, who drives for Tintar Spedition, won a €2,000 store voucher of his choice and a €5,000 voucher for his company, valid throughout the entire Renault Trucks network.
Becker, a driver from the Luxembourg-based company, Tri Kipper, won a €1,000 voucher of his choice and the company also won a Renault Trucks voucher worth €2,500.
We hope you enjoyed this article! For more news, views and reviews on all aspects of the truck driver's life subscribe today.