Classic Middle East Trucking! The early days remembered on Biglorryblog thanks to Budgie..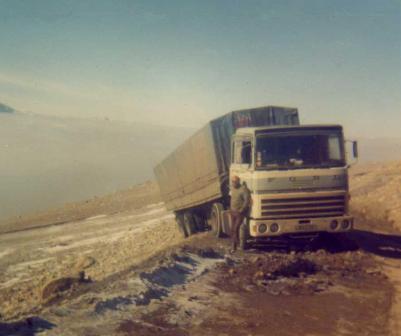 I have to say that when I first saw this e-mail with 47 ATTACHMENTS(!) sitting in my normal [email protected] letterbox my heart plummeted! But then 'WOW!' As I started to open them up I have to admit I was well-and-truly hooked. And Biglorryblog is most grateful to 'Budgie' Smith in Southampton for these pictures from [I'd guess the late 70's and maybe early 80s-BLB] of classic Middle-East runs to Saudi and Iran. "Feel free to use them on your website",he says…so I will mate! I'll see if I can get him to tell me a bit more about them by and by…anyroadup first a selection of Transcontis and their drivers getting into and out of various scrapes!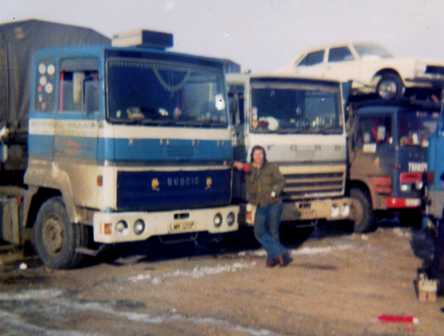 The one at the very top is someone who I guess was running with Budgie at the time, suffering from a bit of a 'hangover'….and there's the man himself..or at least I assume that's Budgie–he's leaning against 'Budgie"s Ford…now click through here for some fabulous Middle East memories…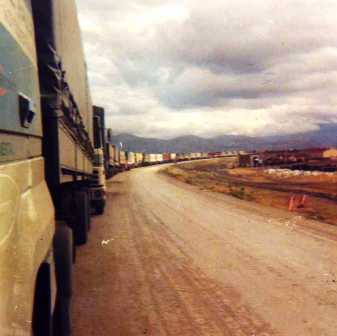 Long, long LONG queues at the borders….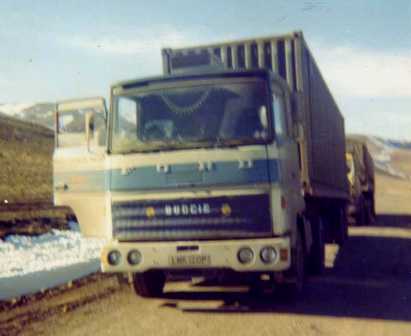 Stopping for a break…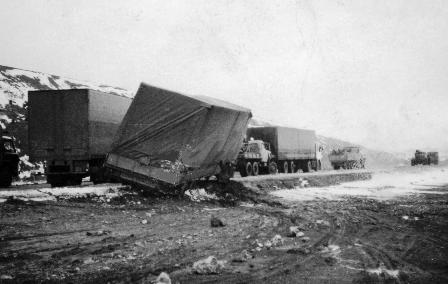 And the ever-present danger of sliding off the road or having an accident—thousands of miles from home…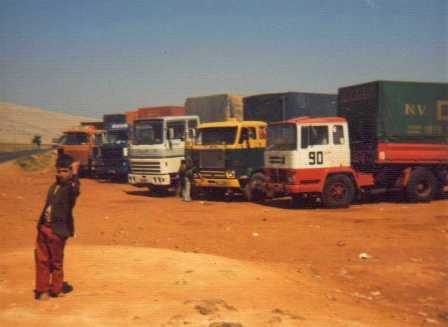 Temporary truckstop in the desert number #1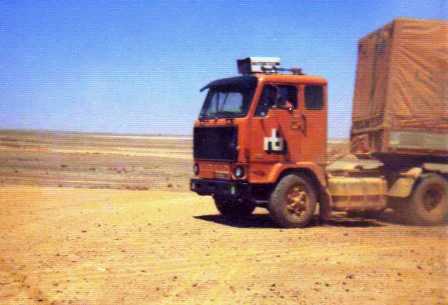 Is that RTI? Classic Volvo F88/9 with Trilex wheels, air-con on top, and a TIR tilt behind…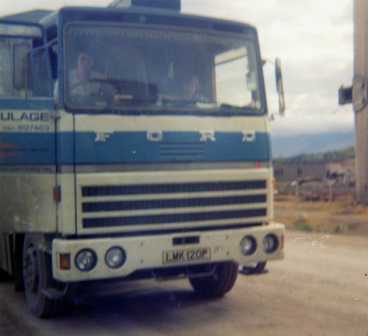 Another Transconti..the ultimate long-haul machine?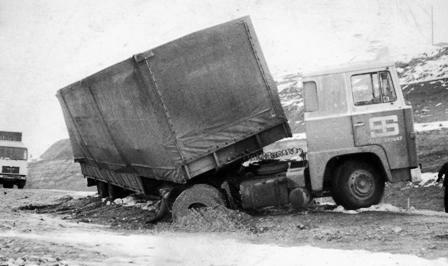 Another 'Oh @#%$!' moment…it must have been a nightmare driving on unmade up roads in the ice and snow through the mountains…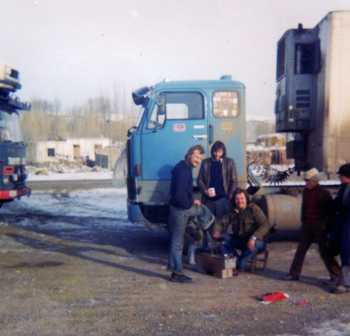 A band of happy wanderers..where are they all now I wonder…?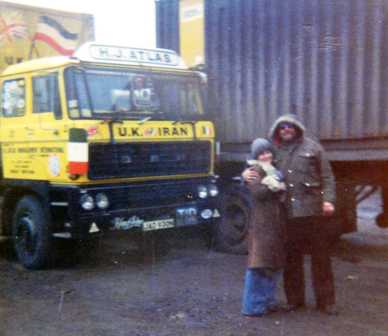 I guess it was all about working together and helping each other out…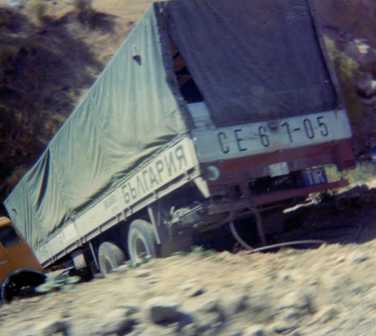 Another one bites the dust…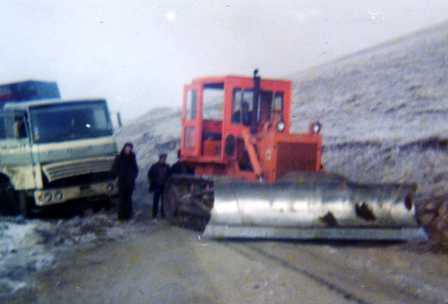 So that's how the Transconti got out of the hole….or was the dozer simply keeping the road open?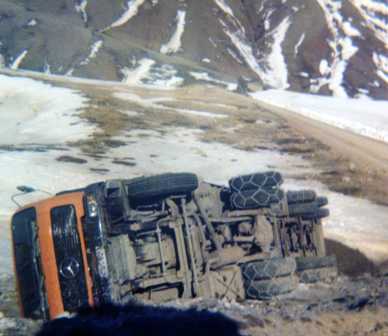 And yet ANOTHER one over….and this one had chains on too!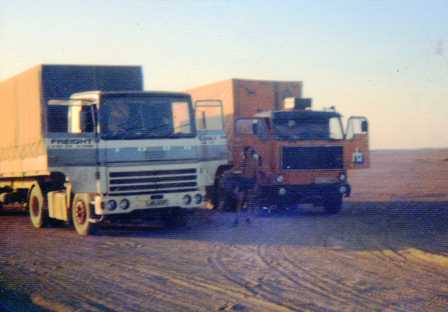 Temporary desert truckstop #2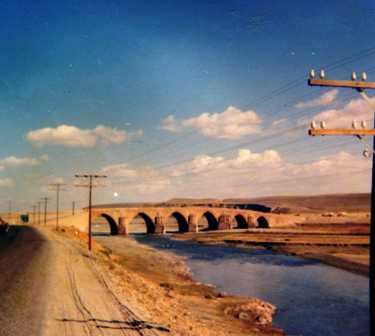 Wonder where this was….?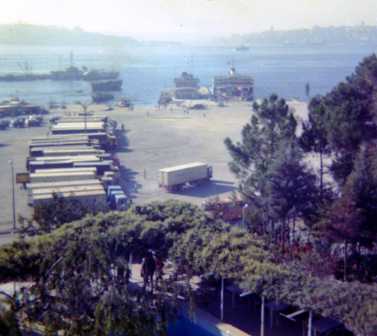 Ferry crossing but where..Greece? Italy?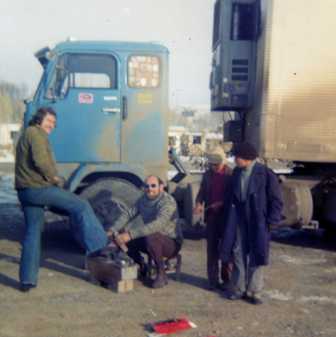 Roadside DIY shoe shine…helps to beat the boredom waiting in the queues!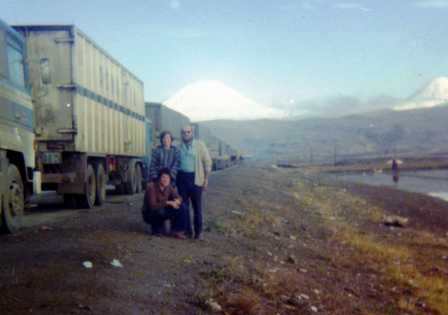 And there were plenty of those…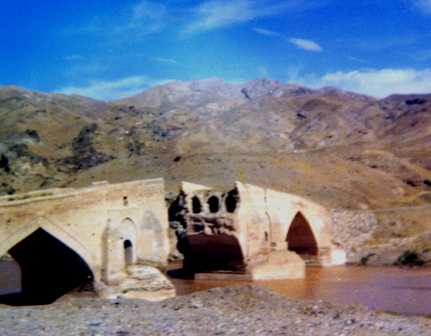 And to finish how do you get around this..?! thanks Budgie for some great pictures…I don't care what anyone says, I reckon the original Middle East pioneers were real heroes and what a sense of camaraderie too…
We hope you enjoyed this article! For more news, views and reviews on all aspects of the truck driver's life subscribe today.