Daimler Trucks launches fully-electric Freightliner eCascadia and eM2 in US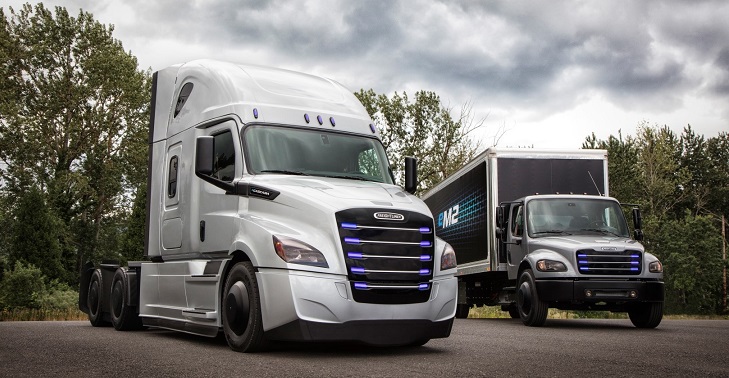 Daimler Trucks has presented two new, fully-electric Freightliner trucks, the eCascadia, a heavy-duty electric truck for long-distance operations and the eM2 106 for 9-12 tonnes.
Daimler Trucks North America (DTNA) is planning to hand over an innovation fleet of around 30 electric trucks to its first customers in the US in the course of this year.
In a statement, DTNA said: "As is already the case with the fully-electric FUSO eCanter light truck and the medium Mercedes-Benz eActros, it is the company's objective to gain experience in eTrucks by working together with customers to establish how electric trucks can be efficiently deployed in day-to-day transport operations."
Martin Daum, member of the Daimler Board of Management for Trucks and Buses, said: "We were first-movers on electric trucks and strive to set the standard in each relevant segment. With the formation of our new global E-Mobility Group, we will maximize the impact of our investments in this key strategic technology. Thus, we can pursue the best solutions in batteries, charging solutions and energy management."
The Freightliner eCascadia is based on the Cascadia, the most successful heavy-duty long-distance truck (class 8) in the North American market. The truck has 730hp, and with 550kWh its batteries provide enough energy for a range of up to 400km (250 miles), and can be recharged to around 80% within 90 minutes to cover a further 320km (200 miles).
The eM2 106 is intended for local distribution operations and last-mile delivery services. The batteries of the new electric version provide 325KWh for up to 480hp. The range of the eM2 is about 370km (230 miles). The batteries can be recharged to around 80% within 60 minutes, sufficient for a range of around 300km (184 miles).
We hope you enjoyed this article! For more news, views and reviews on all aspects of the truck driver's life subscribe today.