Ever wondered what used truck salespeople do on their days off – Biglorryblog finds out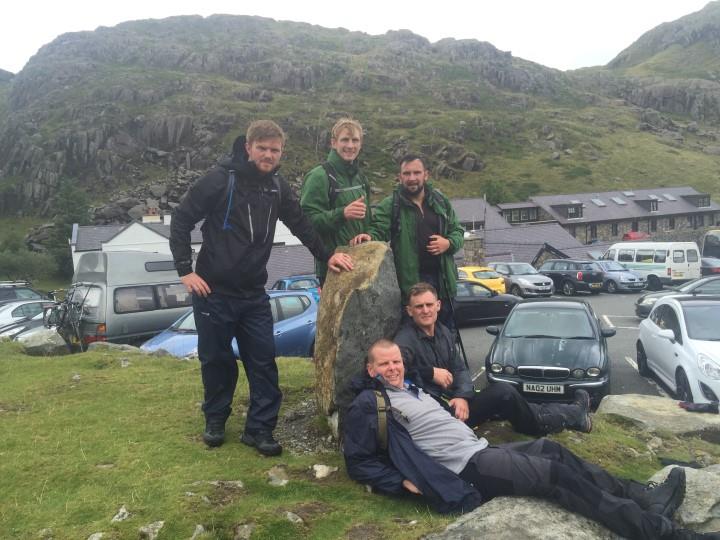 Back in July, the team over at Thomas Hardie Used Trucks set themselves a challenge – to walk the National Three Peaks Mountains. they completed the mammoth task in an admirable 23 hours and 55 minutes. The team managed to climb Ben Nevis, Scafell Pike and Snowdon in just under a day, despite enduring some of the worst possible weather conditions. Managing to somehow forget their maps, the boys faced an even bigger challenge, but succeeded nevertheless – even stopping to rescue an old lady in their very own heroic adventure.
The brave team began with the ascent of Ben Nevis, at 3.45pm on Friday 31st July. They battled the elements and their journey culminated at the bottom of Snowdon at 3.40pm on Saturday afternoon. In total they ascended around 3,400 metres over 22 miles – with a 400 mile drive thrown in for good measure.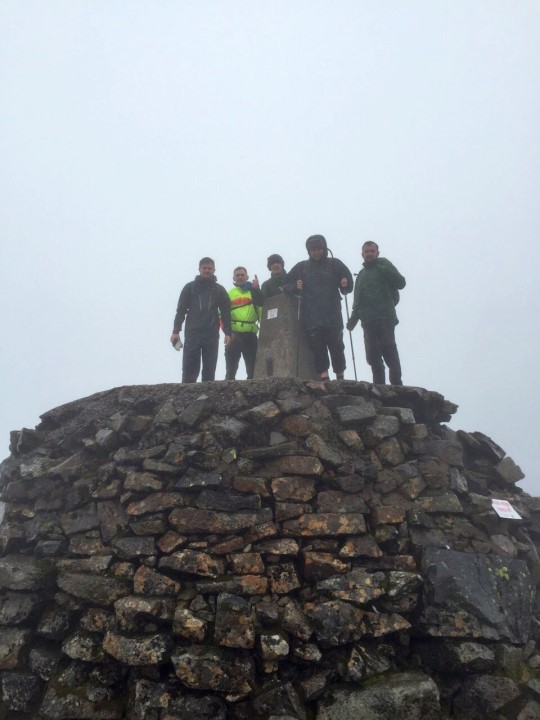 The team of five used Volvo truck dealers and pub athletes – Jonathan Bownes, Ronnie Kelsall, Mark Jones, Paul McCarthy, and Tom Buckley – claim that they're not completely barmy, as they tackled Britain's three tallest mountains in aid of a very worthy cause. They undertook the challenge to raise money for St. Luke's hospice in Winsford, Cheshire. The event was in memory of one of their colleagues Kevin Graves. Kevin sadly lost his fight with cancer a decade ago, and each year the team at Thomas Hardie Used Trucks set themselves some kind of challenge to fundraise – with all money going to the hospice that took care of Kevin whilst he was battling the illness. Jonathan Barnes Used Truck Sales Manager at Thomas Hardie Used Trucks and the organiser of the event said, "To keep Karl's memory alive in this way is a fitting tribute and I'm sure he was giggling to himself when I was throwing a paddy at the top of Snowdon!"
Their long list of previous events includes a Manchester to Blackpool bike ride, charity football matches and the Winsford 10K run. It's safe to say that the Three Peaks was their most ambitious challenge yet. Nicknamed by the boys as the 'Three Peaks for the Crack Challenge', the challenge was a complete success – so far they've raised almost £2,000. If you've been inspired by their valiant efforts and would like to donate, you can visit their JustGiving page at www.justgiving.com/threepeaksforthecrack
The team say the trial was tough – but the sense of achievement from completing it in such a fantastic time made the whole thing totally worth it. Now they're back to the drawing board, thinking up wild ideas for something bigger and better next year. If you've got any suggestions as to how they can follow up such a great job, you can tweet them straight to the team at @THCUsedTrucks.
We hope you enjoyed this article! For more news, views and reviews on all aspects of the truck driver's life subscribe today.