Foden gearboxes and weird shift patterns return to Biglorryblog—thanks to Barry, John O, Peter, Brian and John H!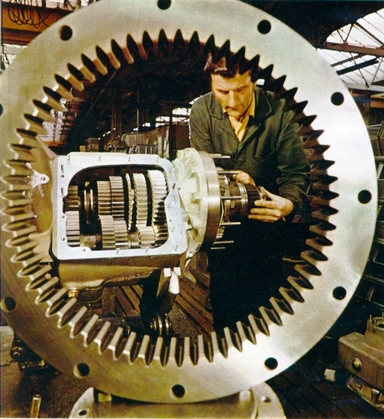 Barry Wilkinson has sent this to me: "I'm told it's an 'epicyclic section of a Foden 8 speed gearbox', But never mind that, who's the guy? Regards, Barry." And perhaps John O or 'T'Other Brian can confirm it….now click through here for more Foden gearbox discussions…
Peter Hallagan e-mails me: "Hi Brian, attached is a gear-change sequence for the Foden 12 speed overdrive gearbox and the recommended way of changing up the gears and the down changing .Like the direct drive box,this also had a non practical ratio and that was 4th low and so there was only 11 usable ratios.could you please pass this on to the person that made the enquiry yesterday. Cheers PVH."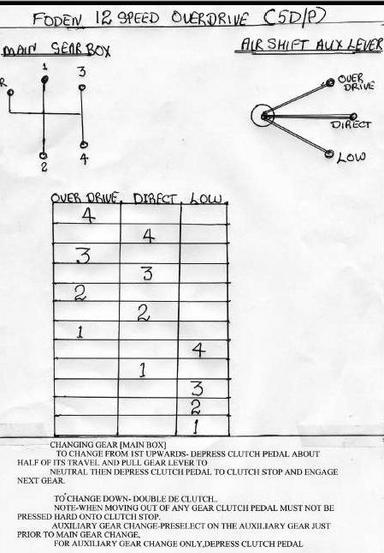 And "Hola encore Brian!" adds John O. "Attached is the cab window sticker with driver instructions for a Fuller RTO/9509A, & also a few Gearknob stickers as used on the Foden 8-speed 'box. Some people might think the Foden 8-speed was just pandering to drivers scared of the 12-speed, as in practice all 12 gears were still there & usable, if you knew where to look, but I couldn't possibly comment! If anyone needs either of the above to complete a restoration, they are available free, but I only have one of the 9509A, & 5 of the Foden 8-speed. Email any request to buelligan [email protected] gmail.com (omitting spaces) & stating chassis number. Hasta luego, John."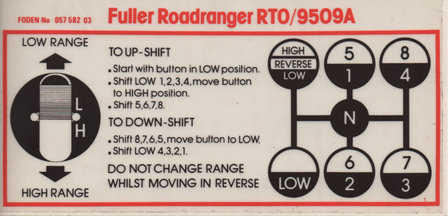 And…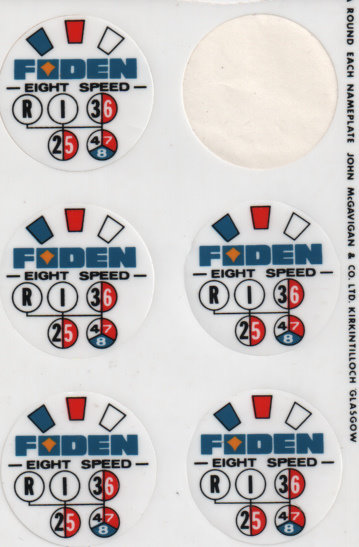 Meanwhile Brian Lomas continues the thread with this…"Our ace Service Engineer Mr Geoffrey Phillips provided me with the attached. Put it on BLB if you want. Regards, Brian."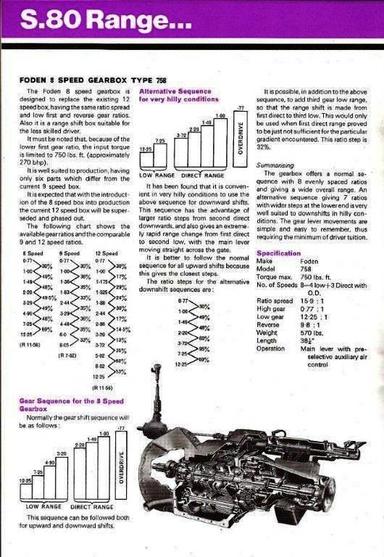 And finally John Halstead has sent me this evocative account of Foden transmissions: "The Foden 12 speed gearbox was well known for having a gear for every occasion.
I remember when I worked in the wonderful Experimental Department how a 6×4 S40 tractor unit, chassis no 62598 with a Mk7 two stroke and 12 speed box running at 44 tons (yes, 44), went to Shap summit on the old road every working day on endurance and fuel consumption testing. Usually it was driven by Tom Bowyer who was a master of the 12 speed. I did several trips with Tom (but usually Tom, whose nickname was 'Cat', had a mate nicknamed 'Mouse' with him) and each trip with Tom was a masterclass of driving a Foden, not one gear was missed or crunched on any of the trips and as you can imagine, the exhaust music was beautiful, just beautiful."
"We used to use the M6 as far as Milnthorpe, then the old Shap road, Tom often let me drive on the M6 but one day he said 'You are OK with the gearbox so drive all the way'. Believe me, the old Shap road is not a place where you can afford to make any bad gear changes,especially on the steep uphill bit after the Jungle Cafe, Fortunately, with Tom telling me when to change, we made it without coming to an embarrassing stop. The 'hot shift' facility was brilliant for down changes on steep uphill bits."
"We used to take a bag of butties and a flask each for lunch at the turn round point in Shap Granite's yard. Tom was a slim chap but his lunch was always twice the size of mine and he carried it in a canvas bag. The diff locks on 62598 were actuated by a push/pull air switch at the back of the cab between the seats, push to lock the diffs, pull to unlock. Once when I was driving back Tom accidentally put his bag on the air switch, it was not noticed on the motorway, but as soon as we tried to turn right at junction 17 we had massive understeer and I had to have two bites at the turn. We soon realised what had happened and a warning buzzer was fitted back at base."
"The nearest thing in modern times to the 12-speed was the Eaton Twin Splitter, a wonderful piece of engineering and a delight to use, I can't understand why it was not more popular.
All the best, John."
We hope you enjoyed this article! For more news, views and reviews on all aspects of the truck driver's life subscribe today.