Freight Transport Association Driver of the Year 2017 named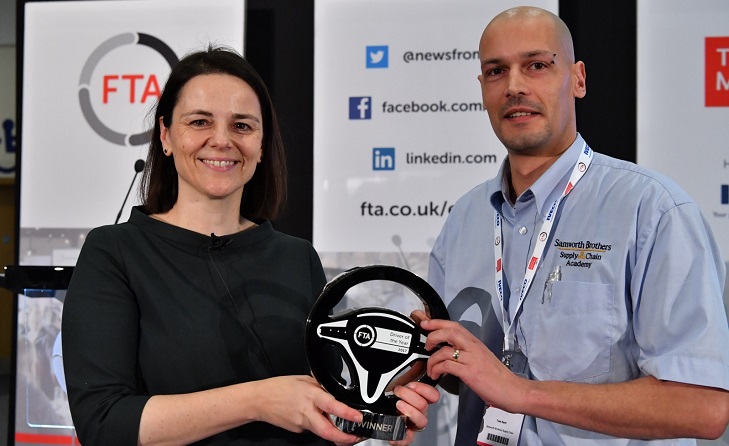 Thomas Kent has been named as the Freight Transport Association (FTA) Driver of the Year 2017, seeing off competition from drivers across the country.
Kent, who drives for Samworth Brothers Supply Chain in Derby, added his overall title to his FTA 44 tonne Driver of the Year accolade, which he won in September.
Kent received the overall FTA Driver of the Year award after registering the highest marks of the three category winners (44 tonne, 18 tonne and Van Excellence driver), who were all judged against the same criteria.
"Reaching the top of your profession is something that many of us strive for, but few attain," said June Powell, FTA's director of operations. "From Olympic medallists to Oscar-winning actors, successful business leaders and entrepreneurs, peak performers inspire others to emulate them – and this is what Thomas does. Throughout this year's Driver of the Year competition we have been overwhelmed by the quality and professionalism of the UK's logistics drivers, but Thomas has rightfully gained the top prize. His skill, knowledge and understanding of the rigours of today's logistics industry were a credit to him and his employer, and we are delighted to acknowledge his efforts with today's award. He really is the crème de la crème!"
His pride in his role is a great testament to the support of his employer Samworth Brothers, as well as the variety and knowledge which it requires on a daily basis, Powell added.
"Reaching the top as a logistics driver is challenging and time consuming, but the sense of purpose and satisfaction from a job done well is unparalleled. What other job supports every single sector of our economy, from manufacturing and retailing to construction and leisure? Without drivers like Thomas, Britain would find it hard to trade both at home and abroad – they are the unsung heroes of the UK's economy, and should be celebrated."
More than 100 drivers entered the three categories of the FTA's Driver of the Year competition. Contestants were assessed against a criteria that tested understanding of risk assessment, legislation and pre-use defect checks, as well as driving style, manoeuvring and economical driving.
"Pinch me, I'm the FTA's Driver of the Year 2017 – I can't quite believe it," said Kent after the prize presentation, which took place at Coventry's Ricoh Arena. "The competition was incredibly tough, but hugely rewarding, and really tested every part of my working life. To be recognised in this way is a real bonus and a testament to the support and training I have received from my employers Samworth Brothers. Thank you to them, and to my family, for all their help and encouragement through this process."
We hope you enjoyed this article! For more news, views and reviews on all aspects of the truck driver's life subscribe today.