Goldie the golden gritter to bring joy when the weather gets bitter!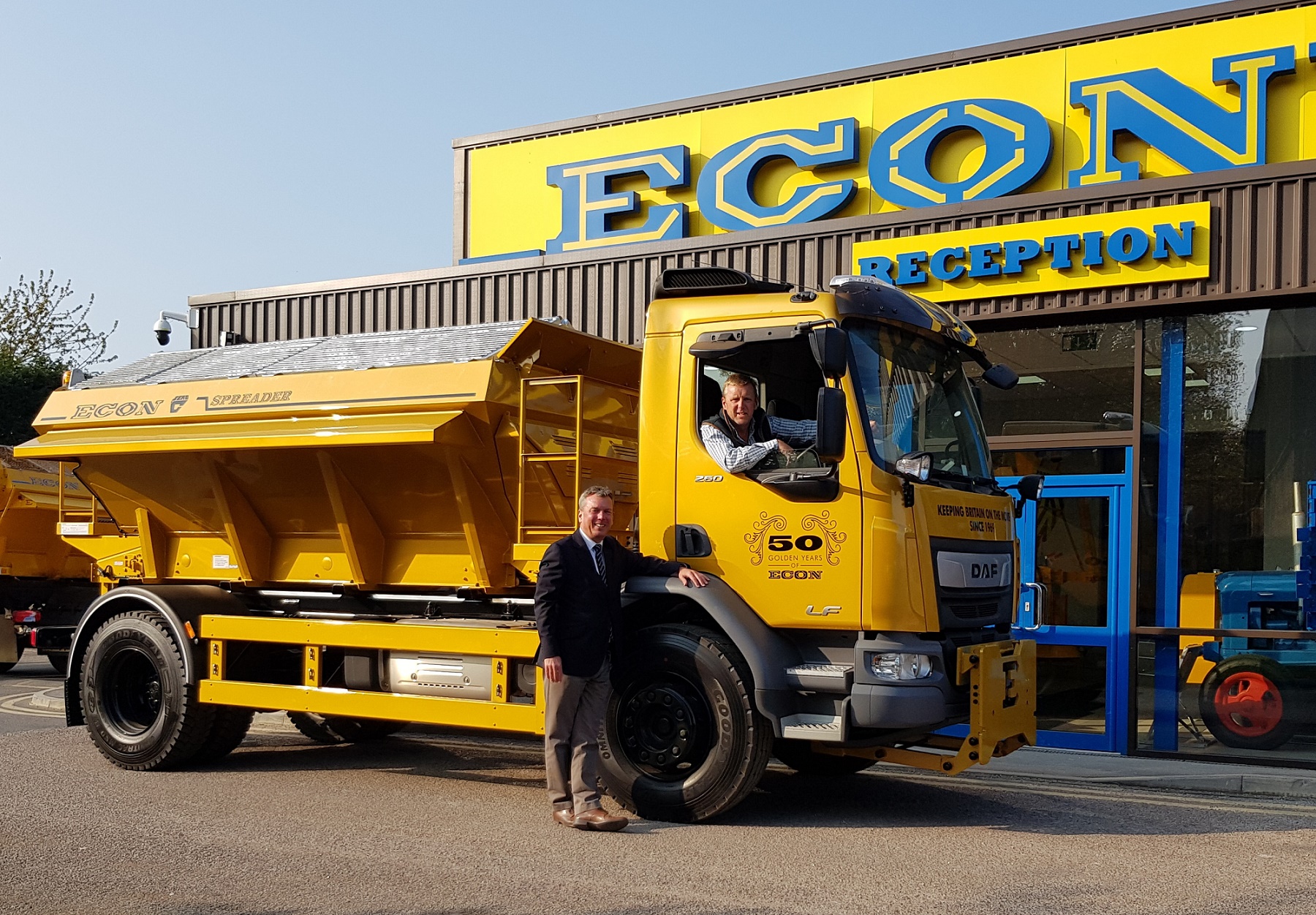 It's a 50th anniversary themed week! Gritter builders Econ have just put a special Daf LF gritter on the road to celebrate 50 years in business, and it's going on tour across the country.
Gritters and snowploughs are good things, keeping our roads clear during the winter. Nobody ever really blings them up though, do they? Mainly due to them being owned by local authorities and the like, we suppose. Econ's given this Daf a nice paint job though, so maybe they'll start a trend. Anyway, on with the press release:
Winter maintenance vehicle manufacturer Econ Engineering is embarking on a UK tour with a difference later this month, visiting local authorities and communities across the country with the unique golden gritter that has been produced by the firm to celebrate its 50 years in business. From its manufacturing base in Ripon, North Yorkshire, Econ supplies 80 per cent of the winter maintenance vehicles used on Britain's roads. The firm employs more than 200 people in the UK and is the country's largest producer of gritters and road mending vehicles with a hire fleet of more than 750 vehicles.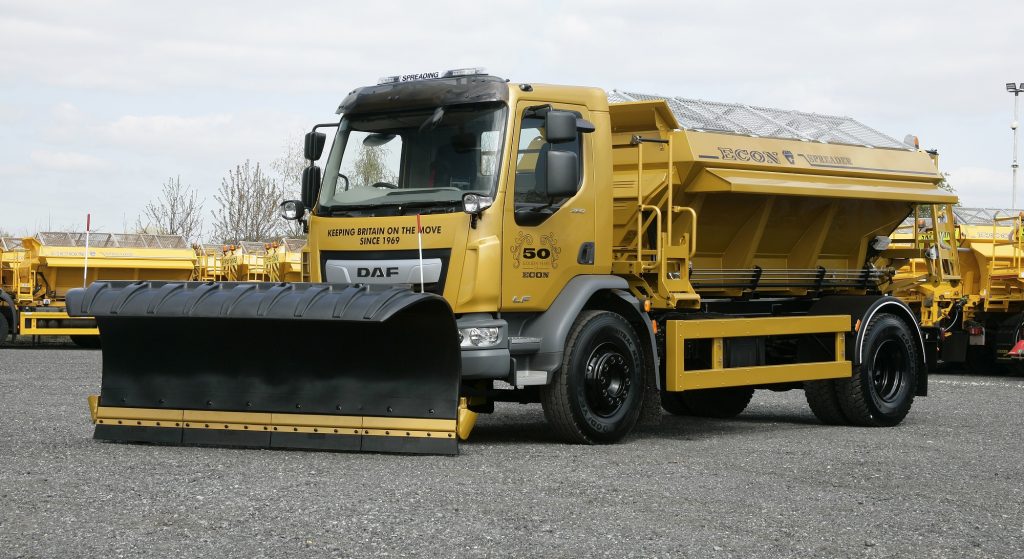 In celebration of its half century at the cutting edge of British manufacturing, Econ has produced a gritter that is golden in colour, rather than the more usual bright yellow. 'Goldie' will spend the autumn making a series of special guest appearances at the seasonal events traditionally held by local authorities to showcase their preparations for winter on the roads.
Kicking off the grand tour in Cambridge on 24 September, highlights of Goldie's 50th anniversary route will include Ceredigion County Council's gritter drivers' training day at Aberystwyth in on 28 Septembre; Kent County Council's winter maintenance day on 15 October; and a public gritters and snow ploughs display at Keevil Airfield by Wiltshire County Council on 19 October. The golden gritter will head north in November for the Scottish leg of the tour and a Transport Scotland event on 6 November. Econ sales director Andrew Lupton said: "Goldie's tour of Britain will be a fantastic way to mark the strong relationship we have with our many local authority and contractor clients across the country.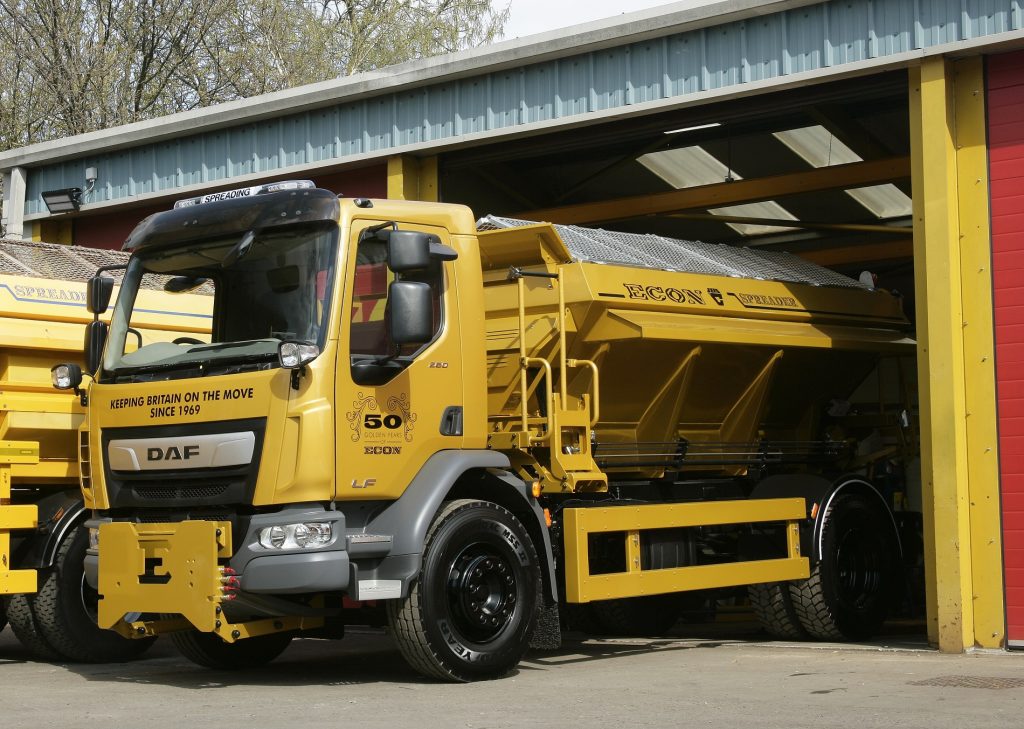 "Manufactured at our high-tech factory in North Yorkshire by our skilled workforce, this unique vehicle is already turning heads and causing quite a stir among gritter aficionados far and wide. Hopefully lots more people will have the chance to meet Goldie as he makes his way across Britain – a golden gritter certainly isn't something you see every day." He added: "Econ continues to go from strength to strength as a business and are tremendously proud of our 50-year heritage of excellence. Since the launch of the business in 1969 we have always been determined to remain at the cutting edge of winter maintenance technology. "We plan to carry on developing products and services that lead the market for our clients, setting new standards for road safety,  for another 50 years and beyond – whatever the British weather brings."
We hope you enjoyed this article! For more news, views and reviews on all aspects of the truck driver's life subscribe today.