Gordon Pearce. Biglorryblog pays tribute to a legend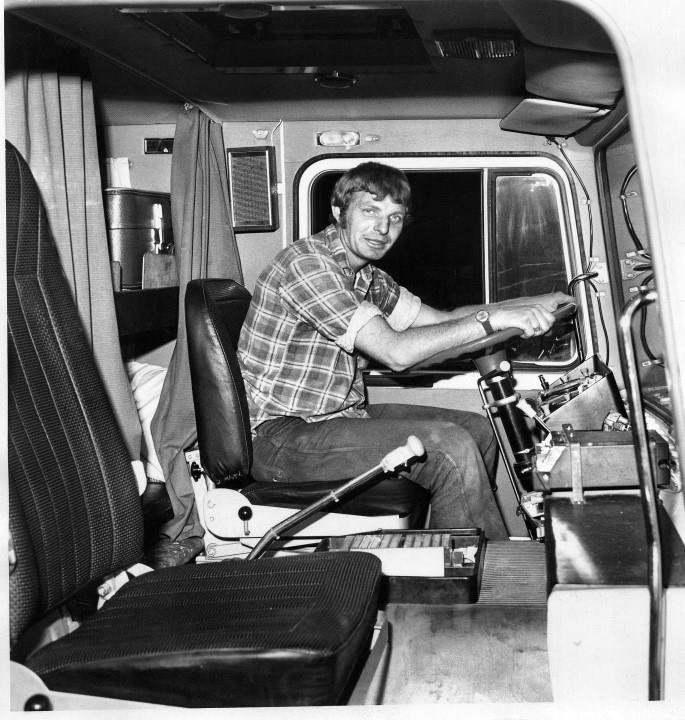 Gordon Pearce, the very first driver employed by Asian Transport (later to become Astran), has sadly passed away. Ashley shares his memories of the man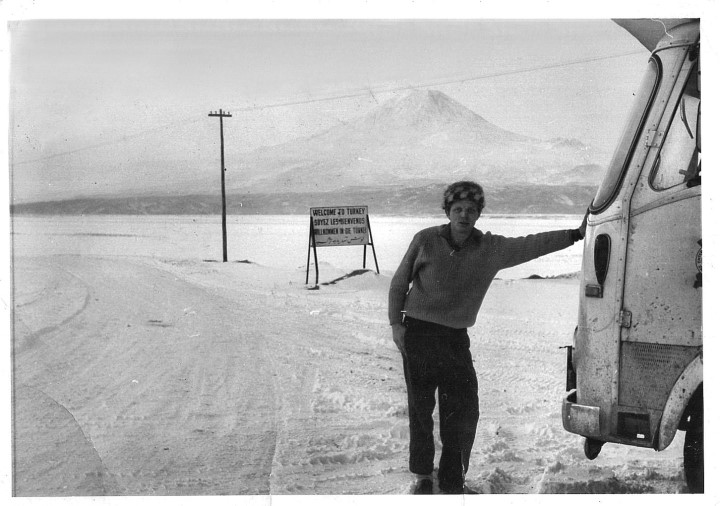 Gordon posing with AEC at Bazargan entering back into Turkey from Iran – 1967
Gordon started his driving career with Michael Woodman's fledgling company in December 1966, when he and co-driver Bob Paul set off from London to Tehran capital of Iran, with a load of groupage. The truck they used was an AEC Mammoth Major mk5 drawbar outfit and they completed the 4,000 mile journey in fourteen days. They suffered numerous breakdowns and customs delays along the way, but worst of all, they endured severe weather conditions as they passed through Eastern Turkey. With winter temperatures plummeting to -40 at night, the AEC regularly froze up! At one point the men were stuck on a mountain pass for 5 days with no sign of the weather easing up.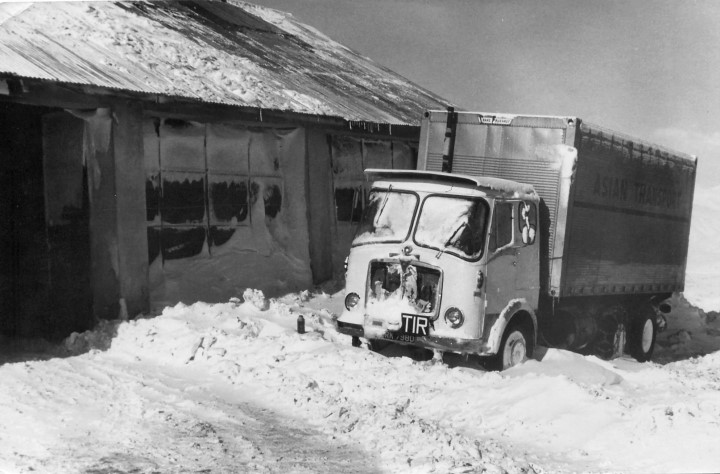 AEC frozen solid. Stuck for 5 days on Tahir, Eastern Turkey. – 1966.
Gordon wrote in his diary "All hope lost". Nevertheless, with their sheer grit and determination, they managed to get through to Tehran and that first successful trip then paved the way for a regular "round trip service" which Gordon did on many more occasions.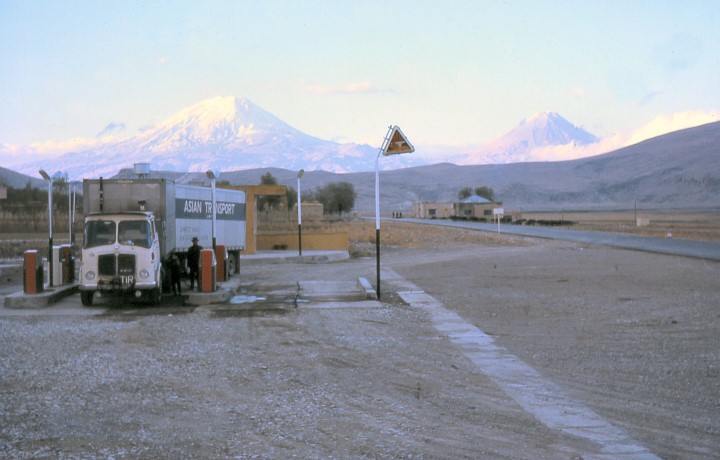 Refuelling at Marand, northern Iran. Gordon's favourite "truckstop" – 1966.
In fact he completed over 40 round trips to Tehran.
Born in South London in 1938, Gordon Pearce was a quietly spoken, placid man who had the patience of a saint. He understood people and enjoyed meeting them wherever he went. He respected them all. He also had an amazing ability to prove that whatever challenges were ahead of him, where there was a will, there was always a way. Throughout his driving career, Gordon classed every journey as "an adventure" as he never knew what was round the next corner.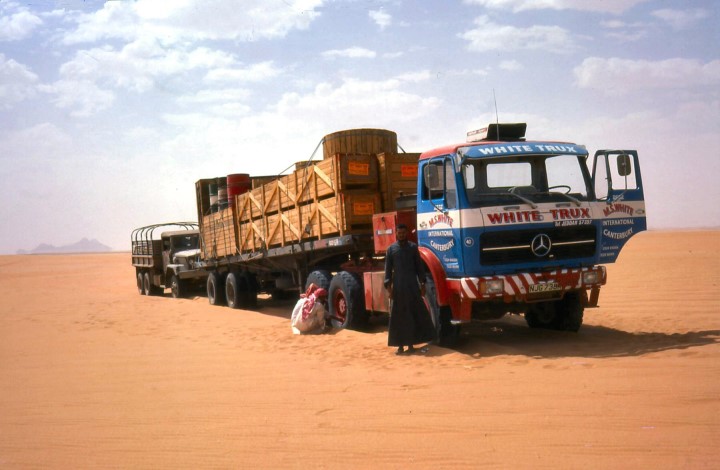 White Trux Merc 6×6. Gordon drove this for one year based in Jeddah Saudi Arabia – 1977.
In the mid 1970's, Gordon worked for Kent based White Trux where he was based in Jeddah Saudi Arabia for a year. He drove a huge 6×6 Mercedes tractor and delivered loads to many places which were not even marked on a map! Many a time he had to use all his experience and initiative and sometimes found local Bedouin tribesmen to help him cross the Arabian deserts. He told me his favourite part of that job was using the stars to guide him at night.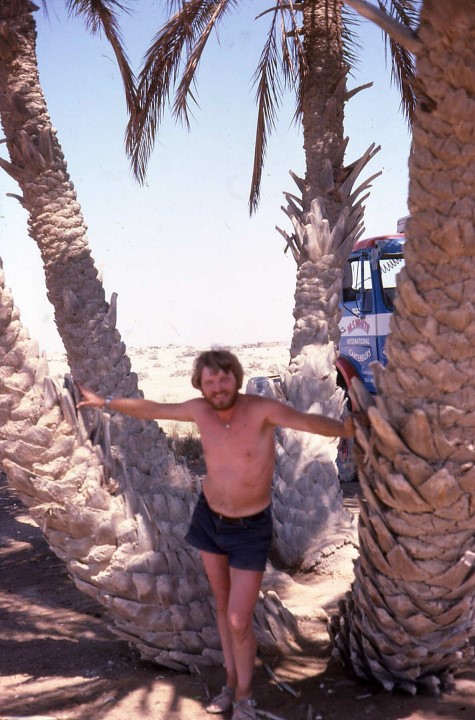 Gordon poses in the shade of the desert – 1977.
As a truck driver he was my hero. What he achieved in those early pioneering days of driving to faraway places was phenomenal; hence he has gained an incredible amount of respect and admiration from many people who simply found his stories and photographs fascinating! Gordon was so humble and modest about it all which made it all the better. He loved talking to people about his trucking adventures and he always drew attention whenever he attended his favourite truck show at Gaydon each year. He was a celebrity in his own right and he so deserved that. There is no doubt that he will be greatly missed.
Luckily, Gordon got his stories published recently in his very own book entitled "Where's Sharawrah"? Available from Old Pond Publishing at £14.99. There is also a complete chapter dedicated to Gordon's early days with Asian Transport in "The Long Haul Pioneers" by Ashley Coghill, also available from Old Pond at £29.99
We hope you enjoyed this article! For more news, views and reviews on all aspects of the truck driver's life subscribe today.