Government withdraws plans for lorry park near to M20 to provide alternative to Operation Stack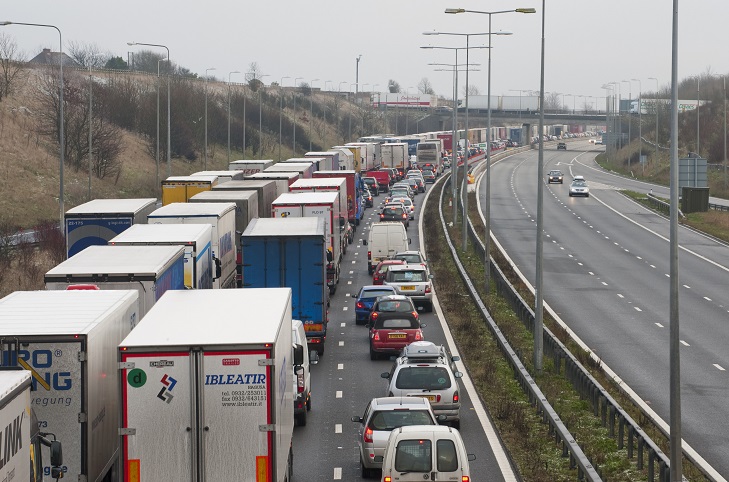 The government has abandoned plans to build a lorry park at Stanford West in Kent near to the M20 – which would have provided an alternative to Operation Stack – having decided to no longer defend a judicial review over it.
However, the government has said it remains committed to finding an alternative to Operation Stack and Highways England will now develop new plans for a permanent solution.
A judicial review hearing was due at the beginning of December. In the judicial review, the judges ruled that the proposed lorry park at Stanford West, designed to provide safe and secure parking for about 3,600 lorries, cannot go ahead because no environmental assessment was carried out prior to the review.
Last month, Damian Collins, MP for Folkestone and Hythe MP, called on the government to commit to having a last attempt at negotiating with local businesses and residents so a settlement can be reached and the judicial review application withdrawn, which would enable work to start on the lorry park.
In a written statement to Parliament, Transport Secretary Chris Grayling said: "My department and Highways England have, since being judicially reviewed, tried to find a solution so that the lorry park could be delivered as quickly as possible to mitigate the impacts of Operation Stack, whilst also meeting our environmental obligations. However, it has not proven possible to do so."
Grayling added that the Department for Transport is starting the process to promote a lorry park through the normal planning process, including a full environmental impact assessment, as a potential permanent solution to Operation Stack. "As part of this we will reassess the scope, scale and location of our solutions, taking into account changes since the original concept of the lorry park was promoted, in particular the UK's exit from the European Union but also the need for 'business as usual' lorry parking in Kent. Highways England intend to consult on the options in early 2018 with a view to submitting a planning application in 2019."
Interim plan
In addition, an interim plan is also being developed by Highways England to allow motorists to carry on using the M20 when Operation Stack is implemented, in an attempt to minimise the impact on Kent's economy as well as residents. This could involve a dual carriageway being created on the M20 by using moveable or steel barriers to safely store lorries in the centre of the motorway. It is anticipated that this should be in place by March 2019.
Roads Minister Jesse Norman said: "We know how seriously the lives of Kent residents and the prospects of businesses were affected when Operation Stack was implemented in 2015 and we remain fully committed to a permanent solution.
"However, we need to go through the proper procedures to ensure our plans, which include a lorry park, best fit the needs of Kent and the freight industry."
Beyond belief
The Road Haulage Association (RHA) has expressed its disappointment over the news, and was highly critical of the government's failure to carry out an environment assessment.
Richard Burnett, chief executive, of the RHA, said: "I find it beyond belief as to why the most basic of procedures, that of an environmental assessment was not undertaken simply on the assumption that it was not needed.
"This facility is of massive importance to hauliers and the people of Kent. We understand that the alternatives are to extend the truck park at Manston and to utilise 2 lanes of the M20.
"This red-tape debacle is a complete disaster for hauliers coming over from the Continent. Two years ago we saw the misery of operators who, for many days, were caught up in the gridlock of Operation Stack. Even the most basic requirements for HGV drivers such as toilet facilities and drinking water were non-existent. And for the people and economy of Kent, the cost was enormous.
"As Brexit approaches we are pushing hard for free-flowing customs border controls. If we cannot achieve the right Brexit deal, we could be looking at customs border queues which could potentially cause misery for hauliers and the residents and businesses of Kent
"Can you imagine Operation Stack becoming a daily way of life?"
We hope you enjoyed this article! For more news, views and reviews on all aspects of the truck driver's life subscribe today.