HerGV competition winner announced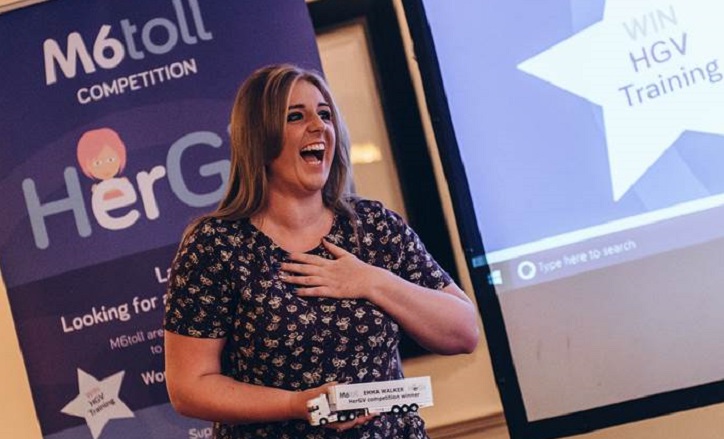 The winner of the HerGV campaign to encourage more women to join the haulage industry has been announced.
Emma Walker from Stockton-on-Tees took the title, and will receive a prize package worth up to £3,000, including HGV training from Pertemps Driver Training, and guidance from some of the most influential women within the HGV industry. P D Portcentrics Logistics, based in Billingham, has also offered her a work placement once she has completed her training.
The HerGV competition was run by Midland Expressway Ltd, the operators of the M6toll. The finals of the HerGV campaign took place on Sunday 22 October at Drayton Manor Hotel & Park.
Walker said: "I'm thrilled to have won the HerGV competition! I am really excited to get started with the training, and am looking forward to seeing where this new opportunity will take me. From a female point of view, I'd urge every woman I know to take the steps to enter the HGV industry too."
Samantha Earl, general manager at Pertemps Driver Training, congratulated Walker on her win. "We are sure that when qualified, Emma will be a great role model to other females considering a career as a professional HGV driver," she said.
The HerGV campaign has centred on its competition to encourage ladies to train as HGV drivers, and ambassadors behind the campaign, motoring journalist Rebecca Jackson and social media influencer come HGV driver Kara Rouse, have been keen to demonstrate that a career in transport and driving is a flexible and rewarding choice.
Maxine Estevez, executive assistant at M6toll said: "The HerGV campaign has been a huge success, and we were delighted by the women who put themselves forward for the competition. We hope that our HerGV campaign will have empowered women to take the reins and begin to change the HGV industry, and look forward to seeing where Emma's journey takes her."
The other shortlisted finalists were: Gemma Adams from Wallasey, Naomi Carr from Ashbourne, and Suzanne Chisnall from Preston.
M6toll and Pertemps will be following and aiding the winner along her training journey, which they hope to share across their social media channels to further inspire women into the sector.
We hope you enjoyed this article! For more news, views and reviews on all aspects of the truck driver's life subscribe today.