New Scania 'Black Amber' limited-edition truck with super Svempa styling…the first news is on Biglorryblog!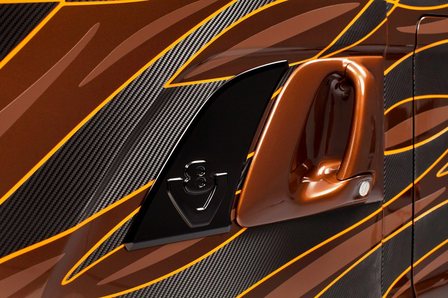 It seems that s

imply 'owning' or 'driving' a Scania V8 is not enough for many afficionados of the Griffin brand. What they want is to have their very own personalised vee-bomber. And if you click through here you can read all about Scania's spanking new 'custom' V8 called the 'Black Amber' a limited-edition beauty created by Svempas, the King of the Truck customisers! So what are you waiting for eh?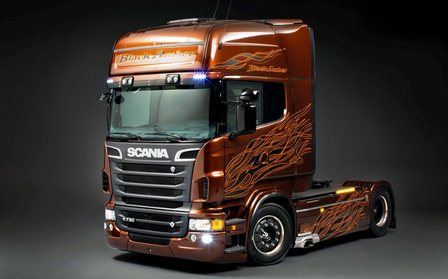 And here it is. (cue loud applause and 'Blimey!' exclamations). The limited-edition (they're only making 100 of them for Scania V8 markets worldwide. ) Black Amber follows on the heels of the previous limited edition V8 called 'Dark Diamond' (covered in detail in past Biglorryblog posts…)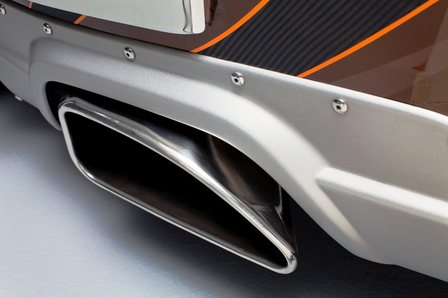 You can order your Black Amber with any of the Scania V8 engines from the 15.6-litre lumps rated at 500, 560 and 620hp or the latest 730hp fire-breathing 16.4-litre vee with stump-pulling 3,500Nm of throbby torque…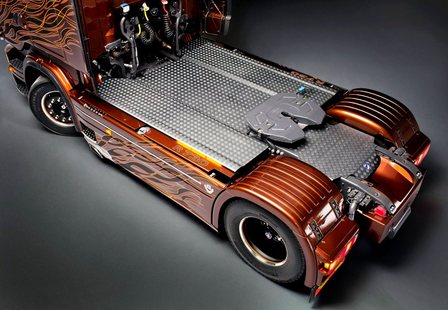 But of course it's the custom stuff you're interested in and naturally thanks to the pixie-dust sprinkled on it by Svempa your Black Amber will really stand out from the crowd…and just a moment to digress as those jolly Swedes tell me: "Amber is a hard, translucent yellowish-brown fossil resin dating back to the Tertiary geologic period on earth some 65 million to 1.8 million years ago. When found in nature, good deposits – often incorporating trapped insects – can be polished and used for example as jewellery. Black amber is a rare dark variety that serves as inspiration for this year?s limited edition Scania V8 trucks."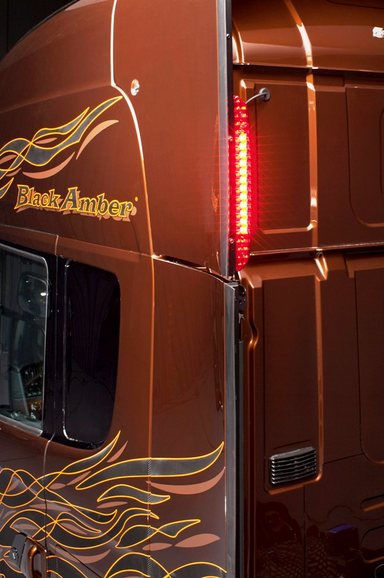 Yea whatever. Meanwhile, Biglorryblog's old mate Kristofer Hansén, head of Styling at Scania tells me: "One hundred Scania fans now get the chance to buy something very special, based on the new Scania V8 truck range. Together with the Svempas customising team, we've produced a design that stands out in any crowd. Whether from the outside or inside, there's no doubting the special care and attention that's gone into this limited series of trucks!"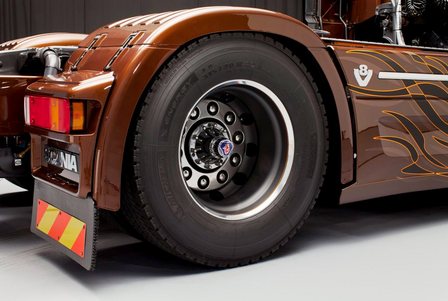 "Included in the deal, naturally, are traditional Scania V8 virtues like long-lasting performance, operating economy and durability," he concludes…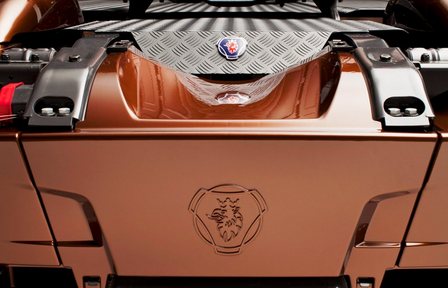 Black Amber limited edition trucks have Topline cabs with Euro-5 or EEV engines your choice, and come with a special dark brown metallic finish with extra chrome detailing and badges and matt or high-gloss black graphic accents visible from every angle.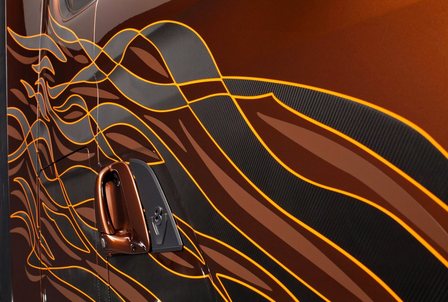 That fancy paintwork include these black carbon flames (oooh….very 'hot-rod') with light amber outlines and a front grille and front air scoops in Brilliant Black…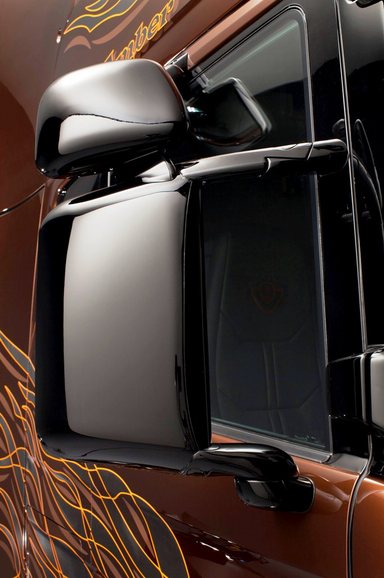 Throw in high-gloss "Piano Black" side and front mirrors, windshield panels, door hinge panels and emblem in front of door handles, visible chromed bolts for various external attachments, Xenon spotlights in sunvisor set in Piano Black trims and black anodised boarding steps, aluminium wheels painted in Black Brilliant with chromium ring and nut caps
Black Amber metallic finish on sideskirts and rear-mounted battery case and chromed step to catwalk…and you're beginning to see this is no ordinary Scania–and that's just on the outside!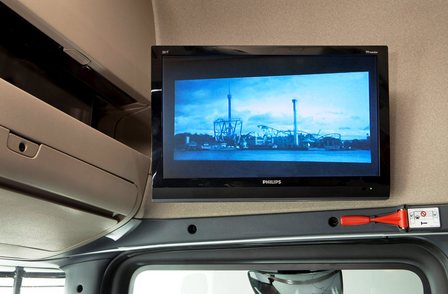 Inside you get black leather seats with carbon black centre sections and orange V8 symbols plus all sorts of other leather trimmed doo-dads and fancy bits including a radio with DVD and navigation with pop-up monitor, 22″ LCD TV a sound system with 6.5″ speakers, active 8″ subwoofer (whatever that is) delivering a 350 W peak music output….hope he doesn't park it next to me!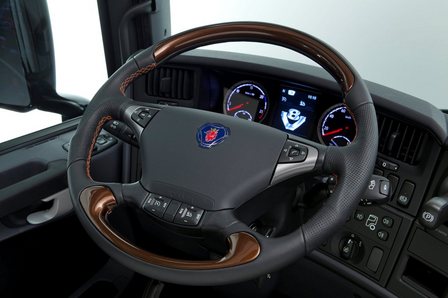 Then there's the black perforated leather steering wheel with Black Amber inserts, red LED safety lights on the door panels and of course…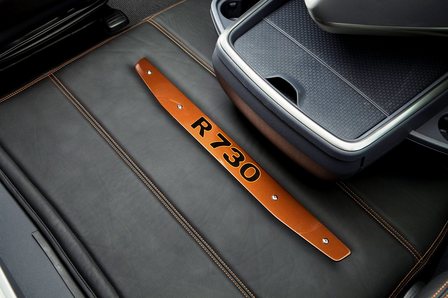 …your black leather centre floor mat with Black Amber V8 trim strip. Nice…..and if you need to ask the price of it all your probably can't afford it anyway so why not just dream like the rest of us! And in case you're wandering what the UK RHD spec will be here it is!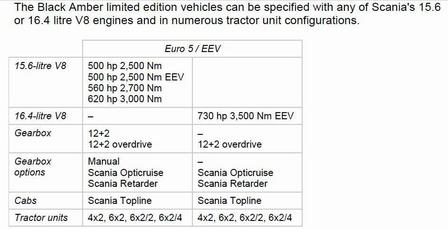 And for more visit the http://www.scania.co.uk/Images/11-03-Black-Amber-UK_227326.pdf
UK spec website or visit the Black Amber newsroom where you'll find even more pictures!
http://www.scania.co.uk/about-scania/media/calendar/2011/black-amber-limited-edition-v8-series.aspx
We hope you enjoyed this article! For more news, views and reviews on all aspects of the truck driver's life subscribe today.