Iveco launches first pure gas powered tractor unit for 44-tonne operation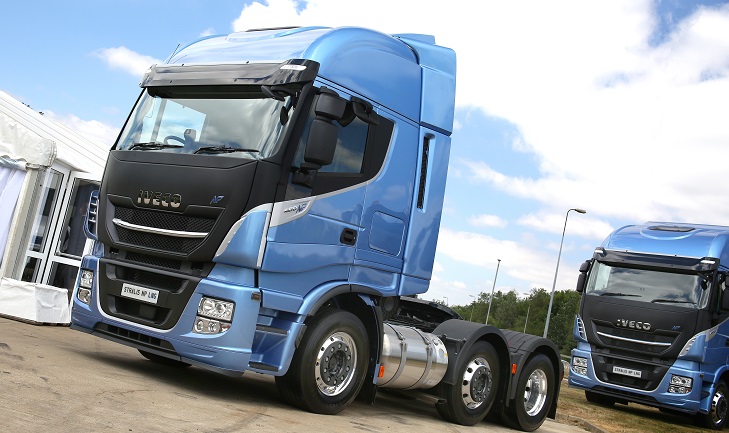 Iveco has launched its new Stralis NP 460 6×2 tractor unit for 44-tonne operation – the first three-axle tractor to operate on 100% liquefied natural gas (LNG).
The tractor was unveiled at Gasrec's refuelling site at the Daventry International Rail Freight Terminal – one of Europe's largest liquefied gas filling stations.
This adds to Iveco's gas-powered range, which starts at 3.5 tonnes. Its existing 4×2 Stralis NP range offers a choice of 400hp and 460hp engines – of which 25 operate in the UK and more than 1,000 across Europe.
Stuart Webster, Iveco UK & Ireland business director, said: "This is a really exciting launch for Iveco and marks the moment natural gas moves into mainstream UK volume in a big way. What began as a niche fuel now offers fleets the widest range of opportunities for the future and we're absolutely committed to helping operators begin the technology transfer from diesel to gas.
"Bringing this new vehicle to market is the culmination of our more than 20 years development of natural gas technology – packaged into a 6×2 tractor which can deliver a true competitive advantage for UK fleets on both regional and long-distance missions."
The Stralis NP 460 6×2 – which is available in left- and right-hand variants – runs on LNG from tanks mounted either side of the chassis, for a range of about 750 kilometres (466 miles). Iveco states this is aimed at applications where vehicles operate on a 'same-day out and back' operation, with gas companies keen to support businesses in establishing on-site refuelling capabilities to complement the UK's growing network.
Webster added: "Customers tell us that vehicle range will be key to winning their orders, and we're confident that our pure LNG solution will deliver the optimum mileage for a 6×2 gas-powered tractor."
The tractor has a 12.9-litre Iveco Cursor 13 NP single-fuel engine and features the company's latest generation 12-speed Hi-Tronix automated transmission. New functions such as the GPS-based Hi-Cruise predictive cruise control and gear-shifting are also included.
It delivers a 99% reduction of PM and 60% in NOx compared to Euro VI limits. It also offers fleets the potential to reduce CO2 emissions by up to 95% when running on liquefied bio-methane.
The Stralis NP is available to order now nationwide, and the first demonstrators are expected to commence trials with fleets from October.
We hope you enjoyed this article! For more news, views and reviews on all aspects of the truck driver's life subscribe today.