MAN's new 680hp V8 TGX..Biglorryblog finally gets down to work!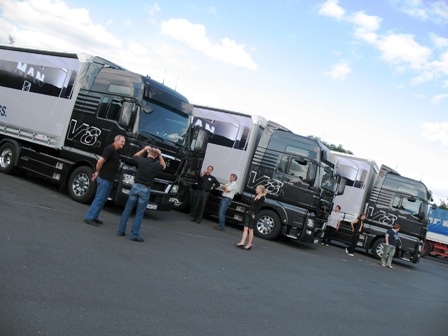 I can put it off no longer. It's now time to tell you about my last couple of days driving the new MAN TGX and TGS artics…and of course the fabulous V8 TGX at 680hp which comes with its own 'groupies' as witnessed above…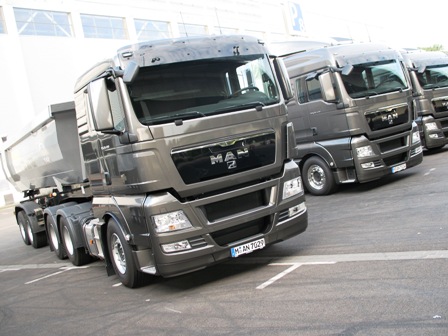 But I'm getting ahead of myself. The day (Wednesday) starts with a whole shed-load of Europe's finest truck journalists (and Biglorryblog) being decanted into the large car park at the back of Cologne's exhibition centre where we're greeted by a long line-up of mainly TGX trucks including a phalanx (yes I think I can use that word) 'phalanx' of 680hp TGX V8s…like this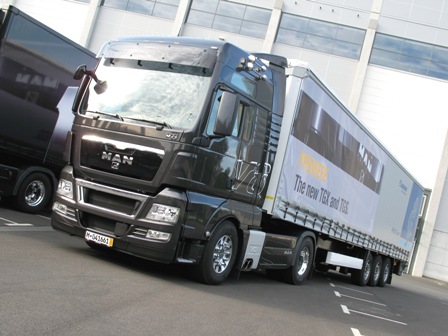 But as there are more journos that V8 TGXs we have to 'rotate' our way through the line-up of trucks, getting four drives in a day including one V8. Fortunately yours truly doesn't get a V8 first. Why fortunate? Well because it takes a short while to get used to driving a left-hooker (although I probably drive more left hookers on the Continent in a year than in the UK) and get your 'eye in'. So I'm delighted that my first ride is in the truck at the front of the lineup above–a 6×4 480hp TGX which a short tipping trailer. Aha result! And with a short dangler behind it there's less to worry about on the corners. However, half-way through the test it becomes obvious that the Germans want us to experience the TGX in 'challenging conditions' up a forested mountain road that's barely big enough for a car and an artic to pass and then into a village that has parked cars on both sides and the odd bus coming the other way (you can see the video clip here).Finally we make it into civilisation–a large transport depot near a motorway and I'm ready for the next bit… yes, my go in a mighty V8.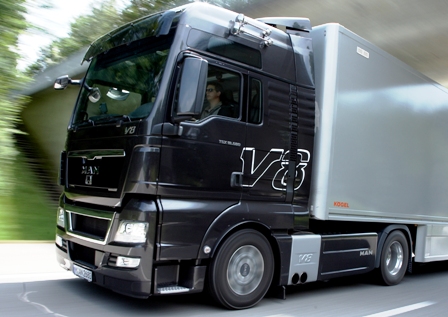 However, just before we pull out someone says to me: 'Do you mind if you have a passenger?' And it turns out the passenger they have in mind is none other than Dr. Karl-Viktor Schaller, the Executive Board member for Engineering and Purchasing at the MAN Nutzfahrzeuge Group. Well he's a nice bloke so of course I don't mind. Any road up off we jog and from the first set of lights it's obvious this baby is going to take some real watching. MAN has done a terrific job in putting an auto behind the V8 (the ZF AS-Tronic which MAN calls the Tipmatic) so you don't have to worry about gear-changing – but whatever you do have to do, you'd better do it… GENTLY. With 3,000Nm of torque on tap when you're pulling away from rest you certainly don't shove your foot hard down on the throttle… not unless you're deliberately trying to get whiplash, for such is the power of the TGX 680!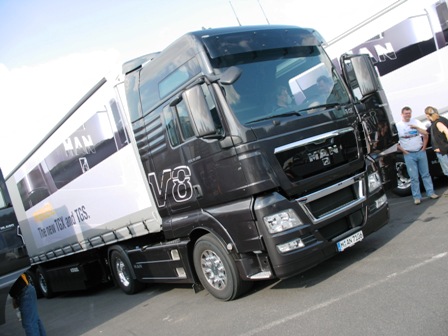 Now read on…
After a short jog on the motorway we then start climbing into some hills so we can get a real feel of the V8's power… only I get the vague feeling the AS-Tronic box isn't quite on song as when I want to shift up manually into top it doesn't want to give me a gear and on one occasion it instead shifts down… most peculiar. Anyway up the twisting, turning road we go and clearly MAN has chosen this route so we can experience the V8's power… but not too enthusiastically! And on a couple of the hairpins I'm having to slow down quite a bit before speeding up again. And here's where the V8 is a real monster – i.e. its mid-range acceleration. If I thought it took off like a scalded cat from rest that's nothing compared to putting your right foot down at 40km/h and watching the speedo start winding up. And that's with 40 tonnes going uphill. The only thing like it that I've experienced is Volvo's FH16.660.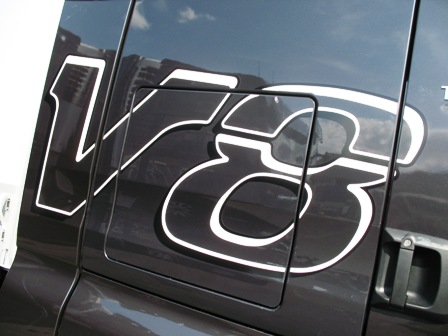 And talk about quiet… the only noise you hear from the V8 when it's on full chat is the turbo whine. It's not like the 13-litre D26 six-pot in the TGX which has a really distinctive deep grumble. By now we're back on the motorway and as much as I'd really like to give the V8 its head…I can't. Why? because even on three-lane stretches of the autobahn there are invariably HGV overtaking bans on the uphill sections of the motorway. Whose bright idea was that? So here I am, with the world's most powerful series production truck, trying to get a real feel for its power, going as fast as the slowest truck up hill. Oh to be in Belgium on the climb out of Spa on the old Trans-Euro-test route. Or the M6 running up Shap…Then the AS-Tronic starts to play up again… most unusual, as the only other time I had a problem with the ZF auto was in a 540 Iveco Stralis halfway up Castleside Hill on the A68 when it decided it didn't want to give me ANY gear….(oh yes, I forgot to say, Castleside Hill is a 1:7…)The good news is (or at least as far as I'm concerned) is the fact that I've got the Executive Board member for Engineering and Purchasing at the MAN Nutzfahrzeuge Group sitting across from me…so if anyone knows how to fix it he does. And so it proves to be as he promptly suggests we pull into the next layby, turn off the engine, start it up again and let the box 'recycle' itself. And naturally it does the trick which is probably why Dr. Karl-Viktor Schaller, is the Executive Board member for Engineering and Purchasing at the MAN Nutzfahrzeuge Group… and I'm not.We finally get back to the holding point (after I'm told that it might be a good idea to slow down as we're doing 80km/h approaching a 50km/h zone!) and I'm left to reflect on the V8. And you know what I think? I think that for all its fabulous acceleration, astonishing performance, low noise and enough grunt to pull down a medium-sized building I'd be just as happy with a 480hp TGX for 44-tonne work. But hey, what the hell do I know?Meanwhile, don't let my comments on the V8 put you off the TGX, the Germans have done a great job on revising the cab, especially inside and this is where I think they're come up with the real goods – better driver comfort and especially storage. And this shot shows off the centre sliding drawers which I rather like.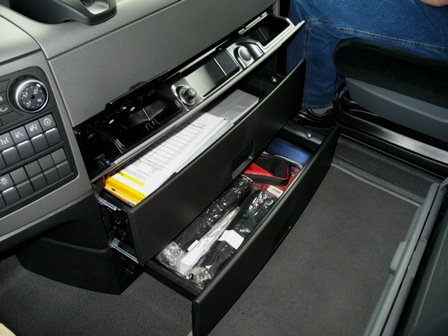 So for me, the moral of story is that it's all very well having a stump-pulling big banger under the hood, and yes they are great fun to drive, but ultimately what floats BLB's canoe is a comfortable, well-thought-out cab that can take all your kit. And in this department MAN is definitely getting there. And nothing will persuade me otherwise…until, of course, my next drive in a TGX V8.
We hope you enjoyed this article! For more news, views and reviews on all aspects of the truck driver's life subscribe today.