Martin Phippard, 1943 – 2013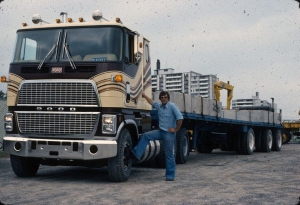 Industry enthusiast, journalist, filmmaker, salesman and former sales director of Westward Commercials, Martin Phippard died on Monday 11th November, age 70, after his struggle with Motor Neurone Disease.
For almost forty years, Martin was at the forefront of the transport industry, selling, writing or filming the latest trucks, as well as commenting on industry news, views and developments in an ever-changing market. As both a salesman and a journalist, he was known for his understanding of the difficulties facing many truck drivers, and just how important a good transport system is to the smooth running of a country. He was widely recognised as being an expert in many areas and had an in-depth knowledge of the complexities of vehicle design, configuration and the economic significance of a sound road network.
Martin took every opportunity to leave England on the off-chance of talking to someone, somewhere who could tell him more about an unusual make or model of truck that he could then investigate, photograph or film. As a journalist he went to great lengths when hunting down a truck. Whether it meant visiting a Mafia controlled waste company based in the Bronx to find out about Brockways, or hitchhiking with an airborne postman to film heli-loggers in Alaska, Martin would always get his story. During his lifetime he penned several thousand articles and co- authored two books.
His interest in travel began in the early sixties; his first major trip was to Canada. It was at this point that his love of North America and the "Big Rigs" took root. In 1981 Martin began a 28 year involvement with Volvo Trucks, from Westward and Volvo South, right through to Truck & Bus Wales & West before his retirement in 2009. During this period he sold almost 3,000 trucks in the West Country, mostly to small family fleets who went on to became good family friends.
Martin's knowledge and old-fashioned work ethic meant he would go out of his way to ensure customers would always get 'the right vehicle for the job'. He once supplied a couple of FL10 tridems – locally adapted – that were not a normal factory offer.
During the 1990s, Martin formed a filming partnership, with his friend Pete Connock and they travelled extensively to record many different aspects of road transport. This partnership has produced over thirty-five truck and transport DVDs and videos. Martin was an active member and friend of the Commercial Vehicle and Road Transport Club CVRTC, and often supported local events and initiatives. At the beginning of his illness, this group of friends organised a charity auction to help support Martin with equipment to help him during his illness.
Martin was much loved and respected by his work colleagues, customers, friends and even competitors in the transport industry. A drive-by of over 80 trucks was organised for Martin as a celebratory salute to his 70th birthday last month and this proved a phenomenal success for everyone. It was Martin's last outing and he, along with his family, was deeply humbled by the experience.
Many within the trucking fraternity – both nationally and internationally – know Martin has worked tirelessly to represent, with fairness and honesty, an industry he always felt was misrepresented and misunderstood by the public at large.
His daughter Liz said of her father's travelling, "With every trip there was always a story. With every story there was often an embellishment. Dad's life however is a life well lived. Shortly before he was diagnosed with Motor Neurone Disease he told us he thought he could stop travelling now. He'd seen all he wanted to see and done what he had wanted to do. Few people are able to say this."
Our thoughts are with his wife Annie, his two daughters and his grandchildren at this time, Martin will be missed by all. Martin's funeral will take place on Wednesday 27th November at 1300 hours at:
St Mary's Church, Church Hill, Swanage, Dorset BH19 1HU
Martin has requested donations rather than flowers, to the Motor Neurone Disease (MND) Association via http://www.justgiving.com/mndassoc . The MND Association helps with both patient and family support and research into the disease.
We hope you enjoyed this article! For more news, views and reviews on all aspects of the truck driver's life subscribe today.