Mercedes-Benz unveils new Actros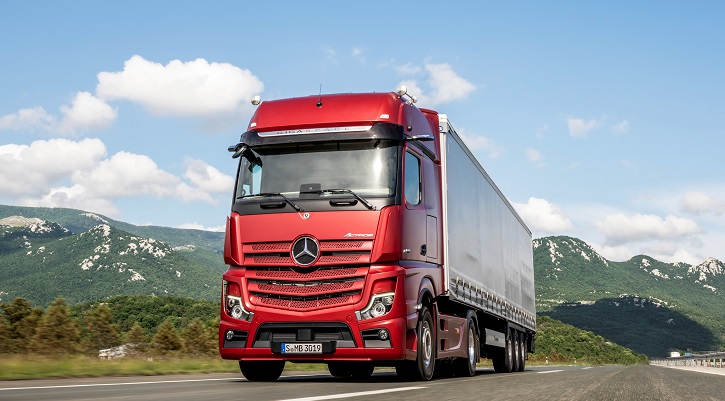 Mercedes-Benz has launched its new flagship Actros in Berlin with Active Drive Assist, which can brake, accelerate and steer independently at all speed ranges for the first time in a series-produced truck.
Active Drive Assist builds upon adaptive cruise control with stop-and-go function and the lane-keeping assistant from Mercedes-Benz. While responsibility for monitoring the traffic situation remains with the driver, the system provides significant support and makes an important contribution to increased road safety, the company says.
Another innovation in the new Actros is the replacement of the main exterior mirrors and wide-angle mirrors with mirror-cams as standard. Mercedes-Benz says the mirror-cam improves aerodynamics, safety and vehicle handling. The system consists of two cameras mounted on the outside of the vehicle and two 15-inch displays on the A-pillars inside the driver's cab.
The lack of exterior mirrors, along with new rear-edge flaps also help to improve the Actros' aerodynamics, which goes on to improve fuel consumption. In addition, the intelligent Predictive Powertrain Control for cruise-control and gear shifting operates even more efficiently and can now also be used on country roads thanks to its expanded map material. Finally, a new, fuel-saving rear-axle ratio is in use. Mercedes say these can result in fuel savings of up to 3% on highways and 5% on country roads.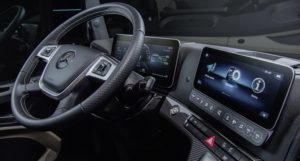 Inside the cab, the dashboard has also been revised. For instance, there are two interactive screens as standard and serve as a central source of information for the driver. Smartphones are integrated via Apple CarPlay and Android Auto. The Truck Data Centre permanently connects the truck with the Cloud and is the basis for all connectivity solutions, such as apps that help the driver to perform his transport tasks.
"With more than 60 innovations, the new Actros already puts the future of heavy-duty trucks on the road today," says Stefan Buchner, member of the Daimler Trucks Divisional Board of Management and head of Mercedes-Benz Trucks. "Just four years after the presentation of the Mercedes-Benz Future Truck 2025 driving in automated mode, we are launching the new Actros with the world's first partially automated assistance system in a series-produced truck. We at Daimler Trucks are thus further extending our leading role for automated driving. When fitted with Active Drive Assist, our new Actros makes the logistics business significantly safer for all road users and more efficient for our customers."
The new Actros can be ordered as of the IAA 2018 Commercial Vehicles Show and the first trucks will be delivered to customers next spring.
We hope you enjoyed this article! For more news, views and reviews on all aspects of the truck driver's life subscribe today.