Mercedes' Middle Eastern Monster Mover–the Zetros 6×6 gets down to work on Biglorryblog!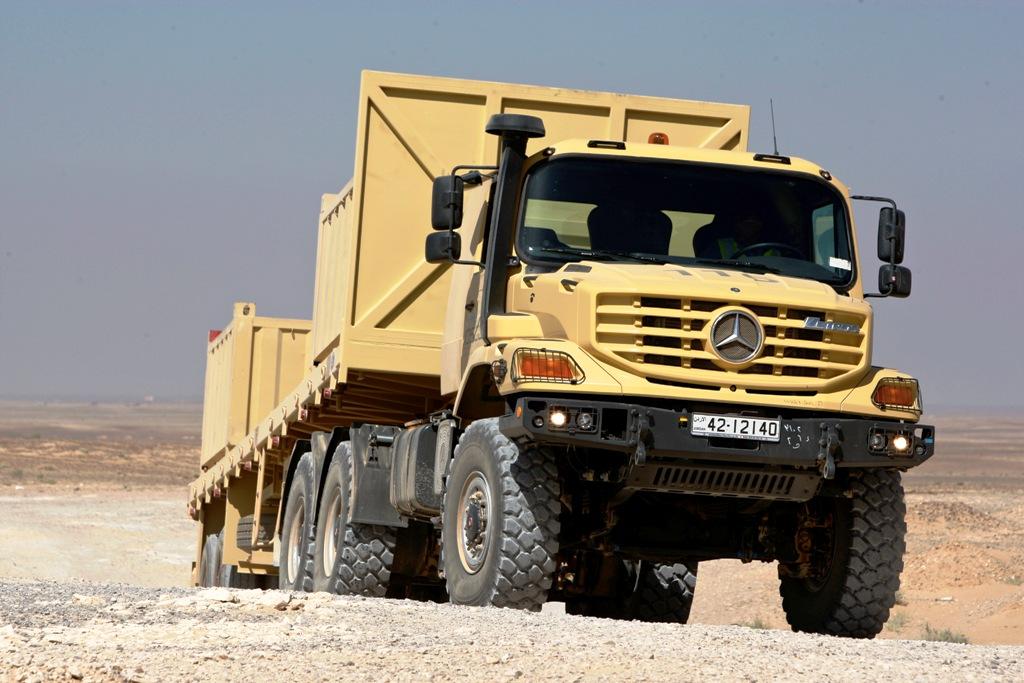 Whilst stumbling across the desert half-crazed with thirst Biglorryblog was suddenly confronted with this 'cool' sight of mighty desert warrior Mercedes-Benz Zetros oilfield trucks in action. OK, truth be told I found them on the DaimlerMedia image gallery but what great shots…
But what really got my interest was the fact that the 6×6 2733 seen here was being run as a articulated tractor, as it's the first time I've seen it in this application having been usually used to seeing Zetros as a 4×4 or 6×6 rigid.
And for a Saturday pie, where are these dusty dune deliverers based? There's a clue with the registration plate (and don't say I never help you with my quiz!) Also considering it has the 7.2-litre OM926 litre lightweight six-pot producing 326hp and 1300Nm of torque what gross combination weight does it run at–maybe someone knows?
Also, as I'm asking questions, what special preparation, if any, does the Zetros need for desert work..extra fine dust filters, extra cooling…? Or maybe Zetros is 'ready-to-roll' straight from the factory whatever the climate. Does anyone in the anorak army know the answer?
We hope you enjoyed this article! For more news, views and reviews on all aspects of the truck driver's life subscribe today.