Motward's latest Volvo FH16-750 a tribute to much-loved boss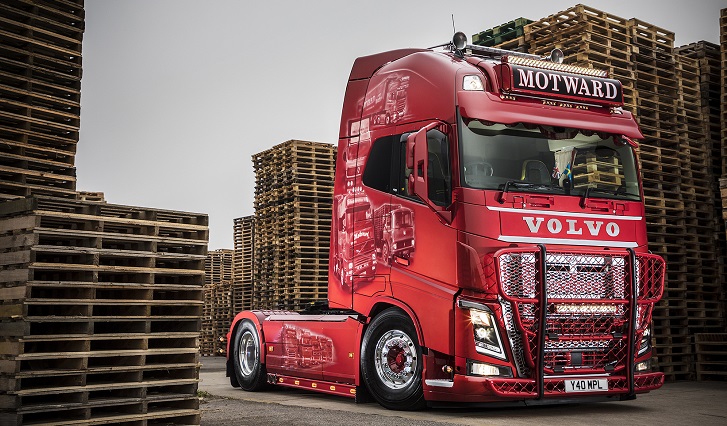 Pallet distributor and wood waste recycler Motward's latest purchase, a Volvo FH16-750 tractor unit, has become a lasting tribute to the company's late managing director, Jason Tolhurst.
The FH16-750 Globetrotter XL was originally ordered by Motward, which is based in Huntingdon in Cambridgeshire as part of its celebration of 40 years in business. However, shortly after the unit was ordered, Jason was diagnosed with terminal cancer. Tragically, Jason passed away before seeing the vehicle in operation.
Supplied by Alan Didwell, transport solutions executive at Volvo Truck and Bus Centre East Anglia, the FH16-750 features impressive airbrushing, including portraits of Motward's founder, and Jason's dad, Ken Tolhurst, plus grandfather Charlie, by renowned artist Matt Paint. The show truck was also given a makeover by custom truck specialists Tranz Tech in Wisbech.
Tranz Tech says the project was one of the largest it has ever undertaken and included a custom rear bumper, custom side bars with exhausts incorporated, a hidden on-board water tank, bull bar, top and bottom laser lights, hidden strobes and a significant overhaul of its lighting system. "Building up to our 40th anniversary we knew it needed to be something special," said Andrew Armiger, transport manager at Motward.
"We've had Volvos since 1995; they are good, reliable trucks. We particularly like the latest version FH. They are a great product and the support Alan Didwell has shown through the ordering, as well as the service back-up he's ensured we will be getting, confirmed for us which way we would go when we chose the FH16," added Andrew.
Although Jason did not get to see the truck in all its glory, Andrew did show him photographs of the finished product and he was thrilled with the result. "He was so happy with the outcome, it was even better than he expected. He just didn't get to see it in the flesh."
The customised truck eventually led Jason's final trip in the funeral procession to Cambridge crematorium, followed by the rest of Motward's fleet.
"Jason was a lovely guy," said Alan Didwell.
Andrew added: "I'd known Jason for 26 years and worked for him for 15 years. His lorries were his passion. He used to be a driver, so therefore knew what a driver wanted and needed. This meant he always wanted the best specification for the vehicles. Jason was a great man to work for, who was not only a brilliant boss, but also a good friend. As a company we now want to push forward and carry on the legacy in his honour."
We hope you enjoyed this article! For more news, views and reviews on all aspects of the truck driver's life subscribe today.