MP urges progress to build huge truck park off M20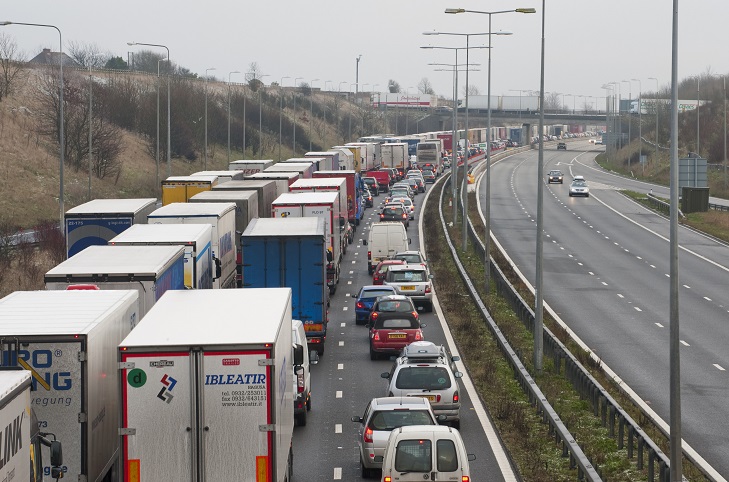 A Kent-based MP has urged the government to reach a settlement with residents and businesses near to the site of a planned lorry park off the M20 before it goes to a judicial review to ensure that building of it can get underway.
Speaking in Parliament yesterday [October 25] Damian Collins, MP for Folkestone and Hythe MP, called on the government to commit to having a last attempt at negotiating with local businesses and residents so a settlement can be reached and the judicial review application withdrawn, which would enable work to start on the lorry park.
The proposed park could hold up to 3600 HGVs and prevent the need to implement Operation Stack, which closes parts of the M20 when there are problems with crossing the channel – and can take several days for traffic to return to normal in the area.
In the 2015 autumn statement, then Chancellor George Osborne, committed the Government to a £250 million investment to build a lorry park to avoid the implementation of Operation Stack. "The idea was that it would be delivered at pace, and it should have been operational this year," noted Collins.
Collins also called for the government, if it was unsuccessful in having the judicial review application withdrawn, to make whatever adjustments are necessary to their plans in order to continue with them and to make the lorry park operational. "As the Government prepare and negotiate for Britain's exit from the European Union, investment in this sort of robust infrastructure is more important than ever.
"We cannot say what the future will hold in terms of how frictionless trade will work if Britain is not a member of the single market, but it is possible that delays will be caused.
"Any time delay in the processing of freight in and out of the country will cause massive traffic congestion in Kent. If we want the country to be ready for Brexit on day one, that includes being ready with the infrastructure in place to support it. If there were customs delays, it is possible that Operation Stack would once again become a frequent and unwelcome visitor to the county, causing massive congestion and making life intolerable for residents and businesses. It is therefore even more important that the investment that the Government promised two years ago to deliver the Operation Stack relief lorry park is proceeded with at pace."