MTS Logistics' Steve Rountree will represent UK in final of Renault Trucks' Optifuel Challenge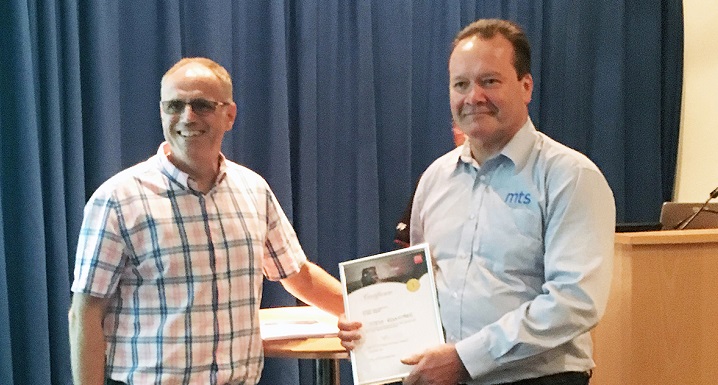 Steve Rountree, a driver for MTS Logistics, will represent the UK in the International Final of the Optifuel Challenge, an annual eco-driving competition organised by Renault Trucks, on October 18.
In the Final, which will be held in Toledo, Spain, Steve will be up against 28 other drivers from around the world competing for a chance to win a Range T480 Optifuel truck for their company – and be crowned International Optifuel Champion 2017.
Throughout 2017, some 2,500 entrants from across 29 countries participated in the national rounds of the Optifuel Challenge, with the winner from each country invited to the International Final.
The International Final will be split into two parts. Firstly, drivers will complete a questionnaire that tests their knowledge of eco-driving principles and how to reduce fuel consumption. Next, they will take part in a 40-minute open-road driving test in a Renault Trucks Range T Optifuel with a 13-litre Euro-6 Step C engine. The winner will be the driver who consumes the least without sacrificing commercial speed.
Throughout the competition, drivers will be assisted by a representative from their company and a member of the local Renault Trucks network. Their team will be able to track their performance in real time using the Optifleet fleet management system.
To ensure equity among the competitors, a random draw will determine the order of passage, and tractor-trailer departures will be staggered. An additional vehicle will accompany each group of drivers to take into account traffic and any factors that may affect driving conditions.
"Our goal is to sustainably reduce fuel consumption from the very first mile through highly efficient vehicles equipped with the latest technologies, but equally it is essential that the driver utilises these innovations to deliver the optimum balance of fuel economy and speed," said Nigel Butler, commercial director at Renault Trucks UK. "We wish Steve Rountree and the UK team all the best for an excellent eco-driving performance in the Final!"
The overall champion will be presented with a Range T480 Optifuel truck for their company and their choice of vouchers to the value of €6,000 (£5,550) for themselves.
We hope you enjoyed this article! For more news, views and reviews on all aspects of the truck driver's life subscribe today.