News: Paul Barlow wins DAF Transport Efficiency Driver Challenge
Paul Barlow of Severn Trent Water has won the 2016 DAF Transport Efficiency Driver Challenge – a UK-wide search to find Britain's best commercial vehicle drivers. In an exciting climax to the event, Paul edged clear of runners-up, Chris Gadman from Royal Mail and Mark Pocklington of Mark Pocklington Transport
The entire event was filmed and is now available to watch on the official DAF Trucks UK YouTube channel.
The trio, all crowned as DAF Transport Efficiency Champions, will be invited to a 'classified', once-in-a-lifetime truck driving experience, taking them across Europe to the home of DAF Trucks in Eindhoven.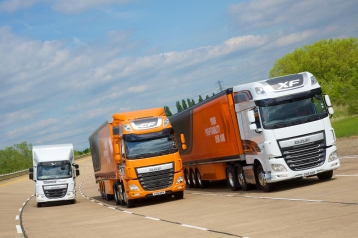 Specially selected from across the DAF Dealer network, and following an initial theory test, only a select few drivers were identified to embark upon a series of challenging practical and knowledge-based assessments centred around an all-expenses-paid, two-day, live event at the Millbrook testing facility in Bedfordshire in May. Challenges include driving analysis in various models representing DAF's full LF, CF and XF ranges, off-road tests and other practical assessments which face drivers on a daily basis.
"I'm thrilled to have won through," said Paul Barlow, "and to have performed well against so many superb professional drivers makes me feel very proud. I knew it was going to be tough," he said, "but I didn't expect it to be quite so comprehensive – every aspect of the job came under scrutiny. DAF Trucks' organisers weren't joking when they said they wanted to find someone with the whole package."
He added, "All three of us are now looking forward to celebrating our success on the driving experience across Europe, and perhaps another chance to challenge ourselves."
To compete in the challenge, DAF Trucks identified individuals who each exhibited impeccable levels of:
• Driving style, performance and efficiency across different sizes of truck and driving conditions.
• Road knowledge, legislation and the Highway Code.
• Vehicle knowledge, defect reporting and pre-use checks.
To truly maximise the potential of identifying the nation's elite drivers, the Challenge attracted non-DAF drivers, too.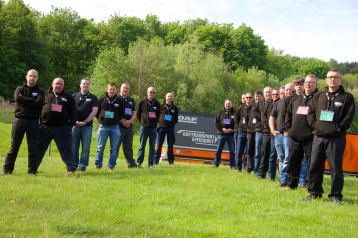 The live two-day event at Millbrook was overseen by DAF Trucks driver trainer and press truck demo driver, Mandy Wannerton, assisted by a judging panel of industry experts. The top drivers underwent a series of stringent practical and theoretical tests, while receiving expert leadership from Mandy and her driver training team. Drivers also have the chance to drive the full range of DAF trucks.
We hope you enjoyed this article! For more news, views and reviews on all aspects of the truck driver's life subscribe today.