Scania extends gas engine range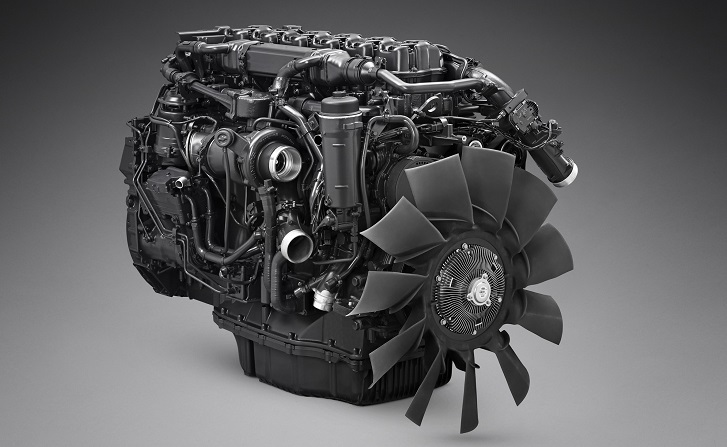 Scania has introduced a new 13-litre gas-powered engine, which can be specified for a range of G- and R-series trucks.
The new engine is rated at 410 horsepower, and joins Scania's existing 280 and 340 horsepower nine-litre dedicated gas units.
"With 2,000Nm torque from 1,100rpm through to 1,400rpm, the new 13-litre gas engine delivers similar performance to comparable diesel engines," said Andrew Jamieson, sales director for Scania (Great Britain) Ltd. "Furthermore, when running on biogas, emissions of carbon dioxide are reduced by up to 90%. As such, this new engine will appeal to operators looking to switch to a renewable and sustainable fuel source while reducing their environmental impact without compromising performance."
The new 13-litre engine can be specified on a range of Scania G- and R-series trucks, including 4×2 tractor units and 4×2, 6×2, 6×2*4 and 8×4*4 rigids, with vehicles operating on Compressed Natural Gas (CNG), Compressed Bio Gas (CBG) or Liquefied Natural Gas (LNG). In CNG/CBG format, eight gas tanks are fitted. These are either 95 or 118-litres each, depending on wheelbase and battery position, giving a maximum capacity of 944-litres. This equates to a range of up to 500km, depending on road conditions and the type of application, according to the company. For LNG tractor units, two tanks provide a capacity of 740-litres and a range of up to 1000km, while LNG rigids can accommodate single or double tanks, giving a capacity of 400-1,100-litres and a maximum range of up to 1,600km.
Based on Scania's proven six-cylinder 13-litre engine platform, the new dedicated gas-powered unit is the outcome of a development programme that utilises the Otto principle and stoichiometric combustion, where all fuel and oxygen is burnt completely. Combustion is initiated using spark plugs, and pre-mixing takes place prior to the fuel entering the cylinders.
The new 13-litre engine has also been designed to operate with the Scania Opticruise fully-automated gear-selection system.
Gas engines which operate on the Otto principle (with pre-mixing of fuel and with spark plugs) have shorter service intervals than diesel engines. However, Scania's engineers have implemented a series of measures that they say will help to bring about significantly longer service intervals. Today it is the service life of the spark plugs that typically sets the limits.
"We have set the interval at 45,000km for both spark plug replacement and oil changes under normal use," said senior engineer Folke Fritzson, a member of Scania's gas engine research and development team. "This is a clear improvement over previous generations of gas engines, which had a normal service interval of 30,000km, and therefore reduces maintenance costs and increases uptime."
We hope you enjoyed this article! For more news, views and reviews on all aspects of the truck driver's life subscribe today.