Scania launches Next Generation G-series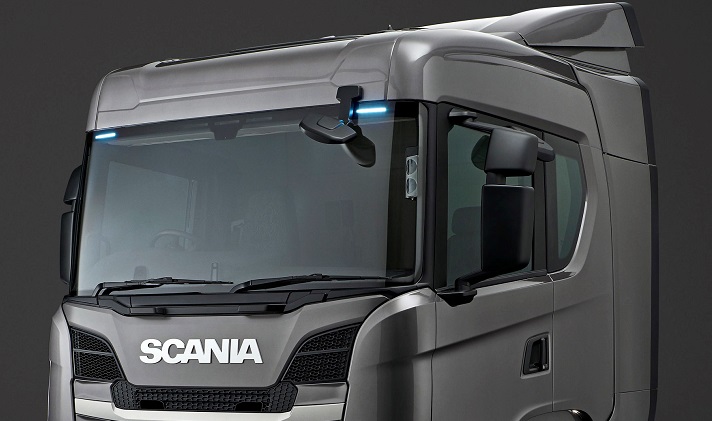 Scania has announced the launch of its Next Generation G-series, which offer a range of features aimed at increasing safety and comfort for drivers.
The G-series compliments the R- and S-series models, and is designed for a range of task and applications, including urban, inter-urban and multi-drop distribution operations. G-series cabs are available with low, normal and high roof, initially in sleeper format.
Its cab shares many of the features of R- and S-series vehicles, but also has a lower seating position. The forward-positioned driver's seat combined with a lower cab height offer excellent visibility while maintaining a large sleeper cab to maximise storage and sleeping comfort, according to Scania.
The G-series cab has three entry steps and the driver's station follows Scania's modular concept utilising the familiar wing style dash board sloping away to maximise forward visibility, while switches and infotainment systems are positioned to ensure ease of operation. The internal measurements of the normal ceiling have been increased by 10cm, while in the Highline configuration internal headroom is now 16cm higher than its previous G-series equivalent.
Just like the larger sleeper cabs, Next Generation G-series sleeper cabs can be selected in several different configurations and equipped with a variety of options and accessories. Storage options have been improved, due primarily to the new ceiling heights that allow for storage in the front and back edges of the cab, even at the regular roof height. The configuration also has space for a comfortable bed with the potential for storage and a refrigerator underneath in several different combinations.
Scania has also developed a tablet holder that can be mounted on the instrument panel. This can be rotated and is extremely stable under all conditions. There are up to two 12/24 volt and four USB charging outlets in the cab, depending on the option package chosen.
A manually-controlled climate system is available alongside the already launched automatic options, and the instrument panel can be complemented with an extension out to the left for those who need additional switches and buttons, such as those for controlling functions relating to the truck's bodywork.
The G-series cab can also be equipped with the Scania Night Lock, a mechanically-operated bar that makes it difficult for an intruder to open the cab without detection when the driver is resting.
The interiors of the new cabs have a range of small and large details that all have the goal of making life easier for those working and living in the cab. For instance, storage in the door pockets can accommodate a typical 1.5-litre bottle and G-series cabs also feature a rubbish bin with its own lid and a storage bar on the back wall.
We hope you enjoyed this article! For more news, views and reviews on all aspects of the truck driver's life subscribe today.