Scoop truck pictures! New Iveco Stralis and Mercedes Axor—heavily disguised. Only on Biglorryblog!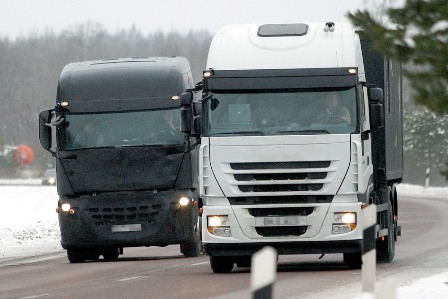 Photograph: Automedia-group
Up in the frozen North something is stirring…And it's provided Biglorryblog with the perfect 'scoop' shots of the new Iveco Stralis undergoing cold weather testing. BLB has the hardy snappers of the Automedia-Group for these telephto tantalisers! (They're copyright to Automedia so please don't cut and paste them from this blog—if you want your own copy just e-mail [email protected]) Now below you can see it a lot clearer…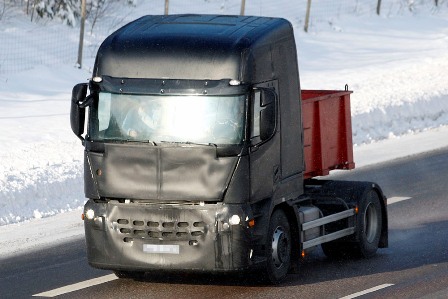 Photograph:Automedia-group
The full-width cab extending over the wheelarches suggests to yours truly that this is the replacement for the biggest Stralis 'Active Space' cab and a rather smooth looking roofline it has on it too–reminds me of a Topline Scania moulding.. The replacement fleet 'Active Time' Stralis cab will be bound to look like this but with a narrower cab than the one above. All that plastic stuff on the front is to protect its identity…but hey with those axles and the fact that it's travelling with an Iveco 'minder' what else could it be? Expect the finished product to surface before Euro-6—or in time for the as-yet-to-be-agreed Euro-6 deadline which observers believe will be based on all new type-approved engines in 2013 and on all new trucks in 2014. And what will those engines be? I'd guess they'd be developments of the current 'Cursor' 8, 10 and 13 engine range. Whether they'll go up in size (displacement) is hard to say—but power and torque are bound to be 'tweaked' a bit!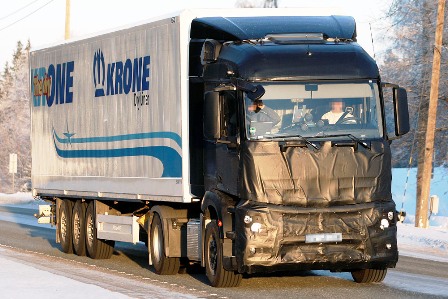 Photograph: Automedia-Group
And now, above, we have the German entry for 'Best truck wrapped in plastic bin liners of 2009 award'….or the prototype Mercedes Axor cab. Those BLB readers with long memories will recall I previously showed shots of the bigger Actros protoype cab–again wrapped in black plastic and sticky-back tape—last year. Anyroadup click through here for more shots and some words on the future Merc heavy truck family…..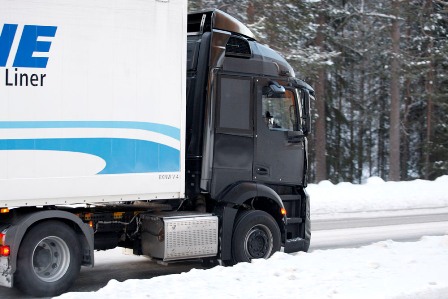 Picture: Automedia-Group
Like the current Axor, the replacement narrow cab here has a three-step entry not least to get you up above the in-line six pot which will go underneath. So when we can expect to see the final versions of the new German heavyweight contenders. The smart money is still on a 2010 launch. However, it's less clear if, right from the get-go, they'll come with Daimler's much-trumpeted new global HDEP (Heavy Duty Engine Platform) engines developed by its Detroit Diesel subsidiary—or whether Merc will continue to offer its existing Euro-5 Blue-Tec V6 and V8s, and 12-litre in-line six, for a while longer. It's not impossible that the Germans might even decide to run both side-by-side in the short-term, not least to allow the market to get used to HDEP, whilst retaining those customers who still like the old big vees.
One possible driver for the early adoption of the family of HDEP in-line sixes (which currently consists of the 12.8-litre DD13 and 14.8-litre DD15, with a DD16 'big-banger' in the wings) could be in the run-up to Euro-6. While some expeerts say Those same experts are also predicting that we won't see too many Euro-6 trucks much before 2011 or even 2012, Merc may surprise everyone by being an early adopter with its HDEP motors, especially if the German authorities offer incentives to buy a Euro-6 truck ahead of the deadline.
The replacement low datum/narrow cab (pictured above) comes in standard and high roof versions, as with the current Axor. The DD13 six-pot also seems the obvious choice for the new fleet machine with its power range from 350-450hp and torque ratings from1,830-2,238Nm. The bigger displacement DD15, meanwhile, starts at 455hp and finishes at 560hp with torque outputs from 2,100Nm to a hefty 2,500Nm.
There are still a few more 'what-ifs'. For example in a bid to maximum engine cooling will Mercedes use independent front suspension on its heavy tractors? Likewise when the DD16 appears will it be the first Merc to follow Volvo over the 700hp barrier? Time will tell—but you can be sure that whatever happens, and whenever the new Mercedes models arrive, Biglorryblog will bring you the news first.
We hope you enjoyed this article! For more news, views and reviews on all aspects of the truck driver's life subscribe today.