The September issue of T&D is now on sale, and I have to say we're proud of it, as it's packed full of heroes. Most importantly, we have our own tribute to the soldiers of WW1, especially those who came home and created the road transport industry as we know it. There's also a look at some of the trucks they drove, as well as a feature on some slightly more modern military recovery vehicles. We have the second part of the true story of the heroic British drivers taking aid to Iraq in the 1990s, and from the 1860's, a fascinating story of a fearsome Glaswegian woman whose pioneering business as a bullock driver is now one of Australia's best known livestock hauliers.
Fictional heroes of the silver screen are the theme of this month's Ed's Choice, J Davidson's fabulous pair of Swedish scrap metal haulers. We've been driving the Mercedes-Benz Actros SLT at 170 tonnes, and the big rigid versions of Daf's latest Euro 6 range at rather lower weights. ALCO's Merc Actros and Daf XF105 go head-to-head and we look at the history of Ford's lorries.
Add in all your usual favourite regulars, including the latest news on the new speed limits and the DVLA eyesight fiasco, and we feel we have produced a cracking issue for you. Finally, watch this space for exciting news about the October issue!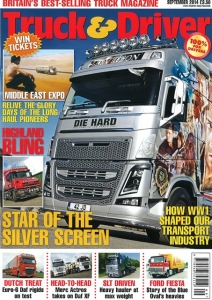 We hope you enjoyed this article! For more news, views and reviews on all aspects of the truck driver's life subscribe today.