Smith masters the rain at Nurburgring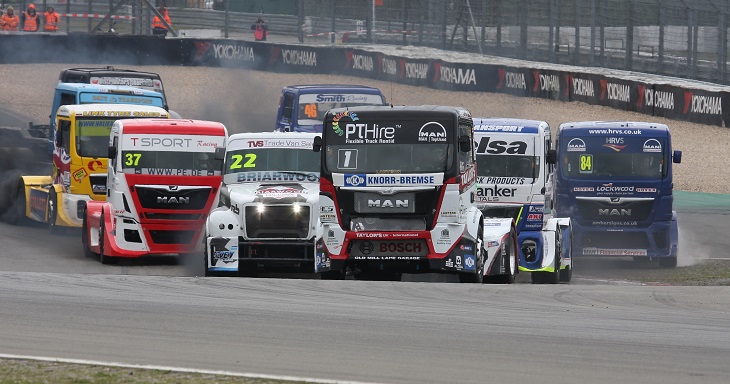 Ryan Smith extended his lead in the 2017 BTRA British Truck Racing Championship with three strong performances at the Nurburgring event in Germany (30 June/1-2 July).
When the series returns to home soil at Donington Park on 22-23 July, Smith will be defending a 13-point advantage at the top of the Division One standings over his nearest rival, fellow MAN driver Mat Summerfield.
Mansfield-based Smith, who collected two wins and a fourth in the incident-packed German event, regards Donington as his 'local' circuit. But then so does Summerfield, who hails from Burton-on-Trent – in fact, nearly half the grid come from the Midlands, so no-one can really claim a 'home' advantage.
The three-day ADAC Truck Grand Prix at Nurburgring was plagued by intermittent heavy rain, but the adverse conditions did little to dampen the spirits of the 115,000 strong crowd.
Smith was on the pace right from the off; claiming pole position in qualifying and converting it into a win in the Friday race. There was a great scrap for the other podium placings with Dave Jenkins looking set for another major points haul until Shane Brereton spun him off with four laps to go. Summerfield slipped through to grab the runner-up spot ahead of Brereton with Jenkins recovering to fourth. Simon Reid brought his Iveco home fifth to prevent a MAN whitewash.
Heavy rain and a really slippery track brought out a lot of yellow flags in Race 2  on Saturday, but Stuart Oliver looked secure out front in his Volvo – quickly fighting back to re-gain the lead from Brereton, who briefly got his MAN ahead mid-race before slipping back to a distant second, ahead of another podium spot for Summerfield. Smith came home 4th but felt his main rivals had all gained an unfair advantage by exceeding speed restrictions during a 'Full Course Yellow' caution period.
But the reigning BTRA Champion was back on top form for Race 3 – in slightly improved conditions – storming to victory ahead of Oliver and a hard-charging Jenkins. Brereton and Oly Janes (Freightliner) completed the top five in what turned out to be the final race of the weekend.
The fourth of the scheduled British Championship races was red flagged before it had got underway – and then abandoned entirely; a fuel leak from one truck on the warm-up lap combined with further rain to make the circuit undriveable – even the final European Championship event had to be cancelled!
Division 2
Meanwhile, in Division 2, Mika Makinen leapfrogged his rival Adam Bint to take a 15-point lead in the standings. The Finn splashed his way two victories and one third place – and was joined on the podium by the Dutch Smit brothers Frans (Scania) and Rody (Volvo).
But Steve Powell (ERF) had a good weekend with 4th and 7th places – and finally managed to bring some silverware back to the UK as he scored a strong third place in Race 3.
The other main title chasers all lost ground: Bint (Volvo White), Simon Cole (Mercedes), Paul McCumisky (Volvo) and Tony Smith (Sisu) all suffered one non-finish out in Germany but will hoping to claw back points to challenge the flying Finn at Donington.
Editorial and photo by Jonathan Reeves 
The next round of the BTRC is at Donington Park on 22-23 July. That round also includes Convoy in the Park – the ultimate celebration of truck and driver. For more information go to
www.convoyinthepark.com
We hope you enjoyed this article! For more news, views and reviews on all aspects of the truck driver's life subscribe today.