Supersize my Volvo FH! The very first XXL Globetrotter in the UK and Biglorryblog has more pictures of it!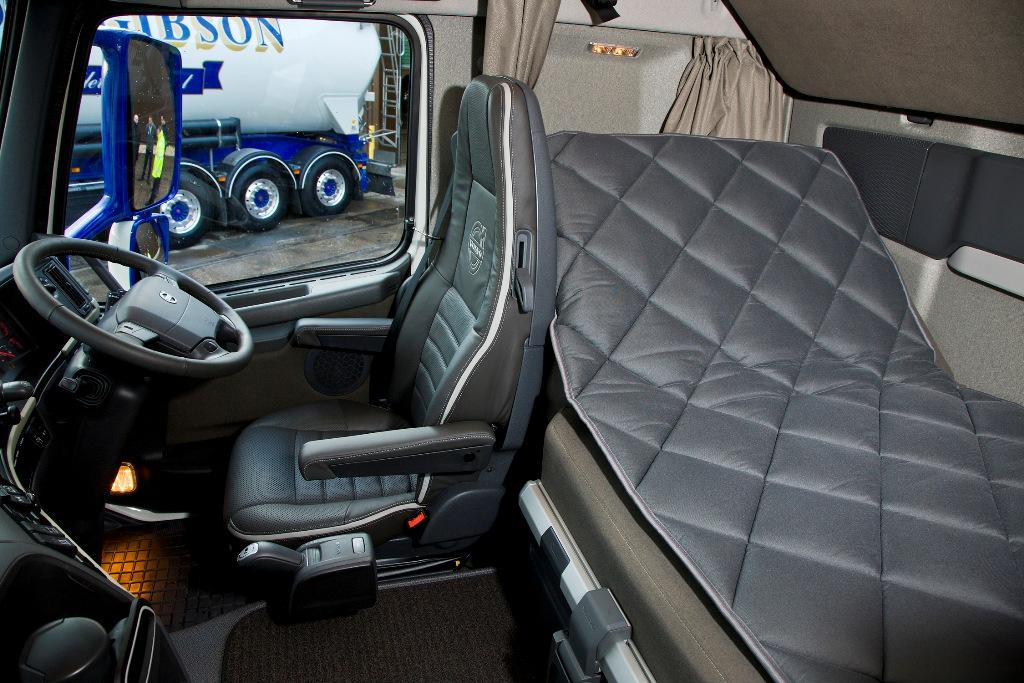 Now that's what I call a BIG sleeper. Regular Biglorryblog readers may well recall that Commercial Motor covered the fact that the very first Volvo FH in the UK to be equipped with a Globetrotter XXL cab has gone into service with Goole, Yorkshire-based Simon Gibson Transport Ltd. It is also the 50th truck to wear the company's distinctive blue and white livery. Well thanks to Agent Reg I've got some more pictures of it–and a few more words besides. Though doubtless all my Aussie and Norwegian readers will be saying—"Yea, so what, WE'VE had XXL for ages!"
And indeed, so you have for the XXL was originally developed for the Australian, and more latterly Norwegian, markets. What makes it so special is that the XXL cab is 245mm longer than the 'standard' Globetrotter and the bunk is consequently that much wider. The exterior lockers (on both sides) are also significantly larger, which facilitates the storage of bulky items like PPE, work boots and wet weather gear.
Simon Gibson also rates the support his business receives from supplying Volvo dealer Crossroads Truck and Bus at Hull: "The product is good, but Crossroads back-up is primarily why most of our trucks are Volvos," he says.
In addition to the XXL cab, the FH is equipped with Volvo's D13C engine rated at 540hp and the I-Shift automated transmission. The cab interior features include a built in fridge, microwave and television as well as leather upholstery, a reclining backrest for the bunk and a passenger seat that swivels round for use with a built in table. Exterior spec includes extra lights and horns and Durabright wheels.
Lets's hope Simon's XXL is the first of many in the UK…
We hope you enjoyed this article! For more news, views and reviews on all aspects of the truck driver's life subscribe today.