The lost art of roping and sheeting on Biglorryblog part #2..this is how to tie a dolly knot!
"Hi Brian," adds Peter Davis. "I see your mention of 'dolly' knots. As a special gesture I have produced a step-by-step graphic showing how (I think) it's done. I was shown by an expert many years ago and I have never forgotten. The attached shots show that expert, my good friend and mentor, Ieuan Evans, tying a dolly knot whilst sheeting a sixteen and a half ton load of 5000 engineering bricks at Cynghordy Brickworks, near Llandovery, in September 1964….as a matter of interest they were destined for Ellesmere Port for sewer construction at the 'new' Vauxall Motors factory. The lorry is a 1963 AEC Mammoth Major V type G8RAD with AV691 and 6-speed overdrive. It had a Clayton exhaust brake. Lovely motor!
Regards Peter D (eightwheeler nut!)." And click through here to see Ieuan doing his thing!

A lost art for sure…except on restored waggons!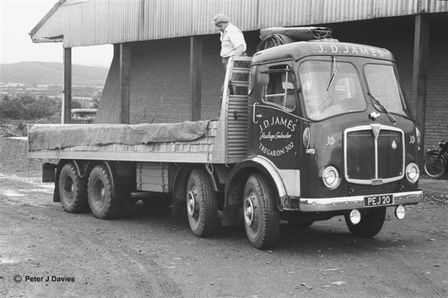 All gone thanks to the curtainsider…
We hope you enjoyed this article! For more news, views and reviews on all aspects of the truck driver's life subscribe today.