Truxx Factor results announced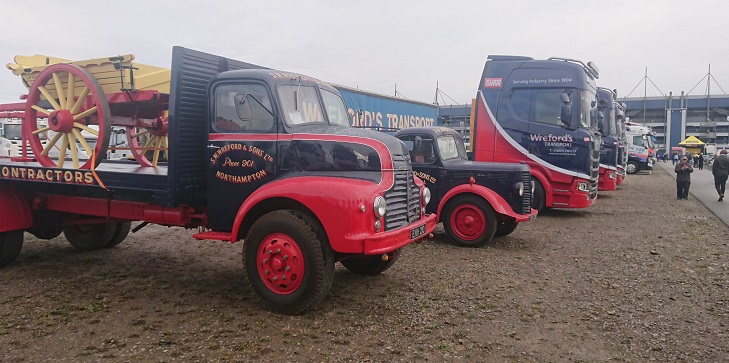 Truxx Factor took place at the Rockingham Motor Speedway over the weekend of 22-23 September, with thousands of people heading to the Corby-based circuit for the mix of on- and off-track action.
On track, spectators could watch the Pickup Truck Championship, as well as various other racing series, and see some demonstration events, such as Nascar stock cars. Some of the trucks from the British Truck Racing Association Championship were also in attendance.
Off-track, there was a live arena with truck pulls, and stunt shows, such as Ken Fox's Wall of Death Show, and a host of family entertainments, such as fairground rides.
There was also a full truck show at Truxx Factor, featuring hundreds of show and working trucks from around the country. The results of the show are as follows:
Best Working Artic
1st: BN68 GLY, Alwins, Jamie Kelsall
2nd: HV66 HDE, Pentavlers, Allen Coats
3rd: V500 CEW, Collin Earthworks, Brandon Jinks
4th: V88 PST, Paul Starket Transport, Chris Carter
5th: FD16 EXC,, MB Transport, Adam Taylor
6th: WX66 GPZ, Andy Lee Transport, Dave Gardner
7th: WX65 GVA, Andy Lee Transport, Adam Ross
8th: AB10 DAF, A C BINNS, Marcus Thomas
9th: PX17 KUY, Adstock Bulk, Ross Wotherspoon
10th: BU11 AWC, AW Cleaver Transport, Dan Cleaver
Best Working Rigid
1st: SR07 EAO, WS Removals, Jake Graham
2nd: M66 GFS, Griffin Freight, Matthew Westwood
3rd: BF67 DZJ, SW Group, Nicola Dodd
Best Working Tipper
1st: CX05 CFM, Collins Earthworks, Andrew Jinks
2nd: DX18 HCP, Collins Earthworks, Jamie Thelwell
3rd: 298 LWL, Crocket Haulage, Richard Faulkner
Best Working Fleet
1st: MVL Transport
R500 MVL Liam Shirtcliffe
ML16 MVL Ben Ketteringham
2nd: Bennetts Haulage Ltd
L500 BHL Mark Bennett
RK67 BHW Mariusz Czaplicki
RK18 OET Pete Dawson
L400 BHL Dave Goddard
3rd: Williams Transport
AY68 TFX Paul Watling
AY68 TFV Jason Love
AV18 WEC Steve Burls
Best Heavy Haulage
PJ13 YNV, Wixey Transport, Robert Coleman
Best Light Commercial
1st: MA15 YMT, MA Fradgley, Mark Fradgley
2nd: BX66 CWM, WS Removals, Tasha Graham
Best American
K4 DOD, KM Commercials, Keven Mortimer
Best Custom
SL62 XAO, E W Gardner, Dean Whittington
Best Owner Driver
FN14 HFI Peacock Transport, Marc Greening
Best Restored or Vintage
1st: Y425 OJL, Dominic Easey Transport, Dominic Easey
2nd: DX06 GJU, Geoff Jones Transport, Geoff Jones
3rd: LNV 486P, EM Rogers transport
Best Volvo
B9 SWO, Sworders Salvage, Mick Sworders
Best Mercedes
T1 GFS, Griffin Freight, Glenn Douglas
Best Daf
BN68 GLY, Alwins, Jamie Kelsall
Best MAN
LEG 51E, KRP Express, Lee Morey
Best Scania
Y425 OJL, Dominic Easey Transport, Dominic Easey
Best Iveco
HT16 DXR, The Tyre Brigade, Darren Parker
Best Renault
RK18 OET, Bennetts Haulage LTD, Pete Dawson
Go Stop Challenge
1st: Unity Recovery, Jonathon Rogers
2nd: AFS, Richard Babbington
3rd: Collins Earthworks, Brandon Jinks
Truck Pull Challenge
Stelian Nister
Road Truck Sprint Challenge
1st: Geoff Jones Transport, Geoff Jones 02.20.648
2nd: Midlands Truck Breakdown, Laurie Sole 02.36.092
3rd: WG Hill, Tom Hill 02.37.141
Race Truck Sprint Challenge
1st: Ray Coleman 01.46.905
2nd: Rick Collett 01.48.091
3rd: John Powell 01.49.938
4th: Brad Smith 01.50.339
5th: Adam Bint 01.50.936
Children's colouring competition winners
Emily aged 11 years
Logan aged 4 years
We hope you enjoyed this article! For more news, views and reviews on all aspects of the truck driver's life subscribe today.