Volvo launch 25th anniversary edition of the FH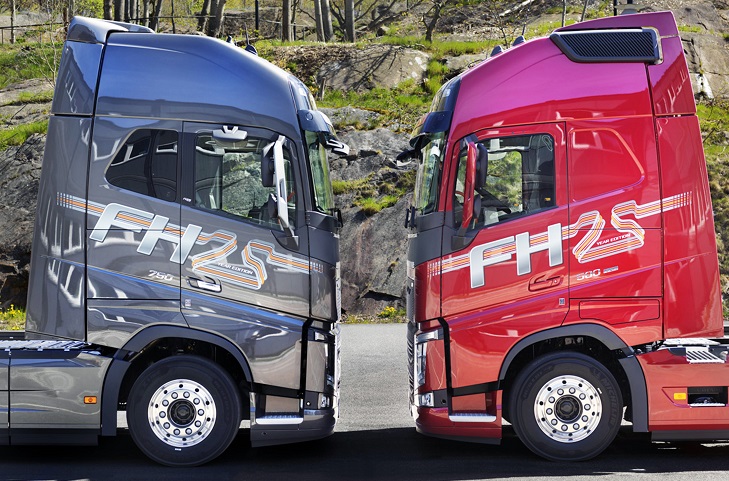 To celebrate 25 years since the introduction of the FH in 1993 Volvo Trucks is releasing a limited edition Volvo FH 25 Year Special Edition.
This will be available as an FH and FH 16, and is characterised by its distinctive exterior and interior design, and can be specced with state-of-the-art additional features.
The special edition's silver/grey and orange décor highlights the truck's origin and the striping forms the number 25 to signal the anniversary. The striping combines 3D effects and shadows to echo the design trend of the early 1990s. There are two launch colours, one darker, cool grey tone (Mammoth Tree Metallic) and a shiny red (Crimson Pearl), the latter a tribute to the original 1993 red cab colour.
Inside the cab, there are numerous orange details from seat belt stitches to curtains, carpets and reflective safety door decals. In addition, the seats combine quilt and leather.
The limited edition truck can also be specified with the brand-new extensions to Volvo Dynamic Steering.
"The Volvo FH is the perfect representation of a customer focused mind-set and a model that has been pushing the boundaries for a quarter of a century. This magnificent edition truck is therefore both a tribute to the first 25 years and a starting point for our continued successful journey with customers and drivers", said Claes Nilsson, president of Volvo Trucks.
Nigel Atterbury, senior graphic designer at Volvo Trucks added: "The first-generation Volvo FH meant so much for Volvo Trucks and the whole industry. It was a milestone; in fact, it was a game-changer that totally transformed the perception of a modern truck. Working on the design of the edition truck has been a real honour."
Tomas Thuresson, global long haul Segment Manager at Volvo Trucks, said: "It is a fantastic edition that pays tribute to a quite outstanding truck and the millions of people; customers, drivers and fans that have been engaged in the Volvo FH for 25 years."
The Volvo FH 25 Year Special Edition will be built for a limited period during 2018 and 2019 and sales will begin at the end of June.
We hope you enjoyed this article! For more news, views and reviews on all aspects of the truck driver's life subscribe today.