Warning to give recovery drivers space after incident on A47 in Norfolk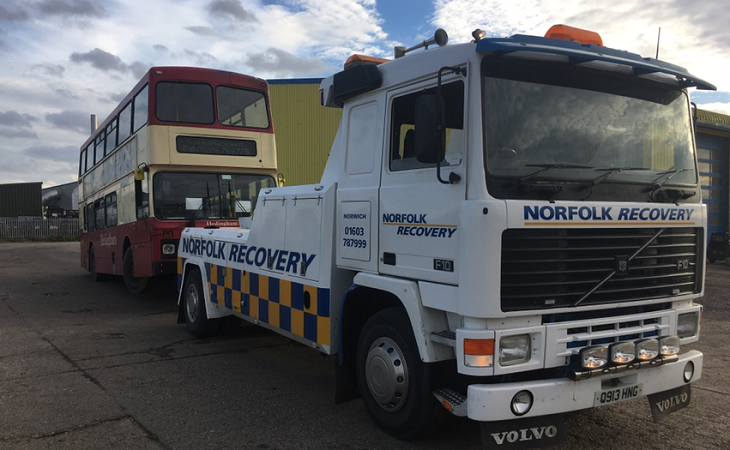 Drivers of all vehicles are being warned to move over and give rescue recovery operators enough space to work in, after an incident in Norfolk left an operator requiring hospital treatment.
Aaron Spall was recovering a broken down bus on the A47 westbound near North Burlingham in Norfolk on the afternoon of January 18. He had coned off an area around the bus, as is standard practice, and was working under the bus to attach it to the recovery vehicle when an unknown vehicle apparently clipped a cone, which was catapulted into the bus. However, the force of the vehicle moving so fast and so close to the bus caused it to move, trapping Spall's hand.
"I spent about 10 minutes trying to free my hand from the bus and ended up in hospital for a couple of days," said Aaron. "I have two fractured fingers and the tops of those fingers are crushed."
Aaron expects to be off work for about 4 weeks with the injury, but reckons he won't be able to drive for a long time, so will confined to office duties as a result. "For someone who spends most of his life under a truck or a bus sitting in front of a computer isn't going to be fun," he said.
The driver didn't stop after the incident. "I suspect they didn't even know they'd hit me, they just clipped the cones, thought 'oh, just clipped the cones, not to worry, not too much damage done'," said Spall. "But hitting the cones that quick caused damage to the bus."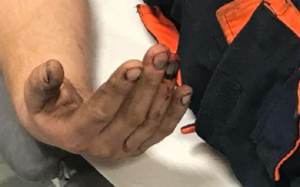 This incident comes after the deaths of two recovery operators at the roadside in 2017.
Paul Anstee, who runs the Slow Down Move Over campaign, said awareness needs to be increased among car drivers especially about what recovery drivers do and the importance of giving them enough space to be able to work safely.
He adds that more needs to be done to educate car drivers on what to do when they break down, and how – and where – to wait safely until the recovery truck arrives. "Awareness needs to be raised," he said. "We're trying to save lives."
The RAC launched a campaign last year calling on drivers to reduce their speed and increase the gap between their vehicle and any people on the hard shoulder or emergency refuge area on a smart motorway after an incident involving one of their drivers.
For more information on the Slow Down Move Over campaign, go to: slowdownmoveover.uk/ or the Facebook page.
We hope you enjoyed this article! For more news, views and reviews on all aspects of the truck driver's life subscribe today.