The IAA Truck Show…the power-boost photo trip around the show halls from Biglorryblog!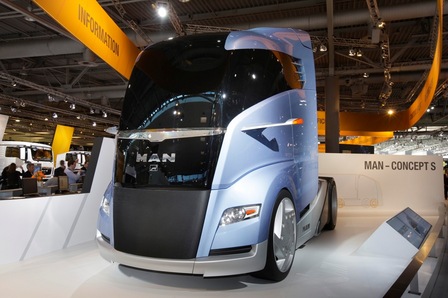 Well having posted up all sorts of stuff on this week's IAA Show here's the final Biglorryblog entry from Hanover (not withstanding the odd video)…which is a kind of 'best of', showing all the things that caught my eye…like the MAN aerodynamic 'Concept S' tractor or 'Son of Project Dolphin' as I like to call it…and I have Clutchslip to thank for the picture as the Germans insisted they wouldn't unveil their futuristic artic until the morning of the second press day…by which time I was flying home! Now click through here for the final photo round up from IAA.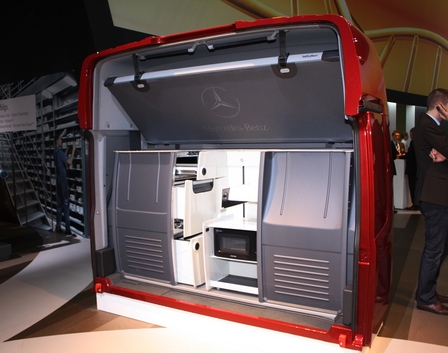 Go back through the BLB IAA archives and you'll find an earlier video clip I did of the MOTIS modular storage system installed here in the back of an Actros MegaSpace cab. Well I've found out as bit more on it since then. Having originally been shown at Hanover by MOTIS four years ago the system—seen here showing installed frdige/freezer (middle draw left) microwave oven, middle right, storage and gas cooker plinth (top left) is now available as a dealer-fit option on the Actros MegaSpace cab for less than €10,000 including fitting…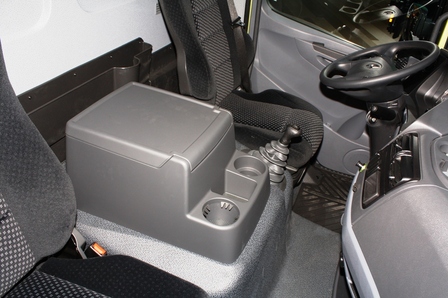 The revised storage in the latest generation Atego helped Mercedes run out a winner in the battle for International Truck of the Year 2011. Overall the Atego attracted 127 votes from the 23 IToY jurors, with the Volvo FMX second with 82 and Scania's new V8 range third with 45 votes.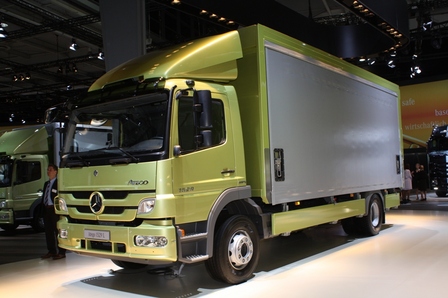 Among the improvements offered on new Atego is a lightweight retarder while there's also a production line hybrid too.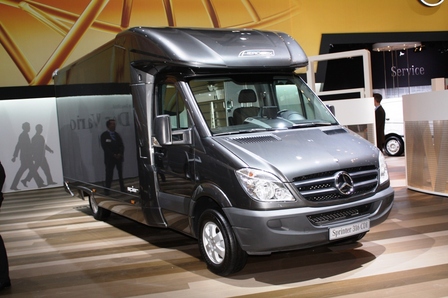 Having recently bemoaned the loss of 'walk-thru' vans on Biglorryblog I was delighted to bump into this Mercedes-benz Sprinter with Aerobox from German bodybuilders Vansolution Spier. Full walk-thru access to the load compartment which can be up to 19cum depending on the wheelbase. This is based on a Sprinter 316CDI and had neat fold-down shelves running the length of the body…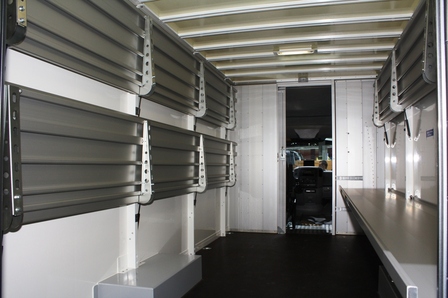 As you can see here. Payload is circa 1,000kg. Finish and build quality was up to the usual high German standard…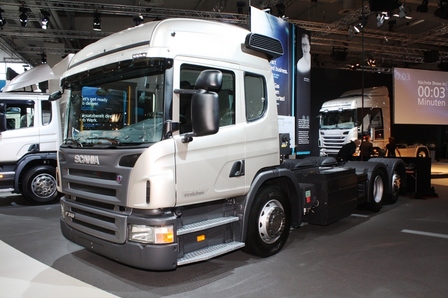 Scania P310 6×2 rear-steer 'Ecolution' garbage truck chassis features low-entry but high-roof crew cab and new EEV certified CNG-powered 9.3-litre 305hp five-cylinder gas engine…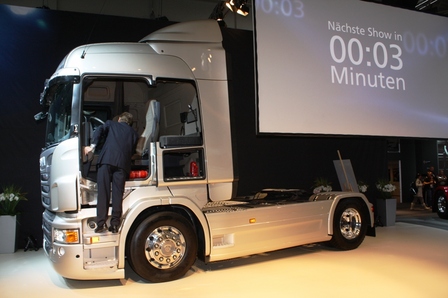 I think this bloke was looking for the door on this cutaway Topline R-Series….or else it's the new form of easy cab ventilation…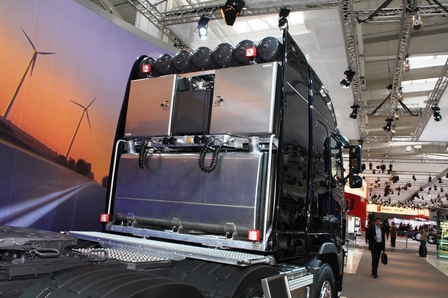 Beautifully-neat bit of 'packaging' on the back of this Volvo FH16 heavy hitter with air tanks relocated to the roof and everything tucked away tidily behind the side valances…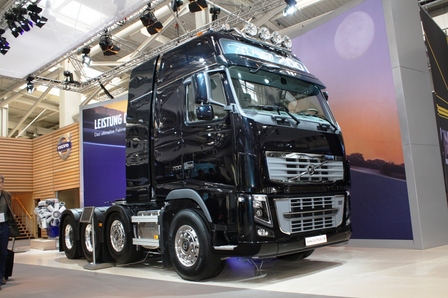 Here's the business end of the 700hp 'tridem' big sixteen….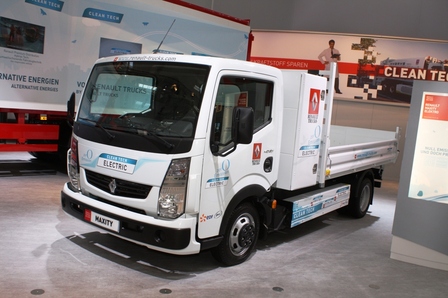 Electric Renault Maxity was one of two all-battery-powered light trucks at the IAA–the other being the Fuso E-Cell already covered in an earlier BLB post. Electric Maxity (based on a Renault-badged Nissan Cabstar) has a 100km operatring range with new generation lithium-ion batteries…Renault is looking to trial the electric Maxity in the UK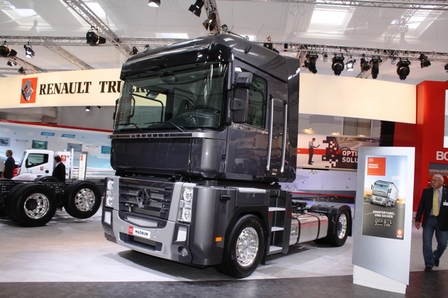 One for 'The Boss'…though take a good look at it as Renault's iconic flagship tractor will be gone by the time Euro-6 rolls around in 2013 (if not sooner) when the first of the new shared Volvo-Renault heavy truck cab 'platforms' appears…shame though, as the Maggie still stands tall at any truck show.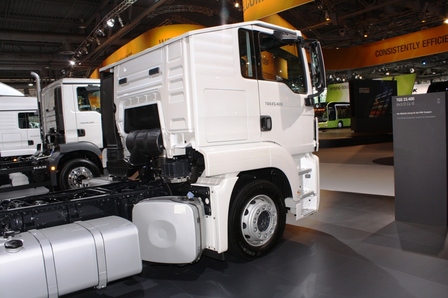 Not the result of going under a low bridge…but an MAN TGS23.400 with 'reduced' roof for car transporter operations. The 6×2 rigid chassis has air suspension all-round… and the 400hp lightweight D20 10-litre six pot…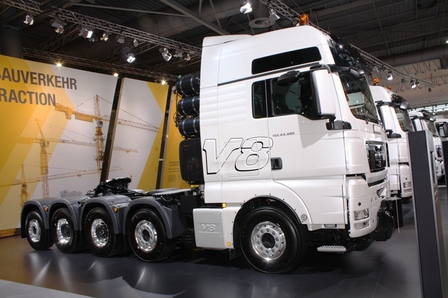 10×4 MAN TGX44.680 V8 monster mover is built at the German truck maker's Austrian 'skunk works'—previously the old OAF plant in Vienna—where all MAN 'specials' are produced…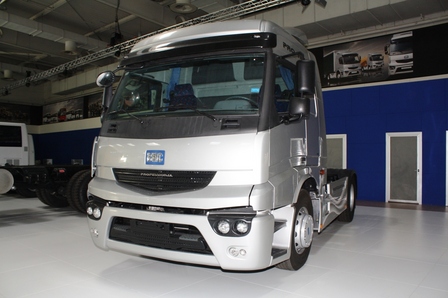 Turkish-built BMC Euro-5 Pro1144 has distinctive cab designed by Pininfarina with a Cummins engine under the hood. I THINK it's an ISLe….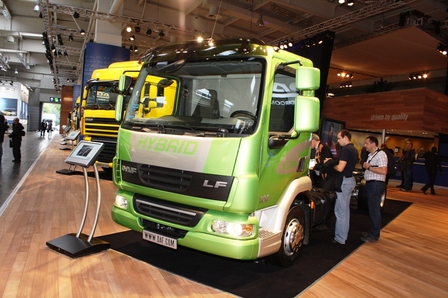 Having originally shown us a 7.5-tonne LF hybrid with the Eaton hybrid drivetrain system two years ago, DAF has decided a 12-tonne version is more viable chassis option and is now offering the 45.160 hybrid at that weight with a 60hp electric motor on the grounds that it's "about right' for 12-tonne work. To help 'green'-minded operators take the plunge it will be leasing, rather than selling the hybrid 45.160 so there should be no fears over residuals….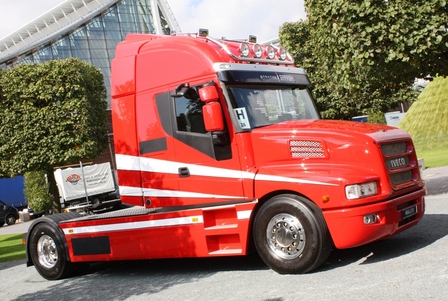 There were a couple of Iveco Strators at IAA, the bonneted beauty built by the Dutch-based Iveco dealer the Charles Feijts Group and I understand that five have already been sold in Germany..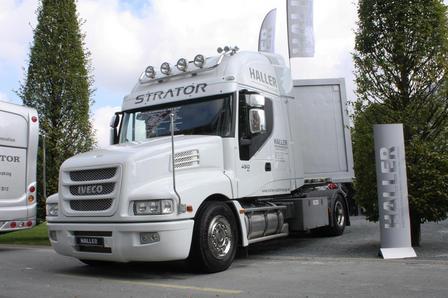 I wonder if Scania's product planners now wonder if they withdrew T-Cab too soon?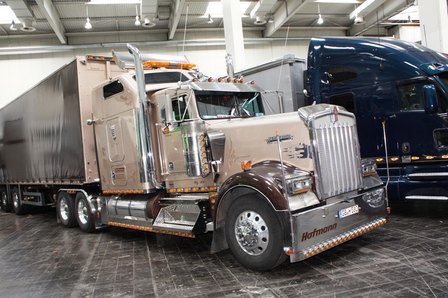 Don't ask me why they were there…I haven't a clue but there was a handful of German-registered Yankee Clippers in the corner of one of the IAA halls showing off their chrome…so what model is this?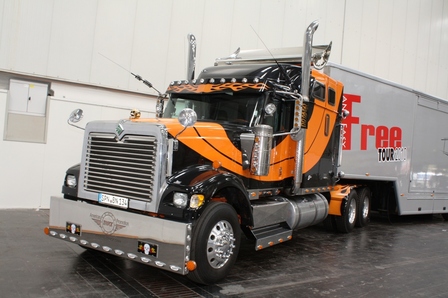 One for 'The Old Vic' so what model Inter is this…?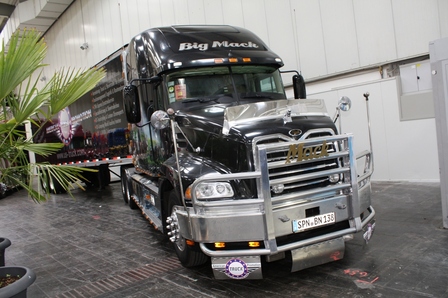 And one for Gary Richards..is it a Vision in green?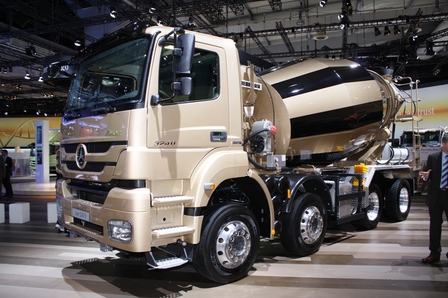 Merc trimmed an impressive 450kg of this 'lightweight' Axor 8×4 mixer with all kinds of tricks including smaller fuel and AdBlue tanks, two-leaf springs at the front, an auto (Powershift) gearbox, lightweight Liebherr mixer barrel and this rather weird rear wheel configuration…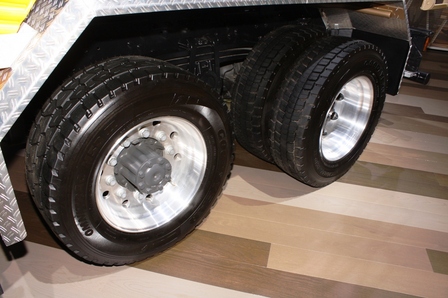 …which has wide single 385/55 R22.5s on the front drive axle, and 305/70 R22.5s twins on the back. The upshot is a legal nine cubic metre/19-tonne payload without overloads…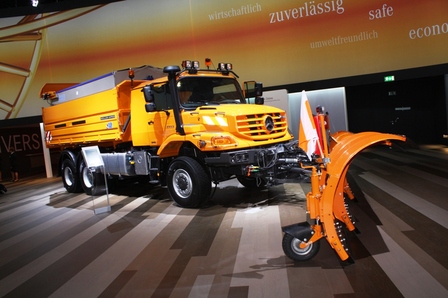 Just the job for the drive next winter…mighty Mercedes Zetros 6×6 snow plough…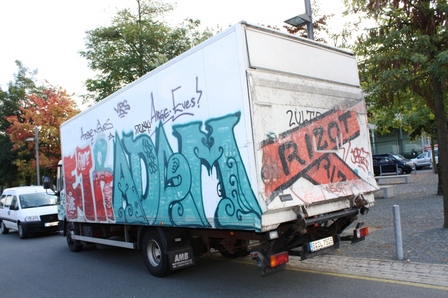 And finally…you just wait till I catch that bloke with the spray can…
We hope you enjoyed this article! For more news, views and reviews on all aspects of the truck driver's life subscribe today.