Winner of 2018 Daf Transport Efficiency Driver Challenge named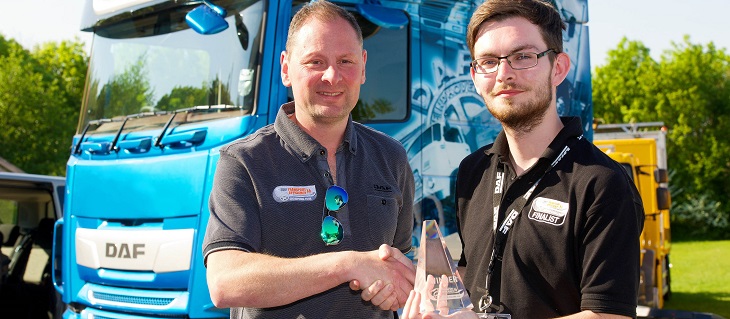 The winner of the 2018 Daf Transport Efficiency Driver Challenge – a UK-wide search to find Britain's best commercial vehicle driver – has been announced.
Scott Lewis of the Best Connection driving agency took the title. Scott edged clear of runners-up, Chris Ray from Waitrose, and Colin Court from construction materials supplier, Hanson UK.
Following a robust selection process – including an invitation to non-Daf drivers – 20 of the country's best truck drivers were set a series of rigorous challenges at a two-day finale at the Millbrook proving ground on 19-20 May.
Challenges involved driving appraisals in various models representing Daf's New LF, New CF and New XF ranges, off-road tests and other practical assessments which face drivers on a daily basis, including:
• Driving style, performance and efficiency across different sizes of truck and driving conditions
• Road knowledge, legislation and the Highway Code
• Vehicle knowledge, defect reporting and pre-use checks.
"It's fantastic," said Scott, who only gained his Class 1 licence in 2016 and whose job involves driving a range of vehicles. "The pressure was intense and all the guys and ladies competed really well – they have been so professional and it's been great going head-to-head with them. The challenges were super tough and particularly as we were tested in a range of different vehicles. The Daf experts warned us it would be difficult, and they weren't wrong!"
The live two-day event at Millbrook was overseen by Daf Trucks driver trainer and press truck demo driver, Mandy Wannerton, assisted by a judging panel of industry experts. The top drivers underwent a series of stringent practical and theoretical tests, while receiving expert leadership from Mandy and her driver training team. Drivers also took the opportunity to drive the full range of Daf vehicles.
We hope you enjoyed this article! For more news, views and reviews on all aspects of the truck driver's life subscribe today.