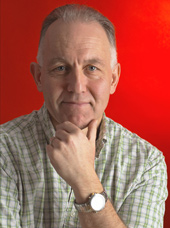 Hi, folks. As deputy editor of T&D I'm responsible for the nitty-gritty of the day-to-day running of the title, from writing headlines, captions and sections of the mag to chasing and sub-editing of copy and the final passing of pages to the printer.
I've now been with your favourite trucking magazine for what, even for an old fart like me, seems a lifetime (almost 15 years), the previous 12 years or so having been spent as a scribe on car magazines, such as Motor, What Car? and Classic Cars.
Initially I was employed on T&D mainly for my journalistic background, having started as a scribe way back in 1983. Prior to that I served an apprenticeship as a printer's proof reader and then trained and spent a brief period in social work.
As a holder of an older driving licence, I can drive 7.5-tonners, most of the big-truck testing being the responsibility of the editor. Interests outside the office include keeping fit – vital for such a sedentary job as journalism – riding my big BMW motorbike, photography, reading and music.
Contact: [email protected]